10 items every man should have in his closet
There's a growing confluence in mens fashion: Prepster Punks, Indie Hipster, Skater Gangster Hipster, Nautical Nerd, The Boyish Bourgeois, The Intentional Trashy look, you name it, it goes. Though trends come and go, basics will always remain forever in style. These 10 pieces will cover you for nearly every important event in your life whether it's a business meeting, a job interview, meeting the girlfriends parents, weddings, bar-mitzah's, bachelor parties, etc. Whatever the occasion calls for, basics will be the trusted old friend that sees you through the day and make you look sharp.

The key to making the basics work in your favor is in how it fit your body. If you haven't made friends with your local tailor, now's a good time to do so. Tailoring your clothes especially your basic pieces, is worth the investment, and can really change your appearance instantaneously. We've all seen the poor schmuck who have worn the over-sized suit, or the high-water pants. Guys who wear their clothes too loose or too tight should provoke some introspection into your own appearance. If there's a lesson to be learned, it's… "Don't be that schuck"
Don't get me wrong; we're not talking about conformity here or homogenizing your wardrobe. It should be understood that all basic clothing in the world of mens fashion are still very subjective and should suit your taste and style. Think of these as more of a guideline at most:
1. Professional suit:
Your money is best spent on a classic black suit. It's perfect for interviews, business meetings, and formal occasions (weddings, funerals, dates, banquets, etc.). If you are a shorter man, the 2-button suit will create a longer "V" shape on the chest, making your torso appear longer. Taller men should opt for a 3-button suit.
2. White dress shirt:
Pair the classic white dress shirt with your professional suit and a tie to complete your look for all of the occasions. Having two or three white dress shirts in your closet is a good investment. Always have one that's pressed and ready to be worn for those last minute events.
3. Dark ties:
A black tie with a simple pattern that isn't too flashy is great for any occasion, but do invest in a few good silk ties (various colors and patterns). Ties are small but great ways to leave an impressions of your personality, so choose wisely.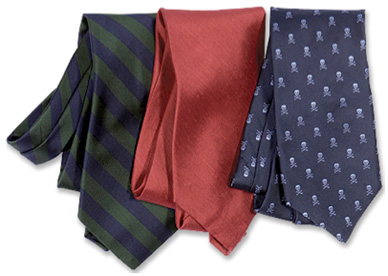 4. Jeans:
With so many styles, variations and colors of denim, picking the right pair may not be as simple as it seems. Straight legged jean or casual fitting jeans can be dressed up or worn casually. Pick a darker wash without all of the holes or excessive faded sections to keep it clean and grown-up.
5. Casual shirt:
Almost anything goes when it comes to the casual shirt: vertical stripes, solid, plaid, solid with graphics…you name it. As long as it fits correctly and is versatile enough to be worn with dress pants or a jacket, you're safe.
6. Dark Jeans:
Dark jeans give you a modern look. They are not only versatile; they have an inherent sense of style and class. You want to get a straight fit because this is the most contemporary cut. You can dress them up with a simple white t-shirt and a blazer. This look can take you on date night, out for drinks, or to the library. If you are looking for a more casual look, pull on a close-fitting t-shirt and you are set to call attention to yourself while shopping for groceries.
7. White Shirt:
The classic button up white shirt is a must for every wardrobe. It can be both formal and casual. It can be used with a suit, jeans and a blazer or just jeans for the perfect look. Whether you are a slender man or a larger frame the type of white shirt should be considered. There is a slim cut and a regular fit shirt that serves well for whatever the physique. Just remember to keep it white and bright as well as ironed to look your best.
8. V-neck Sweater:
A V-neck sweater made of wool and cashmere is an excellent addition to any wardrobe. If you want a sweater that is durable, fits well, and does not irritate your skin, be warned that you may have to spend a bit more. You can either wear it by itself, or you can layer it with a shirt under it.
9. Hoodie:
Guys look great in hoodies. Zipped or unzipped, a hoodie can add to your fashion sense. Avoid the ones with the logos and pictures as it tends to make a man's style look a bit immature. Solid colors, or light and classic trims are a great choice.
10. Gray Suit:
A gray suit is always in fashion, and presents you with the ability to dress it up or dress it down according to your personality. Such a suit will work well for an interview or a business meeting, but you can also wear it with a basic shirt for a fun and light look. Wear a V-neck shirt with this suit, for a night out on the town.
---
---