Some of the links in this post are affiliate links. This means if you click on the link and purchase the item, I will receive an affiliate commission at no extra cost to you. All opinions remain my own.
It's a pain to try and trim your facial hair without getting it all over the bathroom floor, sink or counters. The beard trimming apron makes life easier by collecting all the beard trimmings and cuts, making clean-ups significantly simpler.
So, before diving into the list, we compiled a little more information about beard bibs. We hope this helps you make an informed decision. Get ready to experience the convenience of this simple yet effective product.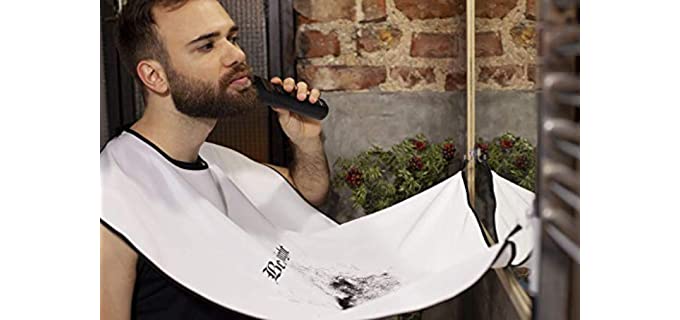 ---
Reviews: Best Beard Trimming Apron
Below are some of the best beard bibs/aprons available on Amazon. We would also like to inform you that any purchases made using the links in this article help us earn a portion of the profit. However, no extra charges will incur on your bill.
We hope you love the products we recommend!
So that you know, We may collect a share of sales or other compensation from the links on this page.
---
1
This beard bib exists to make the user's life easier. The beard hair catcher collects all trimmed hairs, keeping your sink tidy.
Moreover, the high-quality material, the apron, has a smooth surface, is skin-friendly, and is anti-static.
Use the velcro tape to secure the bib around the neck and stick the suction cups to the mirror across you. Make sure that the beard trimming apron is completely spread open.
In addition, the beard trimming apron comes in a small travel pouch, making it super easy to carry in your luggage.
---
2
This original brand introduced the world to the first-ever beard cape. Beard King was also featured on the business reality show Shark Tank.
Therefore, this beard trimming apron is unique to catch all your trimmings from your grooming sessions without the mess left afterward.
Its travel-friendly pouch allows you to pack this bib among your belongings easily.
This is the best shaving apron for mirror/neck clips, as these clips allow you to put a pause on your trimming if needed.
In addition, it also comes with a built-in large pocket to hold all your grooming tools.
---
3
Mobi Lock's beard apron lets you trim your beard in minutes without messing up your bathroom floor and sink.
This beard trimming apron comes in a grooming kit that includes a comb, a grooming EBook, and suction cups, and all of this is included in a little travel bag.
Moreover, if you need to stop midway, you can put the little hooks on the suction cups through the holes on the top end of the bib.
It also comes with a lifetime money-back guarantee.
---
4
This beard shaving apron has neck strap attachments and four suction cups to provide an easy and hands-free experience.
Avoid drain clogging, messy bathroom floors, and dirty sinks with this apron.
However, this is a one-sized beard trimming apron that is super convenient, practical, and simple. It is suitable for all ages.
Moreover, it is a high-quality, non-stick, skin-friendly, and waterproof material.
---
5
Made from the best quality polyester, the beard bib is waterproof and non-stick.
Moreso, Beard Knight's aprons are a product without any elastics for a comfortable fit around your neck.
Among all these conveniences, the catcher comes in a bag to keep it clean and compact.
However, it is super easy to use. Secure the velcro tape around the neck, attach the suction cups to the mirror, and get started!
---
6
Made with high fiber nylon, the beard trimming bib has a smooth surface for collecting all the hair trimmings.
In addition, this beard trimming apron is double-sided and waterproof from both sides. The best part is it is machine-washable.
Doepsilon's single size fits all, and it comes with two strong suction cups and a travel pouch.
Also, the apron is super easy to use and equally easy to clean up and store later.
---
How Do You Use A Beard Apron?
Thinking of buying a beard bib but don't know how to use it? Let's change that!

Loop – All you need to do is just loop the apron around the neck and secure it with velcro tape on the back.
Secure – On the other end of the apron will have suction cups at the apron's corners. Attach those to the corners of your mirror.
Groom – Get trimming, and all the trimmed hair will collect in the catcher. No mess whatsoever!
Dispose of – When you finish, detach and dump all the hair into the trash.
We also suggest you have a look at the waterproof shaving beard trimmer as they also have the best and most durable products, click the link.
---
Some Cool Beard Bib Tips & Tricks
Collecting all that hair while you trim, the beard apron is bound to get messy. Here are some amazing tricks!
---
Characteristics Of The Beard Trimming Apron
What features to look out for a while purchasing a good quality beard bib? Let's find out.

Size – Usually, beard bibs vary slightly in size. Nonetheless, the standard size suits most people. If you have a rather larger sink or counter space, you might want to seek out a bigger bib.
Neck Clips – This is a feature to look out for, as it doesn't come on all beard aprons. These neck clips can be unclipped and stuck to the mirror if you need to pause your grooming session.
Weight – Most beard catchers weigh between 1 to 8 ounces. Moreover, the bib's weight depends on the material's quality. So, pick one that suits your needs best.
Material – Most beard aprons are made of nylon or polyester because both are non-stick materials. They are machine-washable, easy to fold, and lightweight.
---
Index Table: Top-Rated Beard Trimming Apron
---
---