A chrome shaving bowl is a foolproof solution to all your shaving woes. It has an amazing texture and looks graceful sitting on the bathroom cabinet.
Apart from being an excellent shaving companion for keeping the cream or soap warm, a shaving bowl made from chrome is quite durable. Head over to all the details mentioned below about this shaving bowl. You will love it; we can bet!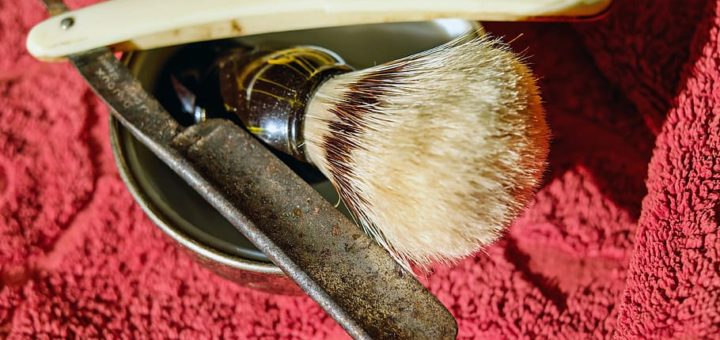 ---
Reviews: Best Chrome Shaving Bowl
Here are some of the best chrome shave bowls for you to try. We may get some part of the commission for any purchase from the links mentioned below.
We hope you love the products we recommend!
So that you know, We may collect a share of sales or other compensation from the links on this page.
---
1
This shaving bowl by Harry D Koenig & Co comes with a brush, stand, and razor.
It is beautiful to display.
Apart from that, it is an ideal gift if you want to surprise your loved ones.
---
2
A durable shaving bowl by the G.S store is a must-have.
It comes with a stainless steel body coated with chromium.
This bowl offers an unmatched quality of lather for a perfect shave.
In addition, it holds any shaving cream or soap brand for superior results.
---
3
The Barber's Saloon is back with its stunning Chrome shaving accessories.
It has a lid that ensures your shaving bowl looks elegant and complete.
There is a Sandalwood scented soap that provides a close and non-irritating shave.
The look of this chrome shave bowl makes it a visual treat for anyone who enters your washroom.
---
4
The QSHAVE shaving bowl comes with a lid, making it a perfect fit for travel.
It has a stunning chrome finish, which can be cleaned with ease.
With a diameter of 4 inches, this bowl easily holds any shaving soap.
Not only that, but the lid helps keep dirt out of your bowl.
---
5
This shaving bowl is made from high-quality stainless steel.
It features a proper chrome finish which makes it look super elegant.
The minimalist features of this bowl make it an excellent addition to your shaving accessories.
---
6
The Premium shaving bowl is designed for wet shaving.
It has an elegant stand that is compatible with most razors and brushes.
This bowl has a vacuum insulation layer that helps to keep shaving soap and cream warm.
It has a shining texture and can be cleaned with ease.
---
What Are Chrome Shaving Bowls Actually Made Of?
Shaving bowls are an essential part of men's grooming regime. If you still like to go the traditional way, we know how important it is to find the right material for your shaving bowl. Keep reading to find out what chrome shave bowls are made of.

Stainless Steel – The basic material of construction used for these bowls in stainless steel. this material is strong, sturdy, and does not develop cracks even after years of use.
Insulation Layer – Stainless steel material has insulation for the bowl to retain heat. Moreover, it helps in maintaining the temperature of water while shaving. The double layer of material ensures the bowl does not lose its shape.
Engravings – The steel material of these bowls has engravings on the inside and outside. This adds to the aesthetic appeal and helps create a rich lather for shaving.
Chrome – The last layer of these steel bowls are coated with a chrome layer. This material is a great option if you want a durable shaving bowl that is fairly priced. However, it can be dented easily if you drop it from a height. Apart from this, they are fairly easy to maintain and clean.
---
Benefits Of Buying A Chrome Shaving Bowl
When you add them to your shaving kit, Chrome shaving bowls look stylish. They are fairly priced and have a well-polished design. Not only that, but these are also ideal for whipping rich lather and making for a practical gift.

Rich Lather – One requires rich lather to get a perfect shave and smooth result. It can only be done if the shaving bowl aids in doing that. With a chrome shave bowl, you won't have to keep stirring the soap or cream for a long time since these bowls help create a rich lather within a few minutes.
Doesn't Absorb Moisture – Unlike wooden shaving bowls, these bowls don't absorb moisture. Therefore, it helps get a perfect lather when you want a clean look.
Durable – The durable shaving bowls made from chrome material are very strong and sturdy. However, you should be careful while handling them since they may dent if you drop them from a certain height.
Heat – It is essential to buy a bowl that will keep your shaving soap or cream warm for a long period. Buying a chrome shave bowl to make sure it will help you get the best shaving experience since this material doesn't let the soap or cream get cold.
---
Buying Considerations For A Chrome Shaving Bowl
There are several benefits of a chrome bowl. Keeping your shaving cream or soap warm to help you get rich is always a plus point of buying it. However, there are certain things that you should consider while buying a chrome shave bowl. Read along to know the considerations.

Price – Before buying a chrome shaving bowl, it is important to consider its price. Since most of these products aren't that expensive and easy on the pocket, you want to ensure you are unnecessarily spending.
Design – These come in several designs. While most are like any other steel bowls, some also come with a handle. It makes holding the bowl a lot easier.
Space – A shaving bowl should have enough space for you to put your shaving soap or cream and whip it well. A small-capacity bowl prevents the buildup of thick foam. Thus, the capacity of a shaving bowl is an important thing to consider.
Lid – Many shaving bowls come with a lid. It helps keep the shaving cream or soap warm and prevents dust from settling on it.
---
Index Table: Top-Rated Chrome Shaving Bowl
---
---