A traditional, old-school Wooden Shaving Bowl is exactly what you need to amp up your shaving to the next level. Sophisticated, graceful, and lightweight, it is everything you want it to be.
Wooden shaving bowls come in several variants and sizes, and to be honest, it isn't easy to choose one between them. That is why we have prepared a buying guide to get that perfect Wooden Shaving Bowl for yourselves.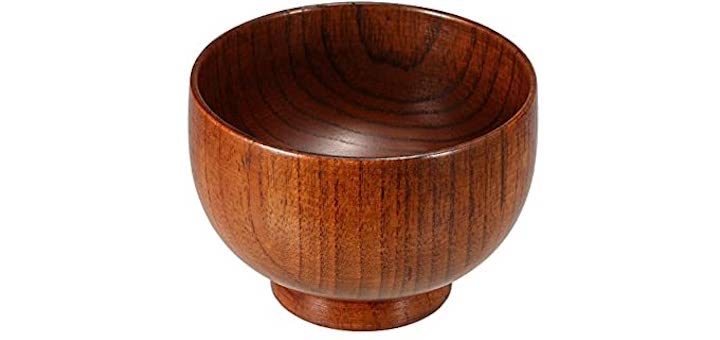 ---
Why Wooden Shaving Bowls stands out from the rest!
There are several reasons why a wooden shaving bowl is perfect for enhancing your shaving experience and bathroom cabinet.

Looks Wonderful – A wooden finished shaving bowl on your bathroom cabinet looks excellent, and there is no denying that it looks aesthetically pleasing.
Solid Built – These bowls are built like a tank, and they are not prone to any dents or scratches that can hamper their looks in the long run.
Balanced – A wooden bowl tends to be very lightweight compared to any other type of bowl, which provides an exceptional balance to the overall structure.
Multi-Purpose – These wooden bowls are multi-purpose, and you can store any soap, shaving cream, or shaving oil in them.
---
Anatomy of a great Wooden Shaving Bowl
Some things define how good and unique a wooden shaving bowl can be, and we have pointed out some of them below

Unique Texutre – These bowls have different kinds of wooden texture finishes which provide a unique, distinguishing touch to each one of them
Wooden Scent – Wooden bowls often have a natural wooden essence in them which mixes with the shaving foam to provide you traditional smelling shaving experience.
Interlocking Lid – Most of these bowls have an interlocking lid on them to prevent the shaving foam from being damaged by moisture and water.
Wooden Etchings – Some of the bowls also have some beautiful etchings and designs on the exterior.
---
Types of Wooden Shaving Bowls
You can find several types of Wooden shaving bowls in the market, and we have mentioned the most prominent ones below.

Handled – Some shaving bowls comes with a handle to increase your grip and handling, but some bowls don't include it.
Covered – If you like to store your shaving cream, then covered shaving bowls are for you. As they let you store your cream with a cover on top.
Compact – Some shaving bowls tend to be more compact in size than others as they are straightforward to carry around.
Textured-Bottom – These Wooden shaving bowls consist of a textured bottom to provide more stability and smooth brush flow to create more lather.
---
Reviews: Best Wooden Shaving Bowls
We have composed a list of the best Wooden Shaving Bowls you can get for yourselves. Just a quick reminder, we do collect a minimal sum of every purchase that happens through the links mentioned below, without any additional charges on you.
---
This wooden shaving bowl comes with excellent shaving soap and a wooden lid.
The design of this bowl is wooden spherical, which looks superb.
This bowl has a woody-sandalwood essence to it, which smells perfect.
Overall constitutes a complete shaving experience.
---
2
The color of this shaving bowl is dark-brown, which gives a unique twist to its overall appearance.
It comes with a wooden lid to protect the shaving soap or foam inside it.
The simplistic design makes this shaving bowl a very portable option.
The inside of the shaving bowl lets you create more and better lather.
---
3
The bowl has a textured wooden finish to give it a very natural look.
The quality of the used in this bowl is top-class, reflecting on its finishing.
This bowl has a raised bottom with wooden protection around it.
It also has a smoothening effect all around it to give you an effortless shaving experience.
---
4
It has a wooden lid with an interlocking system to lock and protect moisture.
This bowl's color is light brown, which looks excellent in person.
The design is very well-balanced, which provides a perfect grip while shaving.
It can store shaving foam for more than a single shave due to its ample space.
---
5
This bowl has a very woody scent in it, which smells excellent.
It has a wooden lid over it, with golden brand etchings on top.
The overall design is very sturdy and spacious, and you can easily store a lot of shaving foam in it.
The bowl is made out of mahogany, which is a powerful element.
---
6
This bowl is hand carved from genuine light honey mango wood.
It has a wood grain finish, which makes it look gorgeous.
The sides of the bowl are textured to provide a better grip.
The inside of the bowl is leveled in such a way as to produce maximum lather with minimum effort.
---
7
The Supvox is a mug-shaped bamboo wood natural shaving bowl.
The wood shaving bowls exceptional quality.
It is polished and has a smooth surface.
The design is very safe and comfortable to use.
The perfect gift for a father or boyfriend.
---
8
This is a more vintage-styled classic wooden shaving bowl in sandalwood.
A quality and vintage-styled wood shaving bowl.
The bowl is crafted to perfection and British in design.
It consists of quality sandalwood and can be refiled.
The bowl comes with soap included.
---
9
A quality thick wood shaving bowl and lid from Grandslam.
A natural and durable shaving bowl.
The bowl consists of genuine and natural wood, which is much sought after.
It is moisture, mildew, and fungus resistant, making it the ideal design.
The design is safe and easy to use.
---
10
From Segbeauty, we have a wooden shaving bowl and a shave brush in the asset.
This is a vintage wood shaving bowl and brush set with a lid.
The bowl consists of natural wood, which is suitable and very durable.
The brush has durable nylon bristles that are soft and gentle on the skin.
Ideal for traveling and business trips, with a small and compact size.
---
Index Table: Top-Rated Wooden Shaving Bowl
---
---