Stone shaving bowls have many unique properties; for instance, it forms a denser and thicker lather inside it as compared with other material shaving bowls. Moreover, the stone bowls have a perfect textured surface that allows the lather to maintain warmth.
So, if you are thinking about shopping for the best stone shaving bowl for yourself, you are at the correct destination. So here's the list of some of the best products for you to choose from quickly while you shop.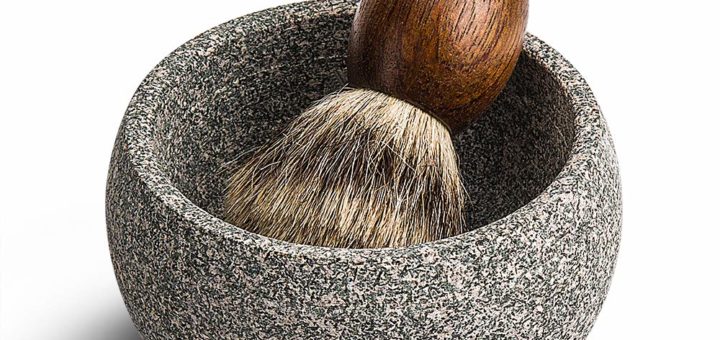 ---
Benefits of Stone Shaving Bowl
Apart from making your shaving kit look merry, these bowls pose some amazing benefits. Read below to find out

Durable – These bowls are durable even more than chrome shaving bowls because of their textured surface. Moreover, they have easy maintenance and are perfect for lather formation.
No chemicals – The raw materials are extracted carefully from the resources, and there is no residue left after it is manufactured completely. There are no harmful chemicals in the bowl.
Elegance – A stone shaving bowl might be fragile, but it adds to the beauty of the shaving kit. You can keep it in your bathrooms without worrying about losing its quality.
Portable – If you are looking for a portable shaving bowl, the ones made from stone come in a standard size that fits in your luggage easily.
---
What to Look for in Stone Shaving Bowl?
It's not a hard task to buy a good stone shaving bowl, but there are some factors to consider while buying them.

Size – Ensure that the bowl you are buying is of the perfect size. If it has a standard size, it will easily be handled and carried anywhere.
Weight – These shaving soap bowls do not have a very heavyweight. However, do check the weight before buying the product to be on the safe side.
Strong Grip – The texture must be appropriate enough to provide a good grip. If the grip is loose, there are chances that it might slip from hands and break for worse.
Covered – It would be best to go for the product with a covering lid. It will prevent dust from entering the bowl, and it will stay clean when not in use.
---
Features of a Good Stone Shaving Bowl
Good shaving bowls possess the following features. Have a look at them.

Wide mouth – It has a wide mouth for the brush to easily enter and helps you whip the cream and form lather easily.
Smooth – The texture is mostly smooth to allow the brush to explore inside the bowl and move freely in all directions.
Preserves Heat – It has a good thermal conductivity to retain heat. This way, the lather will remain warm while you shave.
Easy care – The stone soap shaving bowls are easy to handle. They get cleaned very easily and keep their quality intact.
---
Reviews: Best Stone Shaving Bowls
Go through these fantastic stone shaving bowls we have enlisted below. They all possess unique properties and are perfect in their way. Also, note that we may earn some profit when you shop through the links on this page. But you will not be charged more than the product's value.
---
1
The raw material for this granite shaving bowl has been derived by hand grinding, giving it a smooth texture.
The Charmman shaving bowl is handy and has a flat bottom, so it doesn't slip from the hands or anywhere it is kept.
There are grooves and ridges on the surface of the bowl help to form a fantastic lather.
It is a perfect size bowl, neither too small nor too big for a regular-sized shaving brush to give you an enriched shaving experience.
This bowl is for every man who is a fan of art and likes the old-school royal way of shaving.
---
2
This product is made of a rock-solid marble stone derived from fossils.
The most important feature is that it has a covering lid to cover it after using it.
The bowl is lightweight, and yet it is strong.
But the marble shaving bowl with a lid has a lovely brown textured surface that doesn't let it slip.
You can carry it along while traveling because it has a perfect size that fits anywhere.
---
3
This portable stone shaving bowl has a textured design and a flat bottom to ensure that it doesn't slip.
Moreover, it can be cleaned easily with soap and water without leaving any residue in the bowl.
It has a perfect shape and size for you to form a rich, creamy lather.
You are free to use any shaving cream or soap in the bowl with a standard-size brush.
Besides, it is finely polished and doesn't lose its shine even after many washes.
---
4
This fantastic ancient shaving bowl and brush set belongs to Colannino's Sicilian.
The bowl is made of real soapstone and easy to handle and care for.
Soapstone is known for its property of holding in heat and keeping the lather warmer for a longer duration.
The brush included in the set has blacktip badger hair. It forms a thick lather and feels soft on the skin.
This bowl is handcrafted in the antique Sicilian style of art and is an amazing shaving kit component.
---
5
This handmade ivory color stone shaving bowl from Parker's is high in demand.
It has the shape of a mug that can hold shaving soaps up to 3 inches, which is more than a regular-sized shaving bowl.
It has a tapered design so that there is excellent lather formation. Moreover, it keeps the lather warm for shaving.
There is an apothecary handle in the bowl for a firm grip.
Its quality and luster remain intact even after regular use, and it has a long life.
---
Index Table: Top-Rated Stone Shaving Bowls
---
---