Some of the links in this post are affiliate links. This means if you click on the link and purchase the item, I will receive an affiliate commission at no extra cost to you. All opinions remain my own.
No one likes to talk about it, but armpit hair is a reality for many people. It's just something that needs to be taken care of on occasion with the right tools. If you constantly shave away at this unwanted growth, consider trying some awesome trimmer for armpit hair.
Also, learn whether it's okay to trim armpit hair and the best way to trim off the underarms.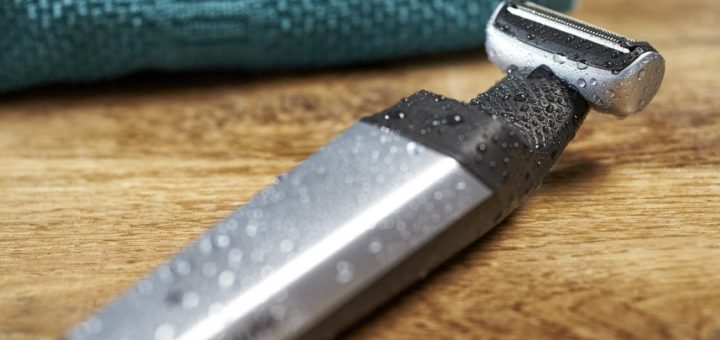 ---
Reviews: Best Trimmer for Armpit Hair
Here are the best trimmers for underarms, and while you look at them, please note that this page includes affiliate links.
We hope you love the products we recommend!
So that you know, We may collect a share of sales or other compensation from the links on this page.
---
1
This USB-compatible trimmer for armpit hairs provides up to 50 minutes of seamless runtime.
Since it is fully washable, you can keep it neat and chic.
Besides, it has several settings to trim most hair lengths with its motorized comb that moves in increments of 0.1mm.
The digital touch screen displays the battery life and allows you to alter the trimming settings.
The device is fully washable and safe to use in the shower.
---
2
This advanced body groomer is the perfect solution for removing your armpit hair with absolute comfort.
You may also use this on other body parts like the chest, shoulder, legs, etc.
The double-sided groomer is suitable for both long and short hair and smoothly glides the overall contours of your body.
It is suitable for both wet and dry trimming.
This trimmer has 8-length settings, an extra foil blade, and a storage case.
The long-lasting battery life charges equally fast, and the product can be used for wet and dry trimming.
---
3
The trimmer for underarms by Philips is also suitable for other parts of your body by using its different attachments.
The blades are ergonomically designed and ensure absolute comfort, while the rubber grip makes them easy to use.
While waterproof, you may easily wash the detachable blade cartridge to keep it clean.
The lithium-ion batteries are fast charging and last up to an hour.
---
4
The hypoallergenic dual blades of this trimmer will give your underarms a chic trim without the fear of cuts and nicks.
The wet and dry design makes it convenient to work on different body parts, with the trimming method you like best.
Besides, it is waterproof and rechargeable and runs for a complete hour on a single recharge. The charging port remains sealed when not in use.
This product comes with a year's quality warranty.
Also, it is travel-friendly thanks to its compact design and cordless usage.
---
5
This trimmer by UOOCOKIO will leave your skin smooth and pretty after each use on all body parts, post-hair trimming.
The aloe strips further soothe the skin after use and is gentle enough for all hair types.
It is easy to hold and use, making it convenient to use from different angles.
The charging is fast; you'll receive a storage pouch and charging cord in the package.
---
6
This electric trimmer for armpits has three one-speed settings and safe yet sharp blades.
Though it is suitable for wet and dry use, the detachable razors make it convenient to keep clean.
It is skin-friendly, painless, and safe for sensitive skin as well.
The low noise function makes it even more convenient.
---
Is it Okay to Trim Armpit Hair?
Yes, absolutely, and here are a few reasons why. Trimming is much recommended over shaving the armpit hair.
Trimming is Safe – The armpit is a tricky place to shave. You may end up with cuts or, even worse – blood stains on your clothes! If you're not careful, the uneven skin can make it difficult for sharp blades of razors and cause more harm than good. Therefore, trimming down the hairs in this territory is much safer and more efficient.
No Ingrowth or Itchiness – When you shave, the hair seems to grow thicker and coarser due to being cut near your skin surface. As a result, you get that itchy feeling on your face with ingrown hairs. But that's not the case with trimming!
No Nicks or Cuts – Don't let a pesky razor burn ruin your armpit skin! Just trim off the hair and stay protected from any possibility of nicks and cuts.
---
How to Handle Underarm Hair with Trimmer?
Here are a few simple steps to trim your underarms most conveniently.

Trim in the Direction of Hair – Trim in the direction of hair growth for best results. A purpose-built tool like a trimmer will get you close without cutting too much off at once!
Position Yourself – raise and stretch your arm and place your hand at the back of your head.
Select an Attachment – depending on the length of your armpit hair, select an attachment for your trimmer.
Stroke Direction – start with an upward stroke of the trimmer, then focus downwards and sideways.
And then repeat with the other arm.
---
Buying Considerations for Underarm Trimmers
Make sure to check these details before you buy an armpit hair trimmer.

Wired or Wireless – Trimmers Come in wired and wireless versions, so be sure to check this detail if you have any specific preferences.
Brand – Needless to say. The top brands offer the best products regarding quality and results. So a little brand research is essential.
Length of Hair – Different trimming blades are used for trimming different hair lengths. So ensure you get suitable attachments with your trimmer that work on your hair length.
Attachments – While buying an underarm trimmer, so check for additional attachments. As the chances are that the additional attachments will reduce the need to get a separate trimmer for every body part.
---
Index Table: Top-Rated Trimmer for Armpit Hair
---
---