Some of the links in this post are affiliate links. This means if you click on the link and purchase the item, I will receive an affiliate commission at no extra cost to you. All opinions remain my own.
No one wants the ugly-looking hair to peep out of the nose and ears ruining your looks. Therefore it's time to buy the best nose and ear trimmer that keeps you groomed throughout the day.
So, to help you buy the best trimmer, we have framed a list of some products that are preferred the most. Not just that, you will also know what to look for in a product while buying it.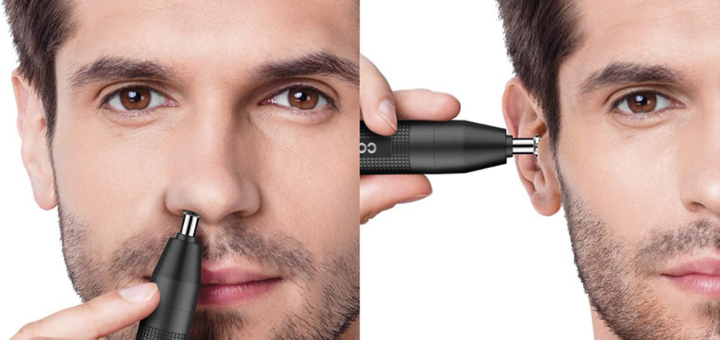 ---
Reviews: Best Nose and Ear Trimmer
Indeed, the ear and nose trimmer is a necessity for everyone. Therefore, here is the list of some ear and nose trimmers. Also, we would like to tell you that we may be entitled to some commission on every purchase you make using the links on this page. Not to worry, you will not be charged any extra amount.
We hope you love the products we recommend!
So that you know, We may collect a share of sales or other compensation from the links on this page.
---
1
This ear and nose trimmer from Manscaped will groom your sensitive nasal and ear cavity to maintain a trimmed and neat style.
The trimmer's premium 9,000 RPM motor powers a 360° rotary dual-blade system.
In addition, the 600mAh li-ion battery holds a charge for up to 90 minutes of use.
You can charge it easily with a convenient USB cable and AC adapter.
---
2
This cordless men's trimmer has a unique three-bevel blade system for close ear/nose trimming to cut the hair evenly.
Besides, it can be used for all hair types and comes with a detail trimmer and shaver to create the perfect edge and line.
It cuts even the thinnest and smallest hair so perfectly that you get a clean and groomed look.
Moreover, due to its compact size, you can carry it easily while going on a business trip or an instant party plan.
---
3
This has all the excellent nose and ear trimmer features, like a smart micro-vacuum system for men.
The vacuum system comfortably removes the nose, ears, sideburns, and unwanted facial hair.
Therefore, this multifunctional nose trimmer device is everything a man needs for his perfect grooming.
Besides, it can be recharged anywhere since it consumes very little electricity to charge fully.
In addition, it has a dual-edge spinning blade system along with an internal 360°rotating design to remove the hair painlessly.
Not to mention, this nose hair trimmer is IPX7 waterproof and washable.
---
4
Remington's trimmer for ear and nose hair features a heavy-duty non-slip grip for durability and easy use.
Moreover, it has a rubberized grip that makes it handy and doesn't let it slip from the user's hands.
Furthermore, it can be cleaned easily since the blades are removable and can be opened to clean from the inside.
The trimmer is known for its high performance and cleans even the most sensitive or hard-to-reach areas.
---
5
With this fantastic all-in-one trimmer, you can quickly eliminate unwanted nose, ear, and brow hair.
Moreover, it features a protective guard system that protects sensitive skin by providing a barrier between skin and blades.
Its dual-sided steel blades efficiently cut unwanted hair without pulling or causing pain, leaving clean skin behind.
Furthermore, the combs in the trimmer are water-resistant. Therefore, you can easily clean it with water after every use.
Also, it contains a Lithium-ion AA battery for long-lasting performance.
---
Benefits of Using Nose and Ear Trimmer
Why must a person even have a nose and ear trimmer? Are there any significant benefits? Find out below how they are beneficial for men.

Maintains Hygeine – Since they remove unwanted and ugly-looking hair from the nose, ears, and even brows. Hence, they maintain your hygiene.
Keeps You Groomed – The trimmers keep you groomed by making you look elegant and graceful every time.
Can be Used Anytime – The best part is that it can be used anywhere and anytime in case you have to attend an urgent meeting. They are easy to use and clean the ear and nose in no time.
Multifunctional – Not to mention, their versatility. These trimmers can also be used to trim the unwanted hair in the eyebrows without pulling the hair.
---
Features of an Ideal Nose and Ear Trimmer
What trimmers fall in the category of the best nose and ear trimmers? Well, have a look at the pointers below to find out.

Rust-Resistant Blades – The blades must be resistant to rust. If they get rusted or corroded, the chances are that they might start causing allergies and irritating the skin.
High Performing Battery – Furthermore, if they operate on a battery, they must have a peak performance. While if they are chargeable, they must be able to work for at least 90 minutes.
Compact – Lastly, the trimmers must be of a small size so that they can easily be carried along. Moreover, you can keep one in your grooming kit, so you don't get panicky if you plan an instant party.
---
Tips to Buy the Best Nose and Ear Trimmer
With so many options to choose from, we often get confused and end up buying the wrong product. Therefore, before you settle down for one, make sure you keep a check on the following things.

Operation Mode – Check how the trimmer is operates. Does it work on a battery, or is it chargeable? Then, make a choice, buying whatever suits you the best.
Budget-Friendly – There is no point in buying an expensive nose and ear trimmer when they all serve the same purpose. Hence, buy the product that does your work without creating a hole in your pocket.
Maintenance – The trimmer must have an easy maintenance. This means it can be easily cleaned, the battery is durable, and can work for more than one hour on a single charge.
Waterproof – Waterproof trimmers are mostly resistant to rust and dust. They rinse off the water, dry quickly, and do not attract any allergy-causing bacteria.
---
Index Table: Top-Rated Nose and Ear Trimmer
---
---