Some of the links in this post are affiliate links. This means if you click on the link and purchase the item, I will receive an affiliate commission at no extra cost to you. All opinions remain my own.
Do you travel at a stretch for days and weeks? A Travel Shaving Bowl may be an ideal solution to save space while packing and have functional shaving essentials.
The key is to find a durable and lightweight bowl that is easy to clean. Keep reading to find more features and some products to consider.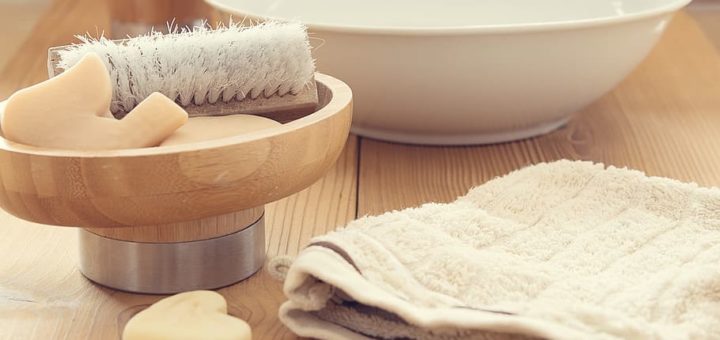 ---
Reviews: Best Travel Shaving Bowl
We have listed some of the best Travel Shaving Bowls with their features for you to choose from. Also, we would like to inform you we shall earn a small commission with every purchase made through the links in the article.
We hope you love the products we recommend!
So that you know, We may collect a share of sales or other compensation from the links on this page.
---
1
This shaving bowl from Perfecto has a stainless steel material that looks elegant.
It has a smooth surface area that is chip-resistant and will not crack while traveling.
The stainless steel material of the bowl ensures that it stays insulated to keep the water warm.
It is ideal for traveling with its double-layer strong material, which is better than porcelain or ceramic.
---
2
This Vikings Blade travel shaving bowl has a luxurious look with its frosted and rugged appearance.
The frosted surface ensures a good amount of lather for a properly lubricated shave.
It has a stonewashed surface that stays the same even after long use.
Moreover, the bowl has a good grip on its surface to prevent it from slipping due to soap and water.
---
3
Get this Pacific Shaving Company travel shaving bowl that becomes flat when not used.
It has a food-grade silicone material that makes it dishwasher and microwave safe to clean and heat the water.
The collapsible shaving bowl is also unbreakable and easy to pack in less space while traveling.
Moreover, the material of the pacific shaving company bowl provides enough insulation so that the water remains warm.
---
4
Consider this RoyalShave premium travel shaving bowl with a wide mouth for a convenient lather.
It has a unique polished chrome look that gives it a classy look and luxurious feel.
Besides, the shaving bowl has a shallow structure that makes cleaning the bowl easy after each use.
This travel bowl has a durable material that does not bend, chip, or break
---
5
Get this ShaveBowl travel shaving bowl in an attractive matte black color.
It is made from a highly dense polymer, making it unbreakable and perfect for traveling.
The bowl has a micro-texture finish that aids in adequate lather formation to shave easily.
Moreover, the bowl material is eco-friendly because it is made from 100% softwood.
---
6
This shaving bowl from QSHAVE has a universally fitting design for most shaving soaps and brushes.
It has a lid that will keep your shaving soap clean from all the debris while traveling.
The bowl has a 4-inch diameter to lather your brush with ease before shaving.
It has an easy-clean design that can be maintained by wiping down with a wet cloth if you are in a hurry.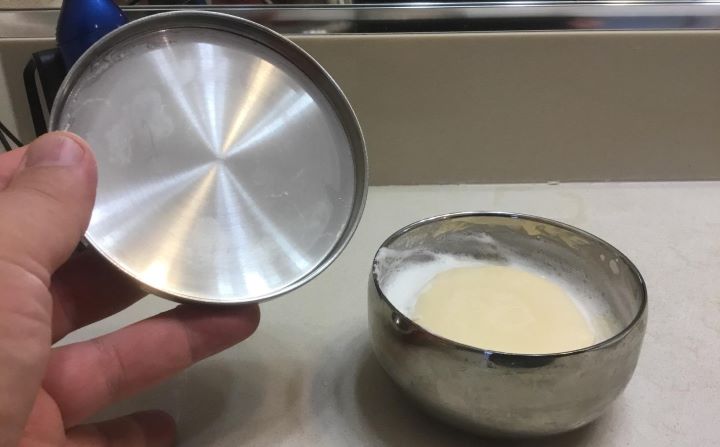 ---
Buying Considerations For Travel Shaving Bowl
Pick a shaving bowl with an unbreakable material so you don't have to worry about it while traveling. Here are some considerations to keep in mind while purchasing a travel shaving bowl.

Size – Get a bowl that fits your shaving soap and create enough lather. Avoid picking a too-small bowl to save space, as it won't be functional.
Material – You can choose from steel, polymer, plastic, and durable silicone materials. Out of all options, metal shaving bowls are the most durable.
Surface – See that the surface of the bowl material can generate a strong lather with some texture on it.
Maintenance – The shaving bowl should have an easy-to-clean surface area that dries quickly.
---
Benefits Of Travel Shaving Bowl
A travel bowl will help you attain the perfect shave while on the go. Here are some benefits of a travel shaving bowl.

Save Space – Travel shaving bowls are compact that help in saving space in your backpack. Some bowls are foldable and become flat when not in use.
Multi-Use – Some bowls come with a lid that can be used to keep your shaving soap while traveling.
Stress-Free – While packing, you don't need to add your shaving supplies until after shaving in the morning. With a dedicated travel bowl, you will be less stressed.
Easy Shave – Even while traveling, you can look your best with the right shaving essentials in your backpack.
---
Features Of Travel Shaving Bowl
Look for a bowl that is easy to manage along with your luggage. We have listed some features of a good travel shaving bowl.

Compact – Avoid picking large bowls as they will require a lot of space in your bags. A portable shaving bowl should be compact and foldable.
Lightweight – The bowl should be lightweight to carry around. A silicone or plastic material will be lighter than porcelain ones.
Unbreakable – Travel bowl should be unbreakable and dent-resistant to be long-lasting.
Insulated – The bowl's material should be insulated to keep the water warm while shaving.
---
Index Table: Top-Rated Travel Shaving Bowl
---
---