The marble Shaving bowl is the perfect accessory any man can own for an enriched and superb shaving experience, not because it has a lovely physical appearance but the overall advantages. It will help you upgrade your shaving style.
Mentioned below are some fantastic qualities that marble shaving bowls have, along with the list of some of the best marble shaving bowls and their properties. Please go through them and find out which one will be the best for you.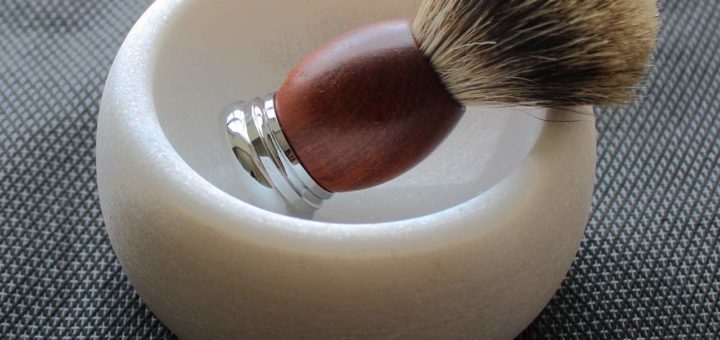 ---
Why is Marble Shaving Bowl Better
Marble shaving bowls possess some unique properties. Read below, and discover why they are better than other bowls.

Retain Heat – The marble shaving bowls are high in demand because they retain heat and make the shaving process comfortable and quick. The lather remains warm inside it.
Extra Lather – Due to the perfect texture of the marble, the lather formation is dense and warm. A pillowy lather is obtained.
Aesthetic – Indeed, it has many properties, but it feels like a luxury to have such an antique item in your shaving kit. They are available in many patterns for you to choose from.
No chemicals – Since the raw materials are derived from natural marble, there are no chemicals used in its manufacturing. Therefore, you can trust the quality of the marble.
---
Buying Consideration for Marble Shaving Bowl
If you are thinking of purchasing a marble shaving bowl for yourself, make sure to go through these points so that you get a perfect product.

Size – Before buying a marble shaving bowl for yourself, look out for the size. The size must neither be too small for the brush to fit nor too big for it to fit in the hands. Buy a perfect size for a perfect lather formulation.
Lightweight – The bowl must be lightweight so that it can be carried anywhere without the risk of it occupying too much space. If it weighs low, it will be easier to handle.
Thermal Conductivity – It must have good heat conductivity to keep the lather warm during the shaving process.
Grip – The texture must be good enough not to let it slip and provide a good grip. The base of the bowl must be flat to stay balanced on any surface.
---
Different Varieties of Marble Shaving Bowl?
The marble shaving bowls are available in many designs and patterns. Let's find out which ones are more preferred.

Design – They come in so many designs and patterns. These are also available in zebra designs. Mostly, they come in white, black, and grey colors.
Textured – Most of the times the interior and the exteriors are of the same texture. However, even if the texture varies, it is of high quality to give a perfect frothy lather.
Polished – The polished ones have a beautiful shine and luster. These are preferable.
Matte Finish – The ones which have a matte finish also look beautiful as they appear shiny but are not as smooth as polished ones. However, they also add luxury to the shaving kit.
---
Reviews: Best Marble Shaving Bowl
Keeping the above points into consideration, we have listed some of the best marble shaving bowls to give you a better and richer shaving experience. Additionally, we also want to tell you that we may earn a certain commission with every purchase made using the links on this page. Note that you will not be charged any extra amount.
---
This strong white marble shaving bowl is handcrafted.
The interior is designed specifically to obtain better whip shaving cream or soap into a heavy lather.
It is known for its heat retention property. All you need to do is keep it under hot water for one minute to heat the natural stone.
The lather will remain warm while you are shaving and give you an amazing shaving experience.
The shaving bowl is of high-quality material and has a strong grip that makes it handy.
---
2
This Charmman marble shaving bowl is hand-made with raw materials obtained from a solid block of natural marble.
The fine texture and small ridges allow the formation of dense and warm lather in just a few seconds.
Quality marble keeps the lather warm for a good shaving process.
The size of the bowl is just perfect for handling. You can easily carry it along while traveling as it occupies only a little space.
The bowl has a matte finish that makes it different from other products. The matte surface prevents it from slipping.
---
3
ThisZebra marble shaving set includes a good quality shaving brush and a safety razor.
The marble shaving bowl does not contain any chemicals as it is made with real marble.
It is insulation and easily lathers soap or shaving cream.
This bowl has a finely polished finish, which makes it shiny and a strong grip that keeps it from slipping.
---
4
This lovely marble shaving bowl is entirely handcrafted with the finest quality natural marble.
The bowl has medium size so that you can form a dense and high amount of lather in it.
This bowl is known for retaining heat for longer durations than bowls made of other materials like ceramic.
It is a beautiful item that every man must possess. Apart from being handy, it is also a great addition to the bathroom accessories.
Although it is delicate, it doesn't lose its luster after regular use or multiple washes.
Moreover, it can make a perfect gift for your loved ones.
---
5
There is a textured finish inside this black marble shaving bowl that lets you create a smooth lather.
The bowl has lightweight. Therefore, it is easy to carry while traveling.
It is a one-of-a-kind hand-crafted item.
Additionally, the shaving bowl has an excellent grip. So it doesn't slip from the hands.
It is so beautifully made that it feels like a luxury to own in your shaving kit.
---
6
This zebra-designed marble shaving bowl is available in a perfect grey color.
Moreover, it has a smooth surface and a wide mouth to dip your shaving brush and form a dense lather.
The bowl is structured correctly for keeping the lather warm while you shave.
It has a flat base so that the bowl doesn't slip while using it.
Not to mention, using this marble shaving bowl will make your shaving process more comfortable, quicker, and healthier.
---
7
The Charmann shaving bowl consists of natural raw marble.
It is available in a black or white color option from which you can choose.
The shaving bowl is heat retaining and very durable.
It is the perfect size for all your shaving needs.
---
8
From Shash, we have another gorgeous marble shaving bowl model.
The shaving bowl is a grey marble and very durable.
It allows for easy lather and heat retention.
The shaving bowl is available in grey color only.
---
9
Here we have another addition from Shash in a marble shaving bowl.
It is a lather mug design in marble that is smaller in size.
The shaving bowl retains heat for a long time.
It is a crisp white color.
---
10
From ShayVe, we have a natural marble shaving bowl.
It is an exquisite design that is stylish and elegant.
The bowl lathers well and retains heat.
It comes in a solid black color option.
---
Index Table: Top-Rated Marble Shaving Bowl
---
---