Some of the links in this post are affiliate links. This means if you click on the link and purchase the item, I will receive an affiliate commission at no extra cost to you. All opinions remain my own.
An excellent idea as a thoughtful gift for any man is always a good shaving kit.
A shaving set is something that every man needs and can use.
There are some really complete and luxury shaving Gift sets on the market today that I would like to share with you.

---
1
---
2
The Bevel Store shaving kit form en is the ideal gift for any occasion.
The set includes a Pre-Shave oil, a Shaving Cream, and Aftershave Balm, and all products are clinically tested to reduce skin irritation.
The ideal gift set for men with sensitive skin.
The gift set does not include a razor, only skin products.
All the products are dermatologically tested, and exceptional quality skin provides for all skin types.
---
3
From the Anbbas store, we have a three-in-one shaving brush set that will make for an ideal gift shaving set.
The set includes a badger hair shaving brush, a stainless-steel stand, and a shaving bowl.
There are also more colors and options available from which you can choose to get the perfect gift.
The set has a Faux Nylon bristle badger hair shaving brush that is soft and will lather well.
There is a brush holder with a minimal and easy-to-use design.
The steel soap or cream bowl also comes in quite handy.
---
4
The Gilette Proglide Shield is the perfect Gift set for men who enjoy a wet shave without fuss.
The shaving kit includes a Proglide Shield razor with razor Blade refills and shaving cream.
All you need for a close and clean wet shave.
The Gift set has the premium ProShield razor handle, four additional blade refills, and the shaving foam is a large 6-ounce bottle.
The razor has a matte black handle, and the blades are lubricated.
The shaving foam is free from alcohol, dye parabens, and sulfates.
---
5
We have their original grooming razor shave from the Bulldog range that makes for an ideal gift set.
The gift set includes a razor with a shave gel and a moisturizing aftershave lotion for your skin.
The Flexible Razor head has original steel blades and is very effective.
There are five blades in the razor head.
The shave gel lathers well, and the moisturizer will be ideal for sensitive skin.
---
6
From gentleman Jon, we have a complete shaving kit as an ideal gift for any gentleman.
The full kit includes a safety razor, a badger hairbrush, an Alum Block, a Shave soap, a Stainless-steel bowl, and five additional razor blades.
The items in the set are carefully curated to be of the finest quality and to last very long.
You can enjoy is superior luxury shave with this set.
---
7
The Rapid Beard store shaving kit is a great gift for men.
The gift set includes a safety razor with ten additional blades, a shaving badger hairbrush, a sandalwood shaving soap, a shaving stand, a stainless steel bowl mug, and a Canvas dop kit.
You can easily place all the shaving items, including extras, in the handy and quality dop kit bag.
The shaving brush has badger hair bristles offering a good lather and exfoliation.
---
8
The Viking Revolution safety razor shaving kit is an excellent gift idea for any occasion for a special man.
The kit includes a double edge razor with a safety design, a stand, bowl, aftershave balm, pre-shave oil, and a badger hair shaving brush.
All the items included are of excellent quality, and the kit is complete with everything your need for a luxury shave.
The products are well-selected, and the razor comes with 10 additional blades.
---
Why Invest in a Shaving Kit
So why invest in a good shaving set as a gift?
The thing about shaving, as any man knows, is that you need many products and types of equipment. To enjoy a more luxurious and comfortable shave, sometimes you need better equipment and additional products to take care of your skin.
A complete shaving kit takes the guessing out of shaving products and equipment out of the picture and gives a man a full set that he can use as needed.
A shaving Gift Set makes the perfect gift that can be used and enjoyed.
---
What Should a Shaving Kit Include
There are so many shaving kits available, not to mention different types of razors and equipment.
Besides your regular safety razor, you get straight and twin blades razors.
So generally, I recommend that you try to find out what the man you are gifting a shaving set to likes to use in general.
Razor – A good shaving set should include a razor of choice, a straight razor, a safety razor, or a twin blade. Unless you are only opting for a product set.
Extra Blades – Most shaving gift sets will also include additional blades for the razor.
Shaving Products – All good shaving gift sets will include some products. Shaving foam or gel, aftershave, and some extras such as oils and skincare.
Shaving Brush – Some shaving sets may also come with a handy shaving brush that may include a soap bowl and stand for the shaving brush.
Carry Bag – A good shaving gift set should also come with a handy carry bag to keep all the items in or a neat gift box.
---
Features of a Good Shaving Gift Set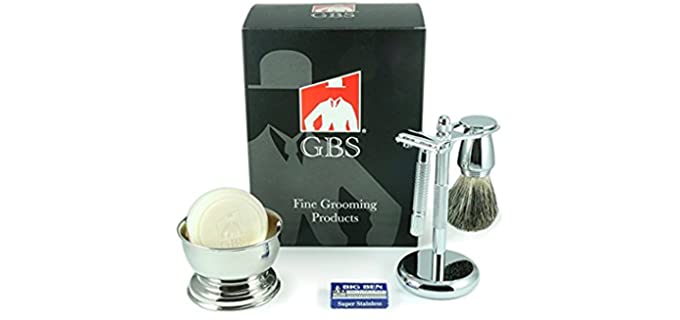 Bag or Container – Look for a durable canvas or leather bag. Some sets will come in a wood, plastic, tin, or cardboard box.
Products – Products included are shaving creams, soaps or gels, aftershaves, and some may have more luxury items.
Razor – There are different razor types, so you must choose the most suitable one. They usually come with additional blades.
Other Items – Other items may include a shaving brush, soap bowl, and stand for shaving brush or razor holder.
---
---