A wet shaving kit is something that every man that loves a good wet shave should invest in.
The full kit comes with all the items and products you need for a comfortable and healthy shave without the hassle of figuring out what to use and what not.

---
Why You Need a Wet Shaving Kit
A full shaving kit takes the hard work out of choosing every product and piece of equipment you need.
Most luxury shaving kits have good quality, suitable products and some of the best razors and equipment.
---
Reviews: The Best Wet Shaving Kits
These are some superb options in wet shaving kits that have everything you need for a close and comfortable shave;
We hope you love the products we recommend!
So that you know, We may collect a share of sales or other compensation from the links on this page.
---
1
---
2
The G.B.S Grooming and wet shaving kit for Men includes everything you need for a full shaving and grooming session.
There is a Butterfly DE Safety razor, a Shaving Brush, a chrome Shaving Soap Bowl, Shaving soap, and a razor stand, with additional DE blades included.
The Luxury shaving kit is ideal for wet shaving and makes a perfect gift.
The shaving kit includes quality products that consist of high-quality materials.
There are also two color options available.
---
3
The Viking Revolution Shaving set is ideal for wet and dry shaving.
The kit has everything you need for the perfect shave and aftershave routine.
It includes a luxury double-edge safety razor in stainless steel, a stand and bowl, an aftershave balm that is soothing and moisturizing, and a Pre-Shave Oil.
There is also a shaving brush that is a quality design with badger hair bristles that are soft and of excellent quality.
---
4
The Gentleman Jon kit is a complete wet and dry shaving kit for men.
It will, in turn, make an ideal gift set for Christmas or fathers Day.
The set includes six items to have everything you need for your shave.
There is a safety razor that comes with five additional blades for your convenience.
The Badger hair shaving brush is the perfect size and design.
The One Shave soap is all you need for the perfect lather.
There is also a single Alum block included for your convenience.
---
5
We have another wet shaving kit from the rapid beard store, an absolute luxury.
The full kit comes with a durable canvas Dopp bag that you can use for travel to store all your shaving products and other items.
There is a safety razor included that comes with ten additional blades,
The Badger hair shaving brush is of excellent quality and has a comfortable handle.
There is sandalwood-scented shaving soap cream.
Furthermore, you get a shaving stand and stainless steel shaving soap bowl.
The products are of good quality and natural for all skin types.
---
6
Another addition from Gentleman Jon is their eight pieces full wet shave kit, with so much to look forward to.
The kit includes a safety razor, and you also get five additional razor blades with it.
There is a Badger shaving brush that comes full with a stand and comfortable grip handle.
There is also a shave soap and Alum block.
The Kit includes a canvas Dopp bag for your convenience so that you can easily keep all items together, and it is ideal for traveling.
You can use this kit as an ultimate gift set with its luxury items.
---
7
The Gillette ProGlide series is a great option in wet shaving kits, a great and affordable gift set for men.
The set contains a premium Fusion 5 ProShield razor with a matte black handle and a very sleek design with a comfortable rubber grip.
The Fusion5 ProSheild blades included are four lubricated blades that prevent skin irritation.
The Shaving cream you get in the set is ideal for sensitive skin. It is sulfate-free, paraben-free, and contains no alcohol.
---
8
We have the Gillette range wet shaving Kit from King C for men, which is ideal.
The kit is a luxury complete shaving set that can also be an ideal gift.
There are different options available that you can choose from at different price ranges.
The set we have chosen includes a double edge safety razor with additional stainless steel blades, a beard, and face wash that is mild with menthol, a beard balm and oil for moisturization, and a transparent non-foaming shaving gel.
The set is ideal for men with oily to combination skin, as it is non-greasy and still provides good moisturization.
---
How to Maintain Your Shaving Kit
Dry Your Razor Properly – After shaving, you need to wash and dry your razor properly. The good idea is to use rubbing alcohol to disinfect and dry your razor blades. A dry razor blade will last much longer.
Proper Storage – Keep your products and razor stored in a closed area where steam and splashing water cannot cause wetness.
Replace Blades – You should comfortably get 4 to 6 shaves out of a regular lade, so replace old blades.
Properly Clean Shaving Brushes – If you use a shaving brush, clean it properly and keep it in a dry area.
---
Features of a Good Wet Shaving Kit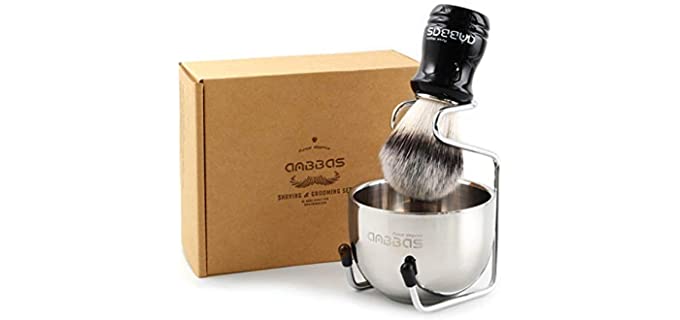 Products – Include shaving soap, foam, gel, aftershave, and sometimes luxury items such as oils and moisturizers.
Razor – There should be a razor of your choice with additional blades.
Extras – Extras include a shaving brush, a stand or holder, a soap dish, and sometimes a handy dopp bag.
---
Index Table: Top Rated Wet Shaving Kits
---
---