Head shaving kits come in all shapes and sizes, making it a dilemma to choose one over another. Besides, there are a lot of additional features that you have to look out for to ensure that your investment into a kit serves you well and for long.
Therefore, we found the best head shaving kits from Amazon and compiled their most outstanding features for you to have a quick read. Besides, we also have a few additional pieces of information that will help in improving your head shaving regime.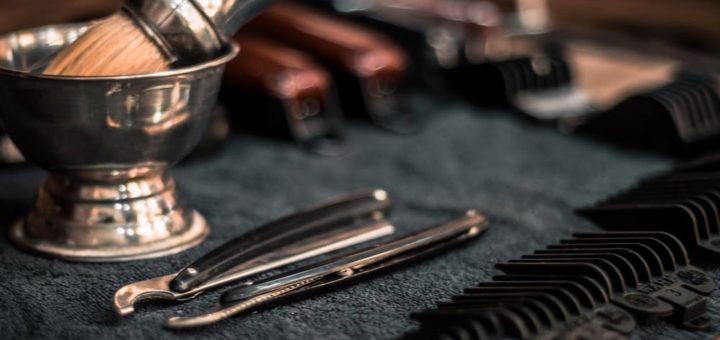 ---
What to Look for in the best Head Shaving Kits?
As we mentioned earlier, there are many types of head-shaving kits available. Yet, only a few can fulfill all your requirements. Just so that you do not skip an essential item, here are a few buying considerations for head shaving kits.

Size – Depending on the purpose for which you need a kit, you can choose a suitable size of the kit. For instance, if you are going to use the kit at home, you may go for a versatile groomer. In case you need a travel kit, go for the most portable one.
Accessories – Choose the kind of accessories with care. Besides, look for the kind of blade, brush, and other things so that none of the accessories go waste.
Quality – The quality of the accessories in the kit is also worth noticing. Also, look for the kind of grip, material, and other attachments.
---
Benefits of Shaving your Head
We are not aware of the reason behind your decision to go bald, or if you even had a choice. But we do have some cool benefits of going bald, that you may still not be aware of. Have a look!

A Hair Loss Solution – Getting rid of all the hair, is also a solution against the problems of hair loss. You will no longer have to go from pillar to post and try new ways to get that mane back.
Improves Personality – A smoothly shaved head is always better than a head with a U shaped patch of hair. It also helps in making you look younger as no har means no patches of greying hair as well.
Enhances your outlook – Many studies have proven that men with bald heads tend to look smarter and more intelligent than their haired counterparts. As it is, the world is full of many millionaires and billionaires that have no hair on their heads.
---
Head Shaving Tips and Advice
The result of a shave depends a lot on the way you carry out the process. For instance, the time you leave the cream on, or the direction of the shave. So here are a few ignored steps and tips that will help you get a better-shaved head. Your hair, as well as the skin, will become a bit more soft as well as the chances of razor burns also reduce.

Shower before shaving – Irrespective of technology improvements, a little prep up ensures a better shave. So even if it looks like a fuss, try and have a shower for softer hair that will shave off faster.
Mirror Matters – having a comfortable view of your shaving area is another aspect of importance. Especially when you are shaving your head, get a good mirror that gives you a 360-degree view of your head.
Schedule your shaves – Though the interval between two shaves varies from person to person, one must have a fixed schedule to shave, so that the hair grows just the right length for a quick and quality shave.
Treat Dryness – Especially people with bald heads tend to ignore the requirements of the scalp that is exposed to the dust and sun. As a result, their skin goes dry and scaly, but the sooner you treat it, the better.
---
Reviews: Best Head Shaving Kits
We have listed below the best head shaving kits for you. But before you move forward, we would like to inform you that for purchases made through the links on this page, we may earn a part of the profits.
---
The ATX Men's Shaving kit by Headblade includes 8ozHeadslick cream, Shaver along with HB4 refill blades.
The 8oz shaving cream will easily last you for more than a couple of months.
And since it is non-electric, you can use it almost anywhere without having to look for an electric socket.
Besides, the shaving cream and blades work together to give you a butter-smooth glide on your face and head.
Though the only downside is that this kit comes without a carrying pouch, which you will have to buy extra.
---
2
The PG525 Head Shaving kit by Remington is an all-rounder with nine cool attachments, which includes a shaver, and a variety of trimmers for head, nose, body, etc., plus a few hair clipper combs as well.
Additionally, since it is chargeable and cordless, you can enjoy up to 70 minutes of shaving on one full charge.
Even the blades that come along are self-sharpening, and use the friction from the hair to renew their sharpness.
Besides, this groomer kit also comes with a two-year limited warranty, with additional characteristics like being washable.
The blades are of surgical grade, so that you know!
---
3
Sminiker rings one of the most versatile head shaving kits which also doubles as a truly versatile groomer.
With more than a dozen accessories, like shaver, clippers, trimmers, scissors, charging adapter, brush, comb, and many others, you can take care of all the hair on your head, face, and body.
Most of the attachments are washable and thus easy to clean.
Besides, you have full power to adjust the size of your hair or to have a smooth shaved head.
It also brings along a manicure set, which is a gift with this head-shaving kit.
---
4
For an old school and classic shaving, here is an elegant head-shaving kit by the Viking Revolution, and contains all that one may need for shaving.
The contents include razor, along with ten blades, shaving brush, pre-shaving oil, shaving soap, aftershave balm, and a razor stand
And yes, it comes with a cool black case, with allocated spaces for each attachment. So it will be equally cool to carry it on a trip, or gifting to your dear ones.
---
5
Another great head-shaving kit that is compact and comes with a sturdy pouch that you may carry anywhere and everywhere.
It comes with a razor, a badger hair brush, shave stand, shave soap, Astra razor blades, stainless steel shaving bowl, alum block, and a canvas and leather Dopp kit.
Besides, the premium shave soap is 100% natural, with ingredients like vegetable glycerine, coconut, and palm oil. Plus, it is anti comedogenic, making it safe for all skin types.
The Gentleman Jon Alum Kit helps in fighting against razor burns.
This premium head-shaving kit will surely last you longer than you expect it to.
---
6
One of the most handy head shaving kits out there, it will easily fit even in your trouser pocket.
It also ensures a close shave with its double edge safety razors, which you may feel free to reuse.
The kit also comes with a stand as well as five replacement blades, which you can easily change, thanks to the butterfly design of the razor.
The razor also has a firm grip, and the brand offers a lifetime warranty of this head-shaving kit.
Besides, the stainless steel design is also a classic and won't rust. The travel container is also quite sturdy and easy to carry.
---
Index Table: Top-Rated Head Shaving Kits
---
---