Experience a luxurious shave with a stylish yet traditional Wooden Shaving Kit that has all the essentials. With the classic straight razor, your face will look smooth and bump-free.
Choose a kit that uses sturdy wood to last you for a long time. We have listed some products and key things to consider while making a purchase.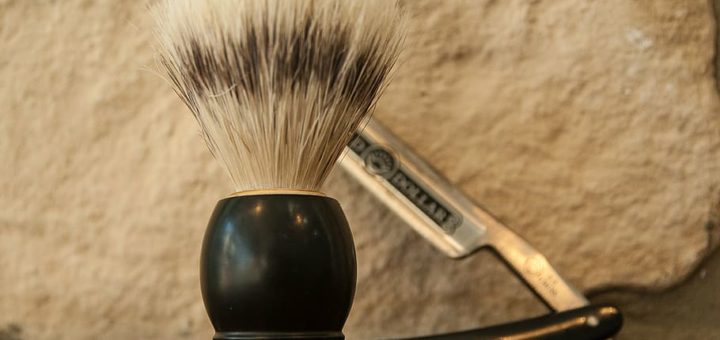 ---
Reviews: Best Wooden Shaving Kit
We have listed some of the recommended Wood Shaving Kits with their features for you to choose from. Also, we would like to inform you we shall earn a small commission with every purchase made through the links in the article.
We hope you love the products we recommend!
So that you know, We may collect a share of sales or other compensation from the links on this page.
---
1
The Oyunngs wood shaving kit comes in a fine balanced wooden box to store your essentials in one place.
Enjoy shaving with this traditional shaving kit with all the traditional components like strop, razor, and brush.
The razor and brush come with different attachments for precise and effortless shaving.
You can put this shaving kit for multiple uses while trimming your beard, clipping your hair, or tiding your ears.
The shaving kit is long-lasting, hence a great investment for hassle-free shaving each morning.
---
2
Get this handcrafted Anbbas shaving kit that comes with a shaving mug, brush, soap, shaving holder inside a box.
The brush is made from real badger hair attached to a solid Manchurian ash wood handle.
It has an ergonomic shape for easy hold and precise workability around the face and neck.
This shaving kit is perfect for traditional shavers who prefer a foaming soap with a no-shed brush for an effortless shave.
Additionally, the brush can be stored and dried on the wooden holder to ensure its longevity.
---
3
The Naked Armor wooden shaving kit is a blend of elegance and deluxe essentials that will upgrade your shaving experience.
It has a five-layer stainless steel brush with a sandalwood handle for a sturdy grip.
Additionally, the head of the brush is replaceable with a quick single-pin mechanism.
It comes with five extra blades to replace for a convenient and effortless shaving experience.
The kit will last you for decades without any plastic or environment harming waste with its use.
---
4
Consider this French traditional Maison Lambert to give you a luxurious shaving experience.
The kit contains a double edge safety razor that will result in a precise and clean shave.
Additionally, it has a pre-shave oil that softens the hair and prepares them for shaving.
The shaving brush has 100% pure black badger hair, resulting in soft and sufficient foam.
All the components are free from allergens and hypoallergenic to ensure sensitive skin safety.
---
Buying Considerations For Wooden Shaving Kit
The best shaving kit will be your long-term companion, so it should contain heavy-duty components. We have listed some things to consider while purchasing a wood shaving kit.

Packaging – You can pick from various sized packages in wood or leather bags to ensure all essentials are securely stored.
Products – There are several products like shaving holders, cups, mugs, leather belts, stoppers, razors, and shaving brushes to consider.
Wood – You can choose from ash wood, sandalwood, and spruce that is hand-crafted and stained.
Customizable – See that the shaving kit is customizable as per your needs, so you can skip on the items you don't use while shaving.
---
Features Of Wooden Shaving Kit
Pick a kit that is portable and made of strong wood. We have listed some features that should suffice in a good shaving kit.

Ethical – The use of animal hair in the shaving brushes should be ethically sourced and processed. You can also pick a synthetic version that works almost as well as animal ones.
Hypoallergenic – People who have allergy triggers need to check that the products are listed as hypoallergenic and non-toxic.
Unbreakable – There should be strong and unbreakable components crafted out of a single piece of wood to prevent any shedding. Hence, the leather shaving kit is more durable.
Precise – The blades and double-edged razors should deliver a precise and close shave safely.
---
Tips To Shave Better
Here are some shaving tips if you are a beginner or are looking for ways to upgrade your shaving game.

Follow The Grain – Always shave along with your hair's growth, following the grain. This will eliminate any razor bumps from the skin.
Double Shave – If you want a closer shave, repeat it one more time and shave in the direction as your hair grows.
Exfoliate – Exfoliating your face twice a week will ensure that you have a long-lasting, closer shave.
New Blade – Never use a single blade twice. Make sure that you replace your razor with a new blade each time you shave.
---
Index Table: Top-Rated Wooden Shaving Kit
---
---