Traveling should be easy and convenient. Our accessories should also be light and easy to carry around, keeping this in mind. For men, the most crucial travel accessory is their shaving kit.
Therefore, we have curated the best travel shaving kit for all the travel lovers out there.
In addition to that, you will also find important aspects to consider while buying a travel shaving kit. Read along!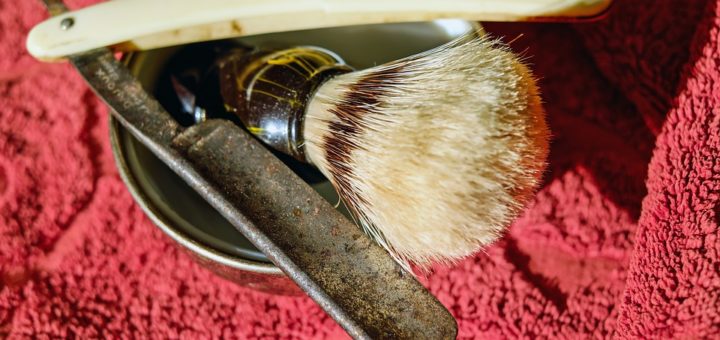 ---
Step-by-Step Guide of Shaving Properly
If you are a newbie and can't have a proper hold at shaving your beard, we have a solution! Here is a simple step-by-step guide for getting the best results and shaving experience. Take a look!

Prepare – Prepare your skin with the help of the soft brush in your shaving kit. It will help you eliminate all the dead skin cells while focusing on a smooth shave. Apart from that, your beard will also become a little soft for the perfect result.
Shave – With the help of a razor blade, gently stroke your beard. Each stroke of the razor will help you reach your goal towards a fresh new look!
Restore – After you are done shaving, hydrate your skin from the inside out using an after-shave cream/gel. It will help you soothe your skin and avoid any irritation.
---
Advantages of a Travel Shaving Kit
There are various benefits of shaving your beard instead of using a trimmer. If you are somebody who travels a lot, a shaving kit comes in handy every time you get on a plane. You won't have to buy the product repeatedly, and it will certainly be a one-time investment. Therefore, written below are some of the advantages of buying a travel shaving kit.

Cost Effective – Getting a travel shaving kit is pocket friendly. Even though your initial cost of buying the kit may seem heavy, you won't have to buy it repeatedly.
It is Eco-freindly – Most of the shaving kit products are bio-degradable and can also be recycled. Therefore, it makes for the most sustainable grooming option.
Irritation-free result – Blades can often create bumps and ingrown hair. With a proper shaving kit, you will first have to soften your beard by generating rich lather. It protects the skin from multiple problems and reduces common skin complaints.
---
Features of the Best Travel Shaving Kit
A travel shaving kit is an essential part of men's overall grooming on the go. It would help if you considered certain aspects while buying a travel shaving kit. Here are some of the best features of a good travel shaving kit that you must consider.

Compact – You can easily fit a compact shaving kit for travel into the suitcase without any worry. It comes with small shaving essentials that do not take up much space and allow you to carry other stuff with you.
Lighweight – In addition to being compact, a travel shaving kit must also be lightweight. It can help you carry more stuff so that your suitcase doesn't weigh too heavy.
Comes with a Pouch – You wouldn't want your stuff to scatter here and there while you reach your destination. Therefore, your travel shaving kit should come with a sturdy pouch.
Durable – Each component of your shaving kit must be made of high-quality material to ensure maximum durability. Since you occasionally use your travel kit, the durability will help you keep it safe for longer.
---
Reviews: Best Travel Shaving Kit
Travel shaving kits come in all types of shapes and sizes. While some come in a cute little pouch, various brands give you a more luxurious feel by offering a more plush outer covering. The list mentioned-below consists of some of the best are travel shaving kits for you to try your hands on. We may also get some part of the profit if you choose to buy any product from the links below.
---
The traveling shaving kit comes in a water-resistant pouch.
It features four products for a smooth result.
Apart from that, the products are infused with essential oils for an irritation-free experience.
---
2
The Rapid Beard shaving kit is a must-have for all those who love traveling.
It comes with a shaving brush, a safety razor, a shaving stand, and a zipper pouch.
The products are crafted to give the most exquisite shaving experience.
Apart from that, the travel shaving products are infused with lavender, coconut oil, and aloe vera.
---
3
The razors come with sharp ready to use blades.
It is good for even those who have switched to shaving recently.
The razor blades can be used for around ten shaves and easily replaced.
In addition to that, you can easily gift this kit to your significant other.
---
4
Gentleman Jon offers the highest quality of products under an affordable price range.
This traveling shaving kit offers all the shaving essentials on the go.
There are eight items included in the kit.
---
5
The traveling shave kit by Naked Armor offers an incredible shaving experience.
It has a straight edge razor that helps to get the ultimate result when you shave your beard.
In addition to that, this kit also features durable stainless steel to give a neat and clean look.
---
6
A shaving kit like Naked Armor that has every essential component is a must-have just.
It is lightweight and compact; therefore, you can easily carry it wherever you want.
This kit also features a stainless stain that doesn't rust, making it perfectly durable.
---
7
All your shaving needs sin one trave sized kit from Caliber Shave Co.
The full kit comes with a neat travel case.
The kit includes a rotating stand, wet shave brush, shave bowl, and razor.
Ideal for travel and business trips.
This will also make a great gift.
---
8
The Harry's Razor set comes in three basic items that you can pop inside your toiletry bag.
This is a basic razor set.
There is a razor with extra blades and shaving cream.
You will need your won toiletry bag to keep the set.
There are also a few options from which you can choose.
---
9
In The Proraso travel shaving kit, you have all the essentials for travel.
A travel shaving kit for all the essentials.
The kit includes shaving cream, aftershave, a shave brush, and a bowl in travel size.
Enjoy a barber-quality shave on your travels.
---
10
A more luxurious travel kit for shaving on your trip.

This is a more luxury travel shaving kit.
The kit is a full six-in-one kit.
There are quality items for daily use.
The razor is included with safety blades.
This kit is perfect for longer trips.
---
Index Table: Top-Rated Travel Shaving Kit
---
---