Some of the links in this post are affiliate links. This means if you click on the link and purchase the item, I will receive an affiliate commission at no extra cost to you. All opinions remain my own.
Choosing luxury shaving kits for men can be pretty challenging. If you are a beginner, it is even more difficult for you. Since most men shave at least once a week, buying the perfect shaving kit becomes essential.
To get a superior result, you need to be prepared with the best tools, which is why we have brought you this fantastic buying guide. It also contains some of the best luxury shave kits to try your hands on. Apart from that, you can also gift these grooming sets to your loved ones.
---
Reviews: Best Luxury Shaving Kits
The below list consists of products we found to be the most useful for shaving. Read along to know some of the best luxury shave kits on the market. Also, we'd like to inform you that if you purchase from the links below, you may help us earn a part of the profit.
We hope you love the products we recommend!
So that you know, We may collect a share of sales or other compensation from the links on this page.
---
1
---
2
The Merkur 4-Piece shaving set features the Futur razor, a matching silvertip badger brush, and a frosted glass shaving bowl.
Plus, the entire set comes with a stand to hold all the components and is all finished stylishly in chrome.
In addition, the razor comes with an adjustable dial to alter the blade gap so that one can fine-tune it for the closest shave possible.
---
3
The shaving kit has a removable razor head and blade that can be easy to wash and clean.
It also has an allergy-free shaving soap with natural ingredients.
This kit includes a shaving bowl made up of high-quality stainless steel.
The brush consists of pure badger hair, which makes it gentle for any skin type.
---
4
The highest-quality shaving kit by Gentleman Jon is here.
Each kit component is made from the best material to achieve the desired results.
It comes at a great price that offers the best value for money.
There are six items inside this luxury shaving kit.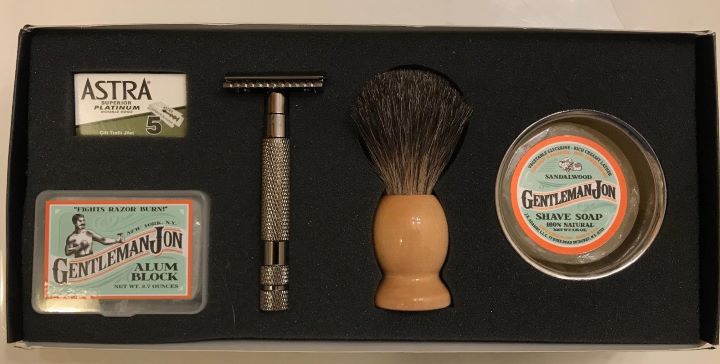 ---
5
The ACRIMAX shaving kit consists of shaving soap, a brush, a premium soap bowl, and a stand.
It consists of a badger hair shaving brush, which helps you generate a rich lather.
In addition, the shaving razor and stand are made of stainless steel, making them even more durable.
---
6
It is made from some of the best products; this shaving kit is your go-to for a neat and clean look.
The Viking shave kit contains safety razors, a stand, a shaving brush, and soap.
You can also groom your face with the ultimate pre-shave oil and aftershave balm.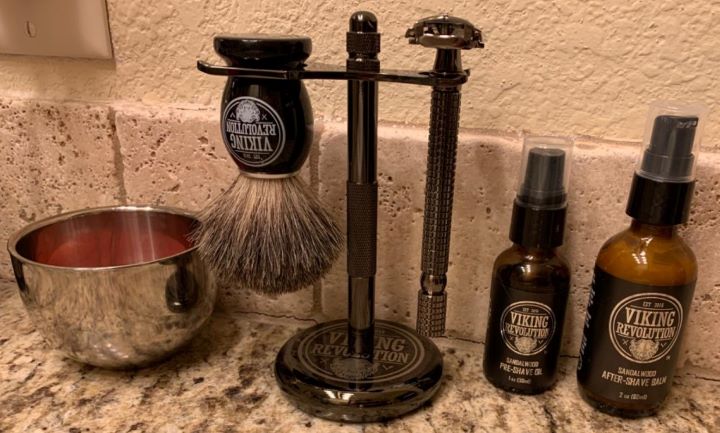 ---
7
This luxury shaving kit consists of everything you need in one place.
Each component comes with the best quality at a very reasonable price.
Eight items help you get the perfect shaving experience even if you have switched recently.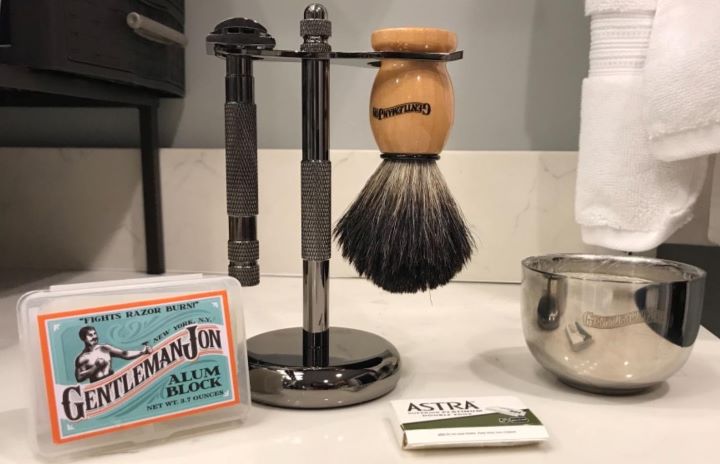 ---
8
This luxury shaving kit includes all the exclusive products from Rapid Beard.
It comes with a shaving brush made from badger hair, shaving soap, and a stainless steel bowl.
The top-notch quality of these products makes them durable and super easy to use.
---
9
A luxury five-in-one shaving kit from Meicoly.
Five-in-one luxury shaving kit for men.
The kit includes a brush, bowl, razor, holder, stand, and blades.
There is a durable and soft brush and sharp blades included.
The set is also perfect for travel.
---
10
A luxury vintage-style shaving kit from Viking Revolution.
A luxury safety razor set.
The set includes your aftershave balm, razor, shave oil, brush, and a stand with a bowl.
The brush is a badger hair brush with a wood handle.
There is a double-edged razor.
All a lovely vintage design.
---
11
Enjoy the sandalwood-scented complete professional shaving set from Youbeaul.
A vintage design luxury six-in-one shaving kit.
The kit includes everything your need for shaving and grooming.
It comes in a handy and durable set.
An excellent quality Kit that offers excellent value for money.
---
12
The Gilette Fusion is a more modern shaving set with additional blade refills.
A more modern and basic shaving set.
Gillette is a top shaving brand.
The set includes a razor, blades, and shaving cream.
The ProShield blade gives you a close shave without irritating your skin.
The shaving cream is moisturizing and prevents razor burns.
---
Important Components Of A Luxury Shaving Kit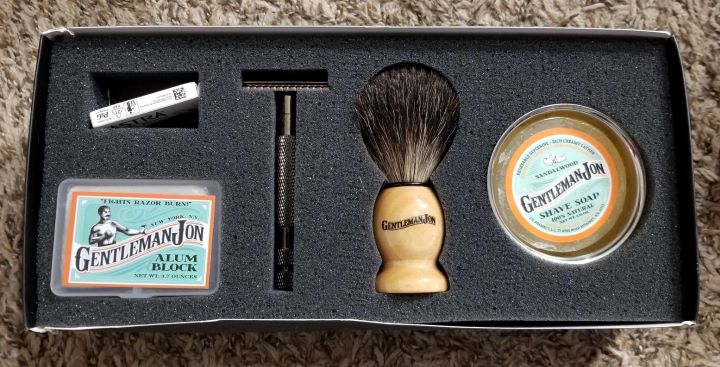 The best shave kit consists of a few super essential components. You may find them in different shapes and sizes; however, they serve the same purpose. You will find some brands that also have various other components, including shaving soap or razors.

Gentle Shaving Brush – A shaving brush is essential to generate rich lather by whipping air into the shaving cream or soap. Besides, it opens up pores and softens the hair before shaving. For this, invest in a gentle badger shaving brush on the skin.
Sturdy Stand – A shaving brush stand helps extend a shaving brush's life by allowing it to dry properly. You may choose a steel or wooden stand to store and dry your shaving brush.
Shaving Soaps – There is a large selection of shaving soaps made from natural and organic ingredients such as jojoba oil, aloe vera, and essential oils. Not only do they smell great, but they also add a touch of luxury to the whole shaving process.
Steel Shaving Bowl – Stainless steel shaving bowls with double-layer insulation will give you the ultimate shaving experience. These bowls can retain heat and also form lux leather.
---
How To Choose The Best Luxury Shaving Kits?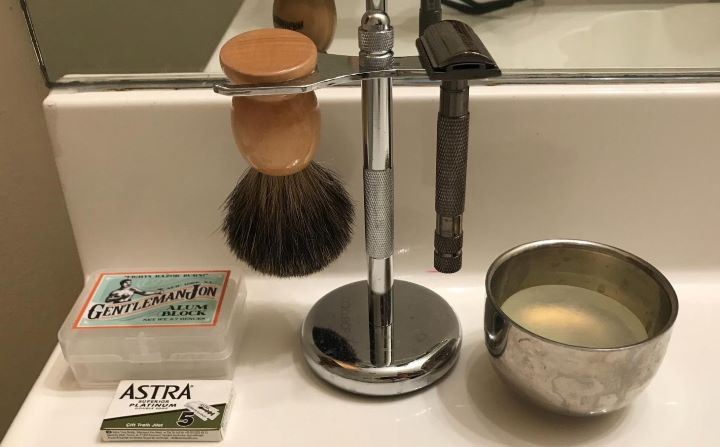 With so many shaving kits available in the market, it can be overwhelming to find the right product. Below is the list of things to consider the best luxury shave kit for you, and it need not be the most expensive shaving kit. Check out!

Durability – One of the most essential products you can choose is a vintage shaving kit. Since you will be investing some money, it only makes sense to buy a shaving kit to provide you with the proper value for money.
Price – Always find the middle ground from which you can get the best results. Please do not buy a too pricey product since you may not even use it that regularly. Also, do not settle for a cheap product that may get ruined too soon. Try to strike a great balance between value and price.
Versatility – A shaving kit should be versatile and contain various components mentioned above. Invest in a kit that consists of a shaving brush, a shaving bowl, a razor, and a shaving stand.
---
Tips For Getting A Luxury Shave Without Irritation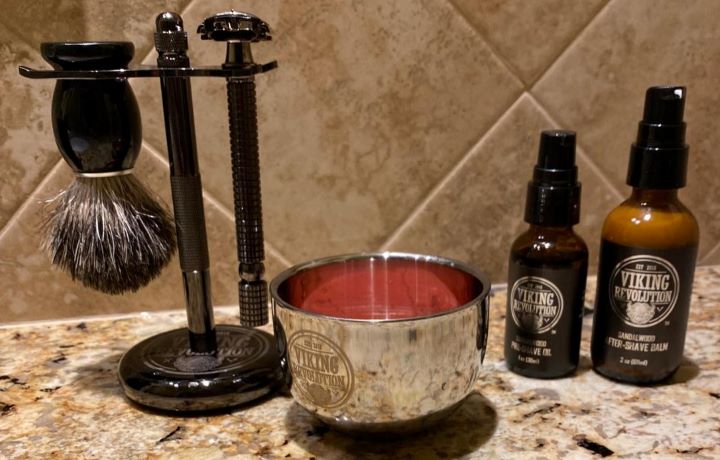 While shaving, your skin may feel irritated and dry. You may also notice some rashes or bumps, which you can avoid. Here are some tips for getting a smooth shave without irritation.

Don't shave dry – If you are running late, do not attempt to shave dry. Therefore, ensure you have a few minutes to avoid skin irritations and burns.
Exfoliate – While men think exfoliation is only a woman's thing, they forget that their skin can get clogged with dead skin over time. The hair follicles may absorb the dirt, and your beard might get itchy. Exfoliation will help you unclog the pores and allow the skin to breathe.
Close the pores after shaving – Once you are done, you need to close your pores so that they do not trap dirt on the freshly shaved skin. If that happens, you may suffer from skin irritations. The most effective way of closing the pore is by using cold water.
Do not shave hurriedly – If you are a beginner, you must not shave hurriedly. Take time and learn the right technique to not mess along the way and end up irritating your skin.
---
Index Table: Top-Rated Luxury Shaving Kits
---
---