Shaving your head can be a time and effort-consuming task every day.
Wouldn't it be so convenient to find a shaving cream that does all the work for you?
Learn about the alternatives to the usual foam-based shaving creams and pick the best shaving cream for you. Here is a list of the best shaving creams for bald heads out there to make your mornings a little easier. But before digging into the top products, have a look at the following information.
---
Benefits of Shaving Cream
There are numerous benefits of using good shaving cream. The ease of use is an additional feature that will help you maintain a good routine. Read along to know how a shaving cream will make all the difference to shave your head.

Closer Shave – A shaving cream or gel will help you get an even closer shave. This will last you longer and would be a time saver.
More Convenient – With the use of shaving cream, you would not need to spend so much time prepping the skin with lather before shaving.
Lubricating – Your shaving cream or gel will provide a good gliding surface for the blade to glide on, so there will be no razor cuts and scrapes.
Soothing – Enough amount of lubrication is needed to help your razor blade glide effortlessly for quick results.
---
Buying Considerations for Shaving Cream

You must be wondering what difference a good shaving cream will make in your routine. Picking the best shaving cream can be overwhelming but will prove to be a time-saver in the long run. Here are a few things you should consider before making a choice.

Hydration Level – Depending on your skin type, pick the lightweight shaving cream that is hydrating enough for the skin.
Track the Blade – It is very common to lose track of your blade while shaving. Good shaving cream will make the blade glide easily, keeping track of wherever it's going.
Alternatives – Know what kind of variants will work for you. You can pick from variants like gel, cream, and butter base as per your requirement.
Skin Protection – Just like shaving cream, sunscreen for bald head provides as well enough skin protection without any irritation or allergic reaction.
---
Tips to Shave Your Head
Shaving cream should be a good combination of moisturizing and anti-bacterial ingredients. Additionally, you need tips and tricks to shave your head when you are running late.

Use Warm water – Don't use too hot or too cold water. The moderately warm water will help the product to break down easily.
Avoid Dull Blades -Pick a new razor each time you shave. The new blade will be fresh and sharp to get a closer shave.
Rinse the blade – Rinse your blade with warm water in between shaving your head, so the product does not accumulate.
Gentle Strokes – Make sure you use gentle strokes to be more effective. This way, you won't have to use the razor in the same place again and again.
---
How We Test and Score Shaving Cream For Bald Head
These reviews are based on intense research, analysis, and feedback from our experts and real users from different digital platforms.
We spent 40 hours trying, testing, and scoring these Shaving Cream For Bald Head, for different key parameters and then shortlisted the best products in the market, saving you time and effort.
We used the following parameters for our tests and analysis.
Quick Shaving – We checked how good the product provides lubricant to help your razor blade glide effortlessly for quick results.
Less friction – We observed the product quality on how it can reduce friction to avoid cuts and scrapes.
Prevent Cuts – We analyzed how well-designed the product was to protect the user's head from cuts while shaving.
Reduce Redness – We researched how effectively the product reduces redness and eases discomfort on the head.
Moisturizing – We checked how effectively the product help moisturizes skin, prevents and soothes irritation, and leaves the user feeling super fresh.
---
Frequently Asked Questions (FAQ) Regarding Shaving Cream For Bald Head
---
Reviews: Best Shaving Cream For Bald Head
Here is a list of products that will best suit a close and effortless shave. Also, we would like to inform you that we shall earn a small amount of commission from any purchase made through the links on the page.
We hope you love the shaving cream we recommend!
So that you know, We may collect a share of sales or other compensation from the links on this page.

---
1
Full of the goodness of cool menthol scent, head slick will leave you refreshed each time you shave.
This head slick cream will make the razor blade glide on your scalp for a close shave.
The water-soluble feature of shaving cream makes it easy for you to rinse the blade.
Additionally, the product is cruelty-free and doesn't contain any dye or perfumes.
The convenience of using the cream makes it a complete time-saver in a hurry.
Even if you're in a hurry, you still won't have any cuts or bumps on the shaved area.
A tiny amount of the product is needed for each shave and will last you for a long time.
| Rating Category | Weight % | Score |
| --- | --- | --- |
| Quick Shaving | 25% | 100 |
| Less friction | 25% | 95 |
| Prevent Cuts | 20% | 100 |
| Reduce Redness | 20% | 95 |
| Moisturizing | 10% | 90 |
| Total Score | 100% | 96.75 |
---
2
Pick a natural option to shave your head free from toxic chemicals.
The product is gel-based and protects your skin from any kind of scraps and cuts while shaving.
You will be left with moisturized skin after you are done shaving.
Also, the mild scent will give you a spa-like shaving experience.
A little goes a long way. Therefore, one single tube will last you a long time.
The product is gentle enough on the skin to be used every day.
Build an effortless and quick shaving routine with this product.
| Rating Category | Weight % | Score |
| --- | --- | --- |
| Quick Shaving | 25% | 100 |
| Less friction | 25% | 95 |
| Prevent Cuts | 20% | 100 |
| Reduce Redness | 20% | 90 |
| Moisturizing | 10% | 90 |
| Total Score | 100% | 95.75 |
---
3
Get this natural shaving cream to have a close and quick shave on your head.
The product claims to leave you feeling refreshed and revived
If you have sensitive skin, this product will be gentle on your skin for routine use.
It's a low rather product that will be easier to wash off from your head.
Moreover, the pleasant fragrance of the product will leave you smelling nice all day.
Formulated using honey, licorice, and goji berry, the product claims to be moisturizing the skin.
Better than ordinary foams, the slick product doesn't come in the way of a razor blade while shaving.
| Rating Category | Weight % | Score |
| --- | --- | --- |
| Quick Shaving | 25% | 100 |
| Less friction | 25% | 95 |
| Prevent Cuts | 20% | 95 |
| Reduce Redness | 20% | 90 |
| Moisturizing | 10% | 90 |
| Total Score | 100% | 94.75 |
---
4
With this hair removal cream, you will no longer require a razor to shave your head.
The powder formulation of the product claims to give you a magical shaving experience.
You can prevent cuts and razor burns entirely for you to have smooth skin.
The cream is supposed to give you instant results in just 4 minutes.
It's a low-maintenance choice since the results will last for 4 days as well.
Additionally, the product comes with 4 types of formulations that you can choose from.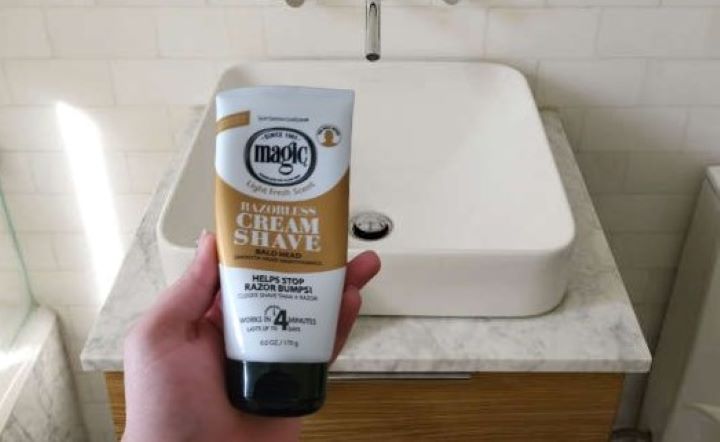 ---
5
Formulated using Aloe and Shea Butter, the product is conditioning for the skin.
Additionally, the goodness of Tea Tree oil is antibacterial and calming for the skin.
You will need half of the amount that you usually use to shave your entire head.
The buttery texture will make your razor glide safely over the skin.
Being paraben and GMO-free, you can be sure that the product is safe for you to use.
Your skin won't be left dry and itchy after shaving with burns and bumps.
---
6
This shaving cream is made of plant-derived natural ingredients which are safe and gentle on the skin.
Your skin will get a boost of hydration with a vegan formula and will stay moisturized.
The tube comes in a travel-friendly packing which is easy to carry around.
Over a few consecutive uses, you will see that your skin has a softer appearance with no burns.
The concentrated, creamy formula doesn't dry out while you shave. So, no reapplications are required.
There is no strong added fragrance in the product making it less irritating for your nose.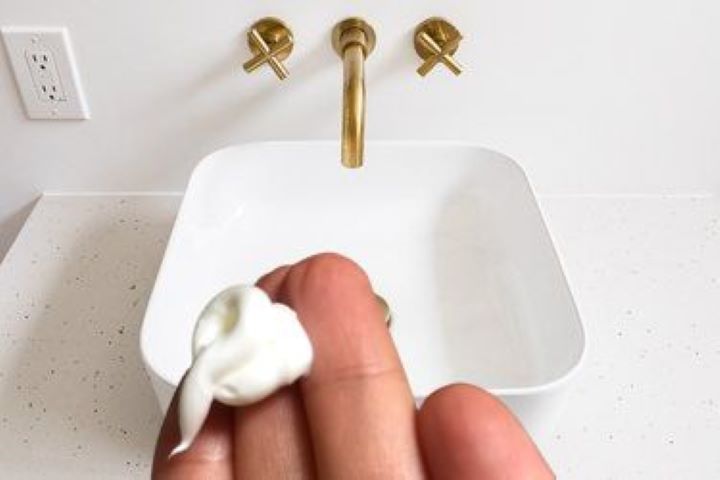 ---
Index Table: Top-Rated Best Shaving Creams for Bald Head
---
---