The best aftershave balms protect your skin from irritation, have a pleasant scent, and don't cause further irritation to the area you shaved. This blog post is all about finding the best aftershave balm for your skin type, so you can finally get relief from that dry and itchy feeling.
We have compiled a list of the popular products that meet these criteria. It's time to put an end to those irritating shaving bumps!

---
Reviews: Best Aftershave Balm
Below is a list of some of the most popular aftershave balms on amazon. In addition, we would like to inform you that any purchases made using the links provided on this page earn us a small commission. No additional charges will incur on your bill.
We hope you love the products we recommend!
So that you know, We may collect a share of sales or other compensation from the links on this page.
---
1
---
2
The Art of Shaving aftershave balm for men refreshes and hydrates the skin and makes it calm after shaving.
It's a moisturizer that won't clog pores, reducing signs of aging, and is perfect as an all-day face mask.
This aftershave balm ensures your skin is nicely covered, so it won't peel or crack from shaving too much.
The formula contains high-quality ingredients like red algae gel, macadamia oil, shea butter, glycerin, jojoba oil, etc., to alleviate the skin.
The aftershave balm from The Art of Shaving contains a subtle sandalwood scent that will leave you feeling pleased.
---
3
This lightweight and fast-absorbing post-shave lotion is specially formulated for men.
It recharges and hydrates post-shave skin while helping maintain the elasticity and suppleness of the face or neck.
The ELEMIS aftershave balm is powered by Polynesian green tamanu oil combined with cactus cereus flower extracts which helps protect against external aggressors such as UV rays. Plus, chestnut & bamboo milk keeps the male facial features looking youthful.
One pump will do wonders, so you don't need much effort; smooth over your face every morning or evening.
---
4
Billy Jealousy Shaved Ice aftershave balm is the perfect solution for those looking to cool down and soothe their skin after a shave.
It is a unique combination of soothing ingredients that provides long-lasting effects on any skin.
Its paraben-free formula promotes healing of your skin while restoring its natural pH balance so you can enjoy the soothing sensations all day long.
Besides, it contains ingredients such as orange extract for its citrus scent of grapefruit oil, promoting healthy cells. In addition to other natural scents like lime ginger bergamot, this balm will leave you refreshed after shaving without drying out your face.
The product is dermatologist tested, so it's safe to use.
---
5
The Anthony After Shave Balm for Men is a Non-greasy replenishing moisturizer with all the nutrients you need to heal your skin instantly.
This non-greasy balm is free of irritants like parabens or phthalates. Plus, it contains allantoin to soothe your skin, while vitamins A C & E nourish it with protection from the outside world.
It contains mint extract and corn mint oil, which immediately cools your burning razor burn with just one use.
In addition, rosemary reduces swelling in skincare products, making it perfect if you suffer from acne. Besides, the cool menthol scent will freshen up your day.
This best aftershave balm is also made in America without any animal testing.
---
6
The Lather & Wood aftershave balm helps cool down the burning sensation caused by razor burns. Moreover, it helps your skin feel refreshed.
In addition, its non-drying formula thoroughly moisturizes the skin, giving your face a healthy glow.
This balm is non-greasy and well hydrating; therefore, it absorbs very efficiently into the skin.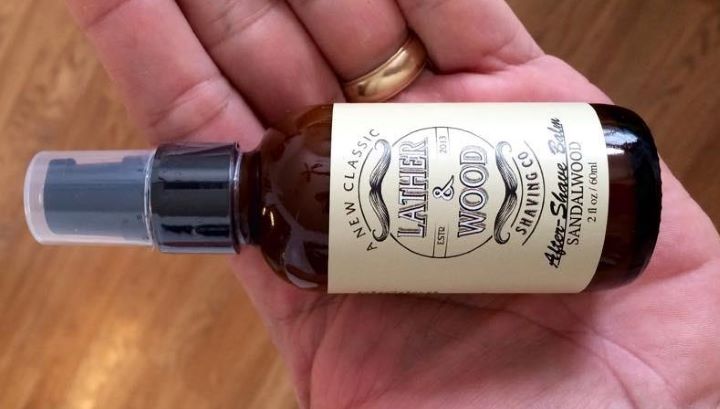 ---
7
This Italian brand has formulated a post-shave balm without alcohol, making it suitable for people with sensitive skin types.
Moreover, this men's post-shave balm combines all the benefits, which helps revitalize and refresh the skin after a shave.
Enriched with Oatmeal and Green Tea extract, it is very soothing and relieves the skin of any irritation or redness.
Also, the bonus is the beautiful fragrance provided by the lime and apple extract.
---
8
Cremo's is the best aftershave for electric shaver fanatics because it is famous for its cooling effect.
The added menthol and tea tree oil provide freshness and leave your skin feeling clean.
Moreso, the tea tree oil fights skin irritation, razor burns, and dryness. Having a soothing effect on the shaved area.
In addition, the mint scent of this post-shave balm will keep you pleasantly fragrant.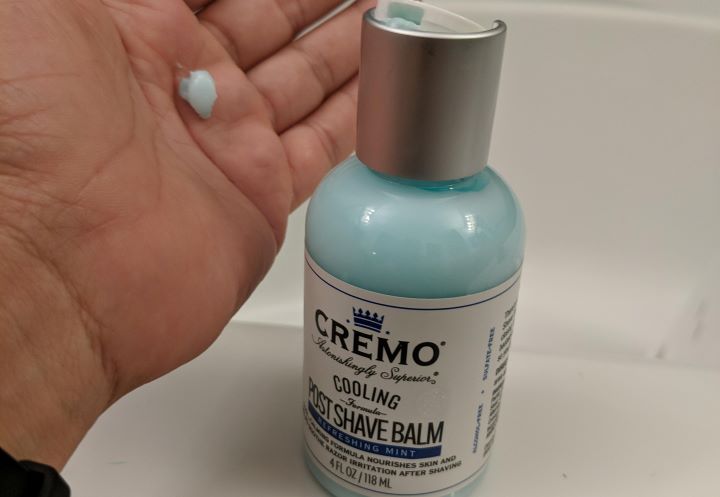 ---
9
Dove is a famous brand; its after-shave balm is 100% alcohol-free, making it ideal for sensitive skin types.
Thus, it combats the redness caused by shaving and helps soothe razor burn.
Dove aftershave contains vitamin B5 to alleviate skin agitation.
Moreover, the balm is light, hydrating, and non-greasy. Perhaps, the best aftershave for ingrown hairs.
---
10
Viking Revolution is a well-known brand for men's grooming products. Just apply a small amount of the balm after shaving to experience its luxurious smoothness.
Perhaps the best-smelling after-shave balm on this list. The natural sandalwood fragrance adds a touch of freshness without the stinging sensation that comes from an alcohol-based scent.
Also, their balm is formulated with natural products to leave your face feeling super soft, with zero dryness.
It is suitable for all skin types, and it effectively helps reduce post-shave irritation.
---
11
Another well-known brand for men's products has even provided a list of the ingredients used in their post-shave balm on Amazon.
The balm is enriched with many essential extracts such as Chamomile, Witch Hazel, and Vitamin E. These ingredients are superb for the skin.
With zero alcohol, the balm hydrates the skin well, with no dryness.
Therefore, the dermatologically tested balm is gentle on sensitive skin and leaves the face looking healthy and cared for.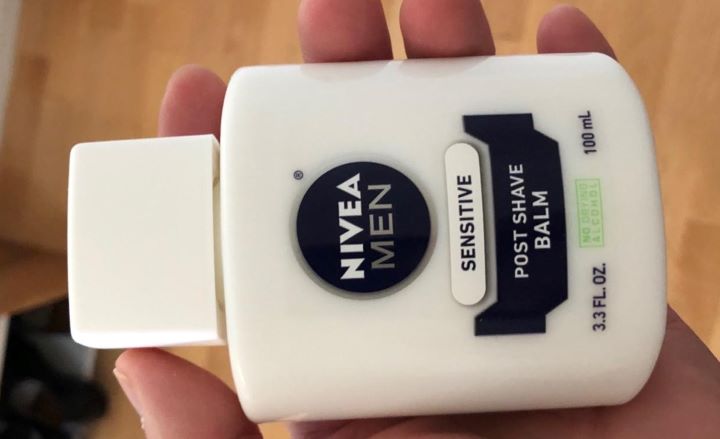 ---
Aftershave Balm Vs Lotion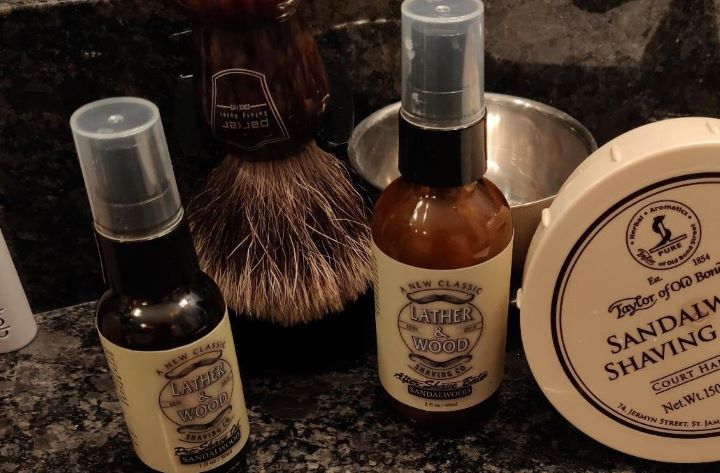 Let's see the differences between the two!

Texture – An aftershave lotion is traditionally in a liquid state. Whereas an aftershave balm is very creamy in texture. So, if your skin feels dry after a shave, using a post-shave balm could be helpful.
Alcohol Content – An aftershave lotion has a higher alcohol concentration than its counterpart, the balm. The balm is milder but still maintains antiseptic qualities.
Moisturization – An aftershave balm has a much creamier consistency and, therefore, is more suited for proper moisture retention. Lotions are lighter on the skin and better for tightening pores.
Fragrance – Aftershave lotions have a much stronger scent than a post-shave balm. So, it is up to your preference to have a subtle scent or something more robust.
---
What Does Aftershave Balm Do?
Now that we know what a post-shave balm is let's find out about its uses.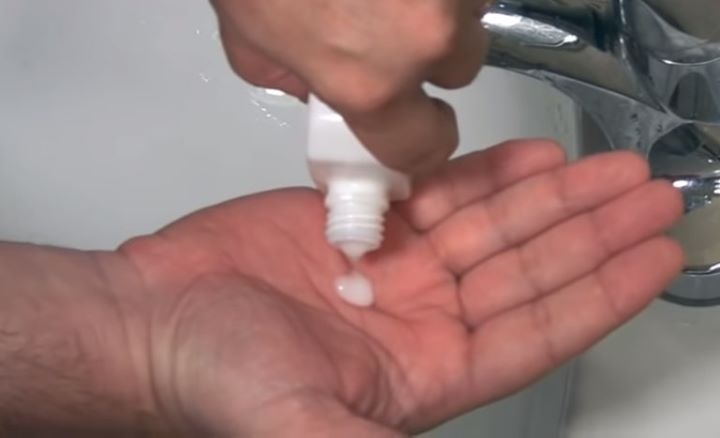 Soothe – An aftershave balm does a great job of soothing the skin after a shaving session. It helps reduce razor burns and redness on the freshly shaved area.
Moisturize – Not only does it provide a soothing effect on the skin, but it also moisturizes the skin properly. The moisturization helps prevent irritation and itchiness caused by dryness after shaving.
No Alcohol – While alcohol is great for killing bacteria and getting rid of toxins, it irritates the skin post-grooming. Therefore, post-shave balms contain the least or sometimes no alcohol, saving you from the aftershave burning sensation.
Subtle Scent – The problem with strongly scented aftershave products is that these ingredients can be toxic and further irritate the skin. So make sure to check the contents of the product you buy.
---
Is Aftershave Balm Good for Skin?
We know the uses of an aftershave. Now let's find out if it's beneficial for our skin.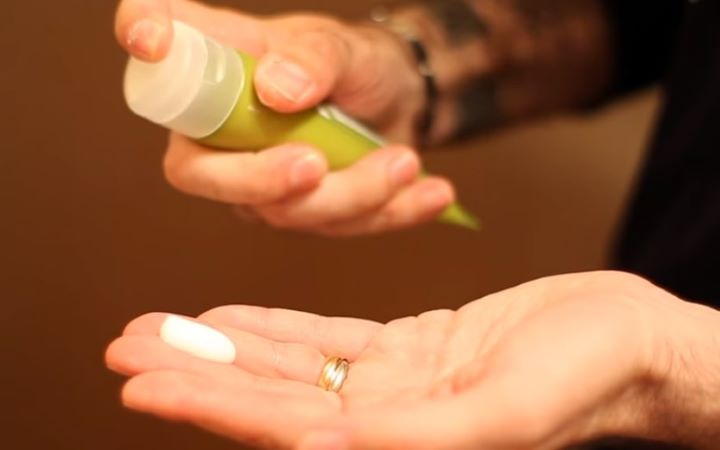 Everyday Lotion – The aftershave balm is pretty effective as a moisturizer. Their soothing ingredients help soften the skin wherever it is applied.
Minor Sunburns – Sunburns and razor burns, both are painful and cause redness. So essentially, you can swap out your sunburn lotion for a post-shave balm, as they contain similar ingredients. And help treat similar skin conditions.
Emergency Disinfectant – The purpose of aftershave is to prevent any cuts from getting infected. A good balm will contain a small amount of alcohol and other natural antiseptics like tea tree oil. So, if you are in an emergency, you could use this balm as a disinfectant.
---
Index Table: Top-Rated Aftershave Balm
---
---