Aftershave can be refreshing and great for your skin, leaving you smelling great with a clean-shaven face.
However, not all aftershaves are equally good for oily skin.
You need the best aftershave for oily skin to prevent the shine.

---
Explaining Oily Skin
Firstly I want to debunk a great misconception that you need an alcohol-based watery aftershave for oily skin.
Drying out your skin and using alcohol-based and drying products will just encourage your skin to create more oils to moisturize itself.
Skin that is not well moisturized will become more oily.
Your skin produces oil as a barrier against bacteria. Using an antibacterial aftershave with a moisture layer will simulate the function.
On the other hand, the good news is that gents with more oily skin will most likely suffer less aging and wrinkles than those with dry skin.
Your oily skin could be caused by a poor diet or help issues, so if you suffer from severely oily skin, it may be necessary to consult a physician.
---
Aftershaves for Oily Skin
So How Should You choose Aftershaves for Oily Skin?
Avoid Thick Creams and Balms – Opt for more hydrating aftershaves and lotions. Try to avoid very thick creams and balms that can be greasy on your skin.
Use a Combination Products – You can use an aftershave for sensitive or combination skin on your cheeks and face and an aftershave for oily skin on the more oily areas.
Do Not Dry Out Your Skin – Use aftershave with no alcohol and drying ingredients, but rather antibacterial ingredients such as Witch hazel and tea tree oils.
Oily Combination Skin Products – If you choose products that are labeled for Oily and Combination skin, they are more suitable than your regular and sensitive skin products for oily skin. These products are usually designed with more hydrating agents and less oily ingredients, as well as ingredients that help with oily and even acne-prone skin.
---
Features of a Good Aftershave for Oily Skin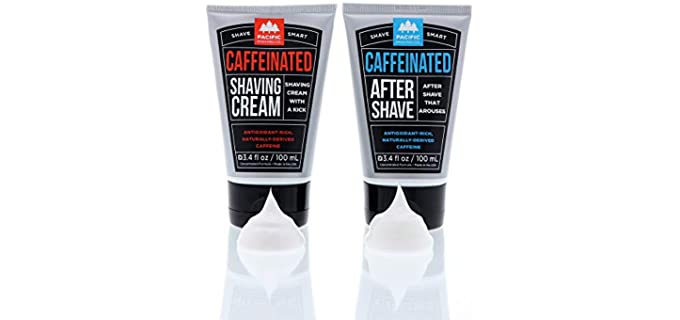 Ingredients – Look for Ingredients such as tea Tree Oil and witch hazel. Also make sure the aftershave is moisturizing but not oily.
Consistency – Look for a water based, gel, or lotion consistency that is lightweight dn quickly absorbed by your skin.
Moisturizing Agents – Shea Butter, Jojoba Oil and Aloe are good moisturizing agents for oily skin.
---
Reviews: The Best Aftershaves for Oily Skin
In our list, you will find some of the best Aftershave options that are all ideal for oily skin;
---
1
The Imperial Aftershave is simply ideal for oily skin.
Keep in mind that you do not want to dry out oily skin, as this will just cause more oils.
The aftershave is an alcohol-free high, performance, and natural formula.
The aftershave is soothing, with a refreshing scent.
It contains witch hazel and nut oils to calm irritated skin and provide moisturization and conditioning.
It is antiseptic and also ideal for razor burn and rashes or acne-prone skin.
---
2
From Lather and Wood, we have their best aftershave balm that is perfect for oily skin.
The aftershave has an invigorating sandalwood scent that is natural.
It is a premium luxury aftershave for oily skin tyles.
The aftershave is moisturizing and soothing, helping to prevent razor burn and heal rashes.
It has a non-drying formula that leaves your face with a healthy but not oily glow.
The aftershave is calming and soothing for irritated skin.
---
3
The Bulldog Aftershave us great grooming and post-shave balm for more oily skin types.
It is a soothing and nourishing aftershave balm that is not greasy but will not dry out your skin.
The aftershave contains camelina oil that is nourishing, green tea with antioxidants, and other natural ingredients.
It has a subtle scent and contains no synthetic ingredients or fragrances.
---
4
From The Bevel store, we have a superb aftershave that is perfect for oily skin, as well as for other issues,
The soothing ingredients will help prevent and heal ingrown hairs, pimples, and razor burn.
There is lactic acid and salicylic acid is both exfoliation ingredients that help to remove dead skin cells and renew your skin.
The added shea butter moisturizes your skin and prevents it from feeling tight and uncomfortable.
Furthermore, the formula is alcohol-free and has non drying.
---
5
The Proraso Aftershave Lotion moisturizes and keeps your skin healthy to prevent oiliness.
When your skin is well-nourished and moisturized, there will be no need for extra oil production.
The formula likewise contains sandalwood as a scent and shea butter for light moisturization.
The formula is not greasy and very soothing for coarse beards and clean shaves.
---
6
The tend Skin Aftershave us a solution for oily skin, razor burn, and ingrown hairs all in one.
It has a toning and moisturization effect that soothes the skin to prevent razor burn.
The antibacterial properties prevent ingrown hairs and pimples.
The formulation is non-greasy and moisturizing for oily skin.
It comes in an 8Fl Oz bottle that is easy to use.
Also, cruelty-free and not tested on animals.
---
7
Here we have the more refreshing Propraso Menthol and Eucalyptus aftershave.
This formulation is specifically ideal for very oily skin.
The Eucalyptus and Menthol offer a very refreshing and cooling effect that tones and soothes the skin.
It also contains witch hazel which is an anti-bacterial toning solution that is all-natural.
The aftershave comes in a 3.4 Fl Oz bottle which is quite small and convenient for travel.
It also offers an ideal solution for rashes and razor burns.
---
8
The Gillette Aftershave Gel is ideal for oily skin.
Because it is a gel form, there is not greasy or oily residue, and the gel hydrates and tones your skin.
It is perfect for very oily skin and is also lightly fragranced.
The aftershave gel has a formula that also caters to more sensitive skin and helps with razor burn and ingrown hairs.
It is refreshing and toning, ideal for more oily skin types.
The aftershave comes in a 2.5 Oz bottle pack of 6 aftershaves, convenient sizes for travel.
---
Index Table: Top Rated Aftershaves for Oily Skin
---
---