Some of the links in this post are affiliate links. This means if you click on the link and purchase the item, I will receive an affiliate commission at no extra cost to you. All opinions remain my own.
Many of us have sensitive skin prone to redness, rashes, and irritation, especially when shaving and using certain products on our skin.
Therefore, you need the best aftershave for sensitive skin to soothe and hydrate the skin to prevent irritation after shaving.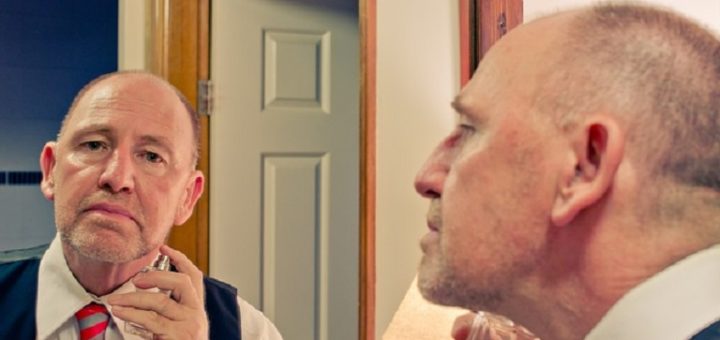 ---
Reviews: The Best Aftershaves for Sensitive Skin
Here are some of our favorite aftershaves that are perfect for sensitive skin.
We hope you love the products we recommend!
So that you know, We may collect a share of sales or other compensation from the links on this page.
---
1
The Organic Root Stimulator is a natural aftershave balm for sensitive, dry skin.
It contains only natural and soothing ingredients.
The aftershave has tea tree oil, which helps control bumps and razor burns.
There are also no harsh and irritating ingredients for sensitive skin.
---
2
The Cello Bio is an organic aftershave for sensitive skin.
It contains only natural and organic ingredients that will benefit your skin.
Perfect for sensitive skin with no harsh chemicals or alcohol.
It also has a lovely smell.
---
3
From Shaveworks, we have the Cool Fix Aftershave, which is also ideal for sensitive skin.
This is a moisturizing aftershave gel ideal for combination or oily sensitive skin.
It has moisturizing agents but will not irritate.
Also ideal for razor burn and ingrown hairs.
---
4
The Nivea aftershave is perfect for sensitive skin.
It is a soothing and moisturizing balm aftershave.
It also contains aloe vera and Pro-Vitamin B5, which is ideal for soothing your skin.
The smell is refreshing yet not too strong.
---
Why You need a Good Aftershave for Sensitive Skin
Your skin is generally the most vulnerable after shaving, especially your face and other sensitive areas. That is why it needs proper care and attention, especially if you have sensitive skin prone to rashes and irritation.
When you shave, you do not just cut off the hair. You also remove the top layers of your skin and sometimes cause microscopic abrasions on your skin.
This, in turn, makes the need for a good post-shave balm or aftershave very necessary. Besides what we have seen James Bond slap on the finest fragranced aftershave after using a cutthroat razor on his face, aftershave has come a very long way and is no longer just there for fragrance, but ultimately for skin care.
After shaving, waxing, or epilating, I recommend a good aftershave balm, lotion, or tonic to hydrate, moisturize and treat your skin, especially if you have sensitive skin.
Aftershaves designed for sensitive skin have specific ingredients that will not irritate but rather soothe the skin.
---
How to Shave Sensitive Skin
When it comes to Shaving sensitive skin, here are a few tips to help you prevent a reaction or rash from developing;
Exfoliate – The smoother and clear the surface of your skin, the easier it s for the razor to travel across your skin. Exercising regularly keeps your skin healthy and removes dead cells for cell renewal. A gentle exfoliating scrub before Shaving will clear your skin and make it smoother for initial Shaving.
Shaving Cream or Oil – make sure to use shaving foam, cream, or oil suited to sensitive skin. The pre-treatment softens the hair and creates a smoother surface for the razor to glide over easily.
Soften Your Bristles – Before Shaving, you want to soften your skin and hair as much as possible so that you can shave easier without pulling the hairs. Use a warm towel on your face and wet the skin before applying your shaving gel or foam to get the skin soft and ready.
Match Your Razor to Your Hair – Shaving causes friction on your skin, which irritates the skin. Thus, when you have sensitive skin, you must select a razor, wax, or even post and pre-shave products designed for sensitive skin.
Shave with the Grain – If you have sensitive skin, you always need to follow the direction of your hair growth when shaving. Always shave with the Grain and try to resist pushing down too hard.
Keep Your Blade Clean – Make sure to rinse your blade after every second or third stroke to remove the build-up, which can hinder the blade from sliding smoothly and cause razor burn. Also, make sure that your blade is sharp and clean before use. It is just as vital to clean and completely dry your blade after every use. You can use rubbing alcohol on the blade to dry and disinfect it completely.
Cool and Coat – After Shaving, always follow with a cold-water rinse to close the pores and reduce inflammation before applying an aftershave balm.
Hydrate Your Skin – Most rashes, breakouts, and skin irritations occur because of a lack of hydration and moisturization in the skin. However, you do not want very oily moisturization products that clog the pores, but you still want good hydration that will not dry out your skin. Most products for sensitive skin do not contain harsh fragrances or alcohol in regular products and rather have hypoallergenic ingredients and a proper PH level.
---
Features of a Good Aftershave for Sensitive Skins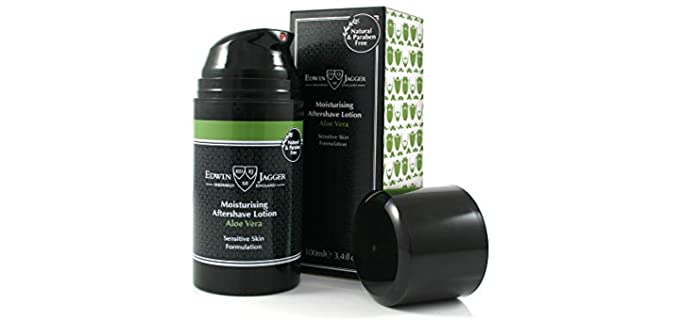 Sensitive Skin – Aftershaves for sensitive skin need to be alcohol-free and have either natural or no fragrances.
Type of Aftershave – You get liquid aftershave, lotions, gels, and aftershave balms. You can choose the right products depending on your skin, whether it is dry, combination, or oily. A lotion or balm works well for dry skin, while tonic, gel, or liquid aftershave for oilier skin.
Moisturizing – Ensure that the aftershave is non-greasy and offers good hydration or moisturization for your skin.
---
Index Table: Top Rated Aftershaves for Sensitive Skin
---
---