A good aftershave is an essential part of your daily skincare routine, and it can prevent many of the issues that black men tend to have with their skin.
Black skin sometimes needs extra care and other ingredient types as they do have a slightly different texture and hair structure.
Therefore we want to help you find the best possible aftershave for your black skin.

---
---
Reviews: The Best Aftershaves for Black Skin
Listed below are your top choices in a variety of aftershaves for black skin;
We hope you love the products we recommend!
We may collect a share of sales or other compensation from the links on this page.
---
1
---
2
The Proraso aftershave is also an excellent choice for black and sensitive skin.
The aftershave is refreshing, containing Menthol and Eucalyptus, which has a cooling and soothing effect on the skin.
The aftershave us a toning lotion that hydrates and provides immediate relief after shaving.
It contains witch haze, a natural astringent, and is ideal for skin irritation.
---
3
From Sheamoisture, we have a more moisturizing aftershave for black skin that is a bit on the dry side.
It is a moisturizing oil and shea butter formula aftershave.
The Tea Tree oil will help prevent and heal blemishes, while the Shea moisture prevents tightness and moisturizes your skin.
The aftershave comes in a 4 oz option, giving you glowing and healthy skin.
---
4
The Brickel Dailly Essential Moisturizer can be an excellent aftershave moisturizing agent.
It contains organic and fast-absorbing ingredients that are natural and safe.
Hyaluronic acid is ideal for aging black skin, Green tea with antioxidants, and Jojoba oil, which regulates sebum production in the skin.
The formula is ideal and also has natural scents.
It will help to hydrate and nourish your skin after shaving.
---
5
From Clubman, we have their Pinaud Aftershave, a lotion that comes in a six-ounce package with two included.
The Aftershave lotion is ideal for black skin and has a lovely masculine scent.
The aftershave is cooling and exhilarating is refreshes the skin after shaving.
The Aftershave lotion is ideal for all skin types and helps heal nicks and cuts.
---
6
Pacific Shaving Company Caffeinated Aftershave – Helps Reduce the Appearance of Redness; with Safe, Natural, and Plant-Derived Ingredients, it Soothes Skin, Paraben Free; made in the USA, 3 oz (2-Pack)
The Pacific Shaving company has a great natural aftershave that helps to reduce the appearance of redness marks and puffiness.
It contains naturally derived caffeine to reduce redness and razor rash.
There are also some potent antioxidants in the blend to help your skin repair itself,
The 3.4 oz size is travel-friendly, and more sizes are available.
The ingredients are completely safe and not tested on animals.
---
7
We have a post-shave balm for more sensitive black skin from Nivea for men.
The balm contains vitamin E and chamomile that nourishes and soothes the skin.
The aftershave is a balm in a three-pack of 3.3 fl oz bottles.
It has a light, non-irritating scent and is perfect for sensitive skin.
The aftershave also contains witch Hazel which has astringent properties for toning after shaving.
---
8
The Gilette Aftershave is a Gel aftershave for oily black skin.
While it is still hydrating, gel aftershaves are not greasy or oily.
The aftershave is refreshing with a masculine fragrance.
It will instantly cool and soothe freshly shaved skin.
The formula is non-greasy and quickly absorbing.
You can also use it on sensitive skin.
---
Aftershave for Black Skin
Firstly, aftershave is not just something you lather on your face after a fresh shave to smell good.
No, no, it's much more than that. Aftershave is necessary for caring for your skin, especially when it is more sensitive and drier after shaving.
A good aftershave moisturizes and tones your skin to prevent irritation, ingrown hairs, and razor burns, and it helps to heal tender skin.
A good aftershave for black skin should be free of alcohol, phthalates, acetates, and harsh fragrances.
---
Why You Need Aftershave
You truly do need a proper aftershave. Here's are a few reasons why;
Why Do You Need An Aftershave?
It's easy to feel overwhelmed and give in to pressure to use an aftershave without needing one. If you're in that boat, here's a reminder of why you need one.
Fights Bacteria – There may be nicks or more sensitive areas, bumps, and even ingrown hairs on your skin after shaving. These areas may become infected with bacteria that can be harmful. Most aftershaves contain antibacterial ingredients that can help to protect your skin and keep it healthy.
Soothes the Skin – Most aftershaves have a soothing effect on your skin that may be irritated and sensitive after shaving. This, in turn, helps to prevent razor burns and rashes.
Reduces Ingrown Hair – Black skin tends to be prone to ingrown hairs because the hair has a more curly structure. Special aftershaves for black skin ideally help to prevent ingrown hairs with effective ingredients.
Good Skincare – Using a moisturizing and healthy aftershave helps care for your skin and keep it well-hydrated and healthy.
---
Features of a Good Aftershave for Black Skin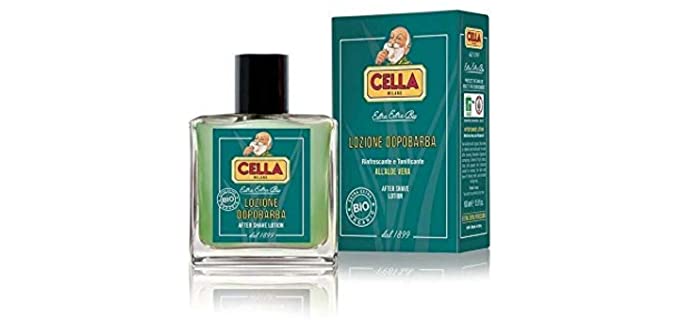 What to Avoid – Avoid strong scents and alcohols as they irritate and dry out your skin.
Natural Scents – Choose aftershave with natural essential oils for scent, such as menthol, eucalyptus, or sandalwood.
Moisture – Shea Butter, Aloe Vera, Glycerine and Vitamin provide excellent hydration and moisture.
Astringent Ingredients – look for ingredients such as Witchazel, Willow Bark, and Chamomile that are toning and antibacterial.
---
Index Table: Top Rated Aftershaves for Black Skin
---
---