Shaving is an important activity to do in order to keep your skin shining and healthy. Shaving not just remove hairs, but also helps in lifting away the dead skin particles. A high percentage of people shave every day, and to protect their shaving gear from breaking and unwanted dust, it is essential to have a shaving brush stand for yourself.
In this article, we will shed some light on why a shaving brush is necessary to use and also will list some of the best shaving brush stands for you to buy.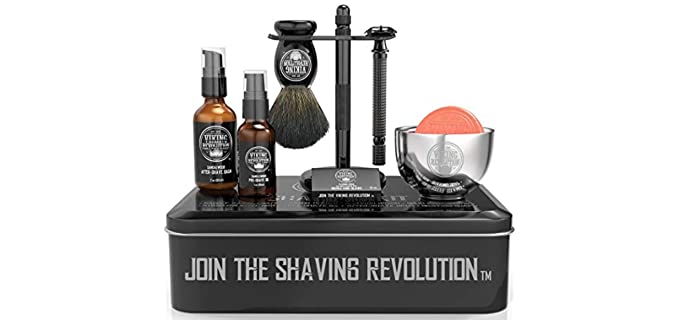 ---
Why Use a Shaving Brush?
It is important that whenever you shave, you must use a proper shaving brush. Some of the reasons for the same are given down below.

Removal of Dead Skin – The shaving brush actively works on softening your skin with the help of a cream or a soap and ensures removal of all dead skin.

Lifts Away the In-grown Hairs – The bristles of the brush are efficient in removing the ingrown hairs that escape away if not using a brush.

Creating Lather – Lather is very important while shaving as it helps in lubricating the skin and making a perfect texture for the razor to glide over the skin. A shaving brush ensures that a rich lather is generated with the shaving cream.

---
Different Kinds of Shaving Brushes
Though the work of all the shaving brushes is similar, they come in various designs and shapes. As per their design, there are different shaving brush stands built to hold them. The following are the different kinds of shaving brushes.

Boar Hair – These shaving brushes are usually for the beginners. They have stiffer bristles that soften with time. They create good lather using soap or cream.

Horsehair – The horsehair brushes are built with the tail hairs of the horses. They are affordable and not the best. They often produce a nasty smell that needs to be taken care of by regular washing.

Super Badger – These are highly effective brushes and can hold water well in the bristles to create more lather. They are usually the costliest of them all.

Synthetic Brushes – The synthetic brushes are made for an average person. They are not that expensive and does a pretty good job of shaving. The only issue with them is that they are not very firm.

---
Factors to Check While Buying A Shaving Brush Stand
You must consider the following things before you buy a shaving brush stand for yourself.

Size – The foremost thing to consider while buying a stand is the size. So you first need to check the size of your shaving brush so that you do not end up buying a smaller or huge shaving stand. Also, consider the loft length of the stand to ensure it gets a perfect fitting in your bathroom.

Material – Choosing the right stand material for your brush is extremely important as it will have a direct impact on the quality of the brush. Different kinds of brushes have different weights and strengths. So choosing a brush stand accordingly is important.

Sturdiness – The consideration should always be of a strong shaving stand as it needs to hold your brush, razor, and other shaving tools.

Durability – You must pick a shaving stand that is robust and durable. Most stands are built of plastic and steel. Though plastic ones have some good design but the steel shaving stands are more reliable and durable.

---
Reviews: Best Shaving Brush Stands
We have compiled a list of some of the best stands for shaving that are worth checking out. Also, we like to inform you that for every purchase you make through the given links, we may receive some credit amount.
---
This Perfecto shaving stand has an elegant design and is perfect for placing your razor and shaving brush on its handle.

The stand is open and lets the air pass that maintains better hygiene and longer brush life.
---
2
The Acrimax shaving stand is one of the best stands that includes a soap bowl set for you to use while shaving.

It is made with premium-grade stainless steel and is highly durable.

The shaving stand set has a non-skid sole that provides excellent stability to the stand.

The luxurious design of the shaving set helps you to provide a smooth shaving experience.

---
3
The shaving stand is made with high quality stainless steel and will not rust.

The efficient design of the stand makes it highly convenient for use.

This CCbeauty shaving stand has an awesome appearance and looks classy.

The stand is designed in a style that has a very stable base that ensures it will not slip off while using.

---
4
This stainless steel made shaving stand is the perfect solution for your shaving needs.

It efficient and can fit almost all kinds of shaving brushes, and the compact design makes it easier to place at any corner of the bathroom.

The stand has a non-slippery base and allows the brush to stay safe in it.

The shaving stand will not get any form of rust and has a longer life.

---
5
The shaving stand is compact and has two different arms to place your shaving brush and razor.

Unlike the other stands, it is heavyweight and provides great stability to the stand.

The base of the stand is rubber alike and does not slip away.

The shaving brush stand facilitates air drying that provides the shaving brush an elongated life.

---
6
This Art of Shaving brush stand has an astonishing design that will make your brush look classy and elegant.

The stand has a compact design that can be placed anywhere in the bathroom and can store your shaving brush efficiently.

It holds the bristles of the shaving brush perfectly and does not let them spread everywhere.

The shaving brush stand has a simplistic design and is worth the price.

---
Index Table: Top-Rated Shaving Brush Stands
---
---