Nothing is more quality than a luxury shaving brush for a good wet shave with comfortable foam or soap.
You have quite some choices with so many luxury shaving brushes on the market.
From the more expensive luxury Badgers bristles shaving brushes that are soft and lush to the firmer Boar Bristle natural shaving brushes that are harder and more durable.
You also have your pick of some of the best available Nylon Luxury synthetic bristle shaving brushes on the market.
In this article, we will look at all the options for Luxury shaving brushes just for you.

---
---
Reviews: The Best Luxury Shaving Brushes
Here are some of the most luxurious synthetic and natural bristle shaving brushes that are available on the market today;
We hope you love the products we recommend!
We may collect a share of sales or other compensation from the links on this page.
---
1
---
2
From Perfecto, we have a 100% pure Badger bristle shaving brush that has a comfortable handle and is available in many colors.
The shaving brush is a luxury design with a Chrome handle and comes with a stand.
It is available in more colors from which you can choose.
The bristles of the brush consist of 100% badger hair.
It exfoliates and is ideal for use with a straight, safety, or double-edged razor.
---
3
The Taconic Shaving brush is a Luxury synthetic bristle brush for wet and dry shaving.
It has a 22 mm handmade brush knot of great quality.
The Acrylic Brush stand comes with a shaving brush for storage after use.
It is an excellent design with Ultra-Soft synthetic bristles.
The shaving brush has a durable finished Beachwood and chrome handle that is easy to grip.
---
4
With The Simpsons Chubby 1 shaving brush, you can choose from a set of one or two shaving brushes.
The shaving brush comes from one of the world's finest makers.
It is a luxury item that has a deep-rooted heritage.
Their brush is 85 mm high with a 39 mm high handle and a 46 mm knot loft with a 22 mm diameter.
It is a thick, lush shaving brush that is uniquely designed, comfortable to use, and aesthetically pleasing.
The shaving brush has some options available from which you can choose.
---
5
The Viking Revolution shaving brush is a Luxury favorite among many men.
The shaving brush is ideal for wet and dry shaving and to use with creams, soaps, and foams.
The shaving brush has an exfoliating design, creating a rich lather for shaving with any razor.
It has boar bristles and a comfortable design handle.
---
6
The Edwin Jagger Shaving brush is a Badger bristle luxury shaving brush.
It is medium-sized and weight ideal for wet shaving.
The shaving brush lathers well and has soft bristles.
It comes with an additional drip stand, and more color options are available.
---
7
The Parkers Silvertip Badger hair bristle shaving brush has a luxurious, quality design with a long loft.
The shaving brushes are available in two color options from which you can choose.
It has premium three-band silvertip badger hair bristles that are soft and dense.
There is a faux horn handle that has a chrome base.
The luxury brush knots us dense with 22mm long bristles.
It comes complete with a luxury stand included.
---
8
We have a high-quality shaving brush from Alexander Simpson from their Trafalgar range.
There are a few color options available from which you can choose in this specific range as needed.
The shaving brush has thick 26 mm knot diameters and a height of 100mm, with a 50 mm brush loft.
It is a large shaving brush with a faux ivory handle and a luxury design.
Ideal with soft bristles that exfoliate and lather well.
---
Benefits of Using a Shaving Brush
If you compare using your hands to a shaving brush, the brush gets underneath your facial hair much easier than your fingers.
Furthermore, the shaving brush gently massages and exfoliates your skin which is also very beneficial.
Lastly, you are not left with soapy hands, and the shaving brush is easy to clean again.
---
Best Bristles for a Shaving Brush
When it comes to shaving brushes, whether luxury or not, they have different options in bristles that do make a difference;
Natural Bristles Boar Hair – Natural boar hair is the cheapest and offers a more robust and stiffer brush.
Natural Bristles Badger Hair – One of the favorite natural hair options is badger hair. It is by far the softest and also retains moisture well.
Natural Bristles – Horsehair is medium softness and somewhere in the middle. It is rare but sometimes used.
Synthetic Bristles – Synthetic bristles are an option for those of us who are a bit squeamish about using animal hair. They are usually soft nylon and very durable.
---
Features of a Good Luxury Shaving Brush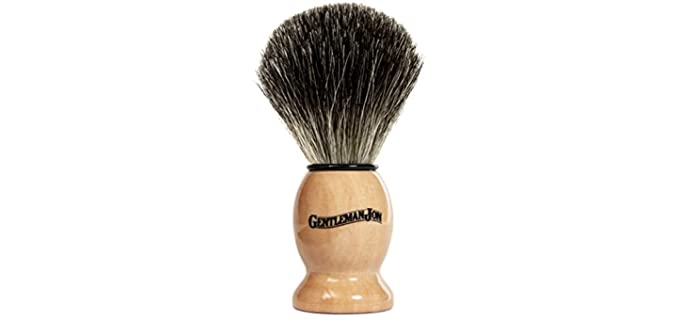 Bristles – The bristles can consist of natural Boar, badger, or Horsehair. Synthetic bristles are usually nylon. It would help if you also considered the bristle or brush knot, which is ideal at 22mm. Though there are other sizes available, this is the standard size.
Handle – The handle can be a natural wood, bamboo or synthetic chrome, or plastic. Could you check the diameter and design of the handle, as you want something comfortable to hold and easy to grip?
Extras – Some Shaving brushes come with a different stand and soap bowl. These make for ideal gift sets if that is what you are looking for.
---
Index Table: Top Rated Luxury Shaving Brushes
---
---