Some of the links in this post are affiliate links. This means if you click on the link and purchase the item, I will receive an affiliate commission at no extra cost to you. All opinions remain my own.
Psoriasis is an uncomfortable and itchy skin condition that can be aggravated with shaving if not done correctly or if the wrong products are used.
It is very important to use the right shaving cream when you have Psoriasis.

---
Reviews: The Best Shaving Creams for Psoriasis
The Listed Shaving Creams are all ideal for Psoriasis;
We hope you love the products we recommend!
So that you know, We may collect a share of sales or other compensation from the links on this page.
---
1
From the Viking Revolution store, we have the ideal shaving cream for psoriasis.
The shaving cream is unscented and contains no strong alcohol or scents that can irritate your skin.
It has natural oils that give it a great scent.
The shaving cream is very concentrated and moisturizing.
It is ideal for sensitive skin and skin conditions.
---
2
The Proraso shaving cream is ideal for skin conditions such as Psoriasis.
It is a formula for sensitive skin that contains green tea and oatmeal to soothe your skin and provide moisturization.
The shaving cream has a subtle Lime and Apple scent.
There are no strong chemicals or alcohol that can irritate your skin.
---
3
The art of Shaving Shaving cream is ideal if you have Psoriasis.
It is a shaving cream that protects you against irritation and razor burn.
The shaving cream is ideal for sensitive, dry and normal skin types, whoever is not for oily skin.
It is very rich and moisturizing, with a thick lather.
It has a subtle and rich sandalwood scent that is natural.
---
4
The Alba Botanica is an Emollient rich shaving cream that creates a barrier for skin conditions such as eczema and psoriasis.
The flavor we have here is the Coconut and Lime.
It is a unisex shaving cream for men and women.
The shaving cream is rich and moisturizing.
You can use it on your face, legs, and sensitive areas.
The Formula is 100% vegetarian.
---
5
The Anthony store shaving cream is ideal if you have psoriasis.
It is a rich lathering and moisturizing shaving cream that is soothing and refreshing.
The shaving cream contains calming Eucalyptus and Rosemary to reduce irritation.
The Spearmint oils give a refreshing feel.
It is free of all chemicals and preservatives that are harmful.
---
6
Another option from Alba is their Botanical Mango and Vanilla shaving cream.
The emollient-rich shaving cream is ideal for psoriasis and other skin conditions.
The formula has many natural, vegan ingredients and contains no harmful chemicals.
It is hypoallergenic and conditions.
The shaving cream is suitable for men and for women.
---
7
The Vanicream shaving cream is fragrance and gluten-free to prevent irritation.
It is ideal for skin conditions including psoriasis, rosacea, and eczema.
The shaving cream helps to prevent nicks and cuts for a smoother shave.
It is moisturizing and free of alcohol, dye proteins, and fragrances.
---
8
One of my personal favorites is the Aveeno shaving cream for men and women, which is ideal for Psoriasis.
The shaving cream contains soothing oatmeal and Vitamin E.
It prevents irritation and razor burns with a moisturizing and rich formula.
The brand is recommended by dermatologists and is ideal for sensitive skin.
---
Psoriasis and its Symptoms
Psoriasis is a skin condition that most commonly affects your knees, elbows, trunk, and scalp but may also affect other areas.
It causes red scaly patches that are dry and very itchy.
It is a common long-term condition that has no cure, though it tends to go away through certain cycles.
You may find you have a flare-up for a few weeks or months that subsides after a while.
Symptoms include red patches of skin covered with thick scales, small scaling spots, dry, cracked skin, itching and burning soreness, thick and ridged nails, and even swollen and stiff joints.
There are, however, different types of Psoriasis that affect different areas of the body in a different ways.
---
How to Shave When You Have Psoriasis
Certain seasons such as winter can make Psoriasis worse, so I would recommend that when you have a serious flare-up to rather avoid shaving that area for that time.
Otherwise, here are a few tips for shaving when you have Psoriasis;
Wait a Few Minutes – Wet your face or legs and wait a while for the hair follicles to open before you start to shave.
Use Proper Lubrication – Use the right shaving cream that is for sensitive skin and contains no harsh chemicals, dyes, fragrances, or alcohol.
Shave Slowly – Do not rush your shave. Take your time and shave carefully and effectively. Long and gentle strokes are ideal. Try not to press down on the razor too hard as this may cause irritation, and increase your risk for nicks and cuts.
Never Dry Shave – Always use a proper shaving cream or foam or a lubricating soap. Never dry shave if you have Psoriasis.
Shave in the Direction of the Hair – Shaving against the grain can cause serious irritation, even though it gives a closer shave. You may need to repeat a few times but stick to shaving with the grain of the hair.
Use Double or More Bladed Razors – Opt for Multiple or double-bladed razors as the extra blades will increase the surface area of shaving to help prevent irritation. You will likewise need to use much fewer brush strokes and get a much safer and closer shave.
---
Features of a Good Shaving Cream for Psoriasis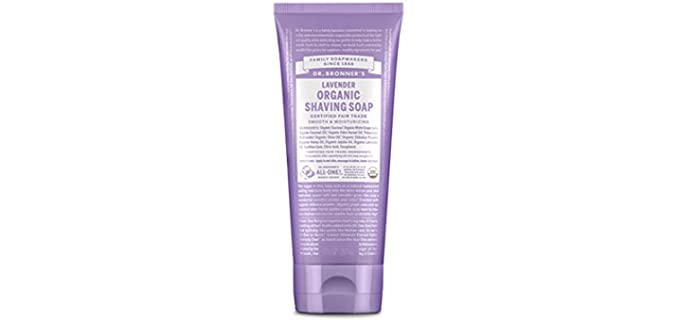 Formula – Shaving creams that have an emollient or moisturizing formula is ideal for psoriasis. The sensitive skin range shaving creams are likewise suitable. I would mostly try to avoid shaving creams that are very drying, or that contain alcohols, fragrances, and other chemicals and sulfates that may dry out or irritate your skin.
Ingredients – Look for natural and moisturizing ingredients and emollient ingredients for a protective barrier on your skin. Avoid alcohol and fragranced shaving creams as they may burn your skin. Opt for formulas free of gluten and any ingredients that may cause an allergic reaction. As This condition could be flared up by allergies, take note of the ingredients in your shaving cream and try to avoid shaving creams with too many ingredients that may cause an allergic reaction. these may include milk, protein, gluten, soy, and certain essential oils.
---
Index Table: Top Rated Shaving Cream for Psoriasis
---
---