Some of the links in this post are affiliate links. This means if you click on the link and purchase the item, I will receive an affiliate commission at no extra cost to you. All opinions remain my own.
Many women with sensitive skin can feel that shaving leaves their skin very dry and itchy.
With the right body care routine and shaving products, you can easily and effectively shave your sensitive skin without any issues.
Luckily there are so many exceptional shaving creams for Women's sensitive skin available o the market today.

---
---
Reviews: The Best Shaving Creams for Women with Sensitive Skin
In our list are your best options for shaving creams that are ideal for sensitive skin, especially in women;
We hope you love the products we recommend!
We may collect a share of sales or other compensation from the links on this page.
---
1
The Eos shaving cream is popular for women's sensitive skin.
It comes in a few options. However, we have chosen the Sensitive model with Oatmeal and Lotion.
It offers 24 hours of hydration for sensitive skin and oatmeal for its soothing properties.
The shaving cream is sustainably sourced and packed with natural moisturizing ingredients.
---
2
The Aveeno Therapeutic shave cream is one of your best options for sensitive or allergic skin conditions.
Both men and women can use it.
Ideal for shaving your legs or bikini area that is more sensitive.
The shaving cream contains nourishing Vitamin E and soothing oatmeal.
It is a rich and moisturizing formula with no harmful chemicals in it.
---
3
The Cremo French Lavender shaving cream is moisturizing and anti-inflammatory for sensitive skin.
It has a natural Lavender scent and rich lathering formula that prevents cuts and razor burn.
The shaving cream has natural extracts and Calendula for its soothing properties.
There are also more scented options available.
---
4
The Gillette Satin Care Ultra Sensitive comes highly recommended for Women's sensitive skin.
It is a dye and fragrance-free shaving cream with no ingredients that could irritate your skin.
The shaving cream is in a rust-proof can.
It contains rich moisturizing agents and offers a smooth shave.
Here you get a pack of two shaving creams.
---
5
The Vamicream shaving cream is ideal for sensitive skin and many skin conditions.
It can be used on your legs and bikini area.
The shaving cream contains no alcohol, dyes, lanolin, proteins, fragrances, or formaldehyde.
It is a safe and natural product created especially for sensitive skin.
The formula is creamy and non-lathering with no soap ingredients.
---
6
From Skintimate, we have the perfect shaving cream for Women's Sensitive Skin.
It is ideal for use on your legs, underarms, and intimate areas.
The shaving cream is a hydrating and moisturizing formula that contains coconut water and moisturizing agents.
It has a lovely smell and natural ingredients.
It contains no harsh or harmful ingredients which could potentially dry out your skin and cause it to become dry and sensitive.
---
7
We have a highly moisturizing shaving cream from Giovanni that is ideal for ladies' sensitive skin.
It comes in a few options. However, we have chosen the Aloe, Jojoba, and Argan formula with antioxidants.
The formula contains natural ingredients that are moisturizing and healthy for your skin.
It is hypoallergenic and offers deep hydration for more dry and sensitive skin.
The shaving cream is completely Vegan and Cruelty-free, which means you can rest assured of environmentally friendly and very healthy shaving cream.
---
8
The Flamingo Shaving Gel cream is perfect for sensitive skin in women.
The shaving cream is lightweight and hydrates your skin well before shaving.
It offers a smooth and well-lubricated shaving surface that will not dry out your skin.
The shaving cream contains Vitamins and ingredients that nourish and moisturize your skin.
You will enjoy healthy and glowing skin without the itchiness and dryness of sensitive skin.
---
Shaving Sensitive Skin
I would like to give you some very effective tips for shaving your legs, especially when you have sensitive skin;
Firstly choose alcohol and fragrance-free products for sensitive skin!
Shower and Exfoliate – Shower or bath to soak your legs in warm water and light exfoliate with a loofah or scrub. This helps remove dead skin cells and improves the skin to absorb more moisture and is a much needed product to prevent dryness and irritation.
Use the Right Shaving Products – There are many shaving products on the market, specifically for sensitive skin, as they contain less harsh fragrances and chemicals and are alcohol-free. These shaving creams and gels will lubricate and moisturize your skin without causing any irritation. Apply your product and enough of it.
Shaving – Try shaving towards the direction of the hair growth, as this is much safer for sensitive skin. Use light and long strokes without any pressure.
Drying – Use a soft towel and dry your legs properly after rinsing them with warm water. Pat dry, do not rub.
Moisturize – Use your favorite moisturizer for sensitive skin and apply liberally. Your skin will soak up the moisture after exfoliation and shaving.
---
Shaving Cream Vs Shaving Gels
While shaving creams and shave gels can help achieve a smoother, softer shave, there are a few differences between the two—mainly the consistency. Shaving creams have an airy texture that lathers up while shaving gels are clear and lightweight. Choosing between the two product types all comes down to personal preference. If you're a shaving newbie, a shaving gel may be easier to work with. These transparent formulas don't lather, so you can see what you're shaving for a more precise finish. On the other hand, if you enjoy classic lathering formulas, a shaving cream is likely to be a better fit.
---
Features of a Good Shaving Cream for Women's Sensitive Skin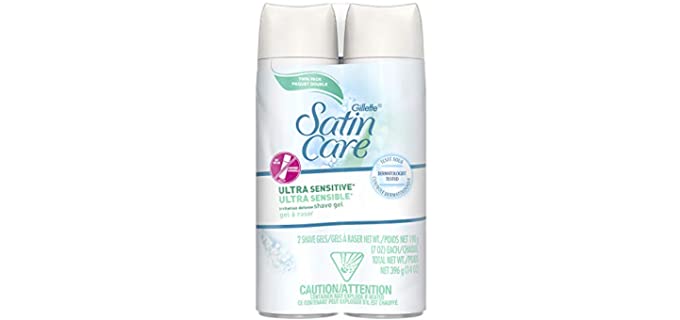 Ingredients – Try shaving creams with more natural, moisturizing, or hydrating ingredients. The formula should moisturize and prepare the skin to prevent tightness and irritation.
Stay Clear Of – Avoid shaving creams containing fragrances, alcohols, dyes, and chemical preservatives. Opt for hypoallergenic and sensitive skin-branded shaving creams.
Formula – the formula should be rich and moisturizing; you also get lighter lotions and foamy gel shaving creams for more oily or normal skin that need less moisture.
---
Index Table: Top Rated Women's Shaving Cream for Sensitive Skin
---
---