Some of the links in this post are affiliate links. This means if you click on the link and purchase the item, I will receive an affiliate commission at no extra cost to you. All opinions remain my own.
Shaving creams for people suffering from eczema are a great way to combine grooming needs with the skin's sensitivity. So we searched for the best shaving creams that are not harsh on eczema-prone skin.
Besides, we will also highlight some additional points that will help you have a comfortable and soothing shaving experience. Just look at the top products that we have shortlisted and choose the one that fits your needs in the best possible way.
---
---
Things to Take Care of When Shaving Eczema Prone Skin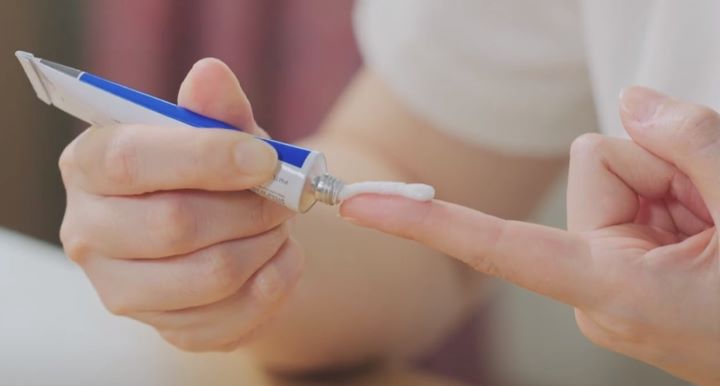 Eczema causes the skin to be extremely prone to dryness, itching, and rashes. While shaving, you may feel a burning sensation. It also hinders the smooth glide of the blade. So here are a few essential steps to ensure a smooth shave with eczema skin.

Slow Speed – While eczema already reduces the skin's immunity to rashes, gliding the razor repeatedly on the same areas may aggravate the situation. Shaving slowly and ensuring that the skin faces minimum tension is best.
Shaving Direction – Shave downward to prevent the risk of Folliculitis, which is skin inflammation at the base of the hair.
Eczema Creams – You may apply eczema moisturizing creams after shaving or mix them with your shaving cream.
Sharp Razors – Since eczema deteriorates the skin's texture, blunt blades will only enhance friction. So please use sharp blades that offer minimum resistance to your sensitive skin.
---
How to Choose the Best Shaving Creams if Suffering from Eczema?
Eczema means irritated, dry skin. There may be a possibility of causing further trauma to your skin while shaving. So here are the best points to consider while choosing the best shaving cream for your skin condition.

Avoid Shaving Foams – Generally, shaving foams strip the skin of its natural moisture leading to more dry skin. This could further aggravate your skin's condition and make things worse.
Parfum Free – Unscented shaving cream work wonders for a person suffering from eczema. Most of these products are enriched with natural fragrance-free ingredients.
Alcohol-Free – Products that contain alcohol don't do well with eczema-prone skin. It causes further traumas, which may leave your skin looking dehydrated.
Non-Comedogenic – Since eczema-prone skin lacks moisture, make sure you do not use products consisting of comedogenic ingredients.
---
Best Eczema Shaving Cream Ingredients with Anti-Inflammatory Properties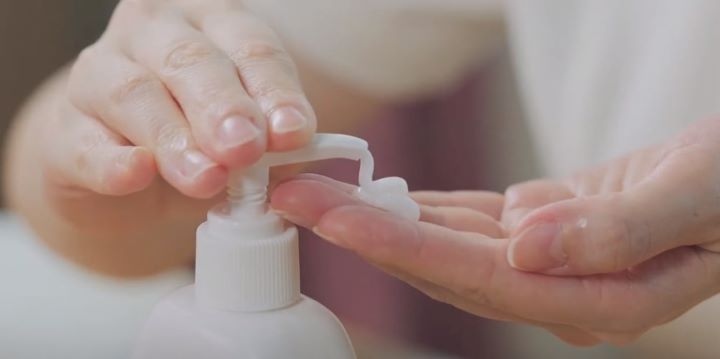 While looking for a shaving cream that works well with eczema, please ensure it has some anti-inflammatory properties/ingredients below.

Aloe Vera – Aloe vera provides a soothing touch to irritated and dry skin. Could you look for a product that has aloe vera in it?
Oatmeal – The antioxidant and anti-inflammatory properties of oatmeal help to treat dry skin while removing dead skin cells. It leaves the skin looking nourished and hydrated.
Green Tea – Green tea has exceptionally well anti-microbial and anti-inflammatory properties. People suffering from eczema must consider buying products that contain green tea's goodness.
Glycerin – Glycerin soothes the skin. It is highly recommended whenever your skin feels dry and irritated.
---
How We Test and Score Shaving Cream for Eczema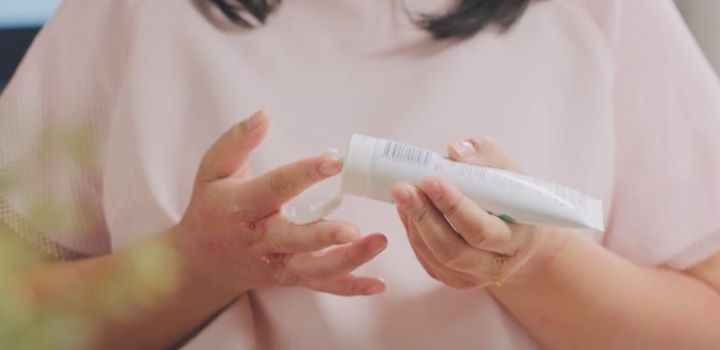 These reviews are based on intense research, analysis, and feedback from our experts and real users from different digital platforms.
We spent 31 hours trying, testing, and scoring these Shaving Creams for Eczema for different key parameters and then shortlisted the best products in the market, saving you time and effort.
We used the following parameters for our tests and analysis.
Reduce Swelling – We researched how effectively the product reduces swelling and relief pain in the face.
Relief Itching – We analyzed how effectively the product work to fight or resist irritation.
Hydrating – We observed how the product helps treat dry skin and keep it moisturized, leaving it looking nourished and hydrated.
Comfort – We checked how the product was comfortable and safe.
Packaging – We checked how the packaging would protect the product from bacteria and other things.
---
Frequently Asked Questions (FAQ) Regarding Shaving Cream for Eczema
---
Reviews: Best Shaving Cream for Eczema
Here are the best Shaving Creams for Eczema to ensure a smooth, moisturized shaving experience. Just to let you know, we may receive a part of the profit for every purchase made through the links on this page.
We hope you love the shaving cream we recommend!
So that you know, We may collect a share of sales or other compensation from the links on this page.

---
1
---
2
This shaving cream by Neutrogena for eczema is clinically proven to soothe inflamed skin. It also protects the skin from razor bumps and ingrown hair for lasting comfort.
It is dye-free and non-comedogenic, allowing your skin pores to breathe freely and stay nourished.
And since it is formulated with Pro-Soothe Technology, your eczema will be kept in check, at least during and after shaving.
| Rating Category | Weight % | Score |
| --- | --- | --- |
| Reduce Swelling | 25% | 100 |
| Relief Itching | 25% | 95 |
| Hydrating | 20% | 100 |
| Comfort | 20% | 90 |
| Packaging | 10% | 90 |
| Total Score | 100% | 95.75 |
---
3
Viking Revolution has brought across a Light Citrus Scented shaving cream for people suffering from eczema that soothes their skin after each shave.
The Shea Butter and Coconut Oil form a barrier between your skin and the razor blade to minimize the friction your skin has to suffer during shaving.
Other ingredients include extracts of Green Tea, Willow Bark, Deep Sea Algae, etc., which all work towards ensuring that your eczema-affected skin stays happy.
Additionally, it is made in the USA and is free of Paraben and Phthalate, apart from being a cruelty-free product.
| Rating Category | Weight % | Score |
| --- | --- | --- |
| Reduce Swelling | 25% | 100 |
| Relief Itching | 25% | 95 |
| Hydrating | 20% | 95 |
| Comfort | 20% | 90 |
| Packaging | 10% | 90 |
| Total Score | 100% | 94.75 |
---
4
Nivea Men's shaving cream is eczema friendly as it contains no drying alcohol, the main culprit being the burning sensation during shaving.
It is a cruelty-free product dermatologically tested on men with sensitive skin.
Its brilliant formula softens the stubble for a single glide shave, which causes less friction for the skin.
It contains Glycerin, Chamomilla Recutita Flower Extract, With Hazel) Bark/Leaf Extract, etc.,, is gentle on the skin suffering from eczema.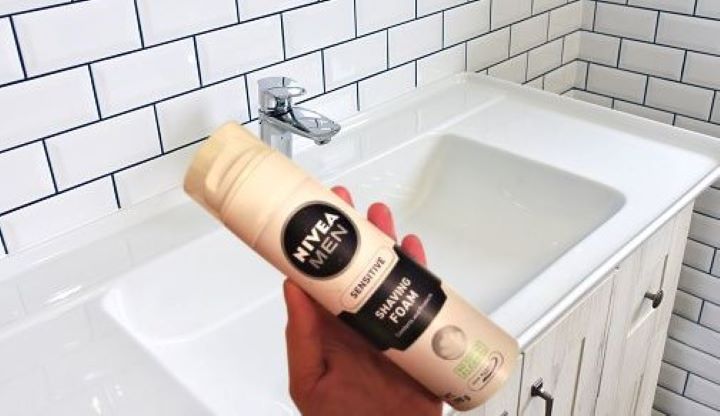 ---
5
Aveeno shaving gel is an excellent option for people suffering from eczema. You may add the Eczema Therapy Itch Relief Balm from the same brand to the shaving gel for enhanced results.
It has moisturizing lubricants, vitamin E, oats, etc., that leave your skin adequately moisturized after each shave.
It is also non-comedogenic, so it won't clog your pores with irritants and soothes your eczema with its hydrating action.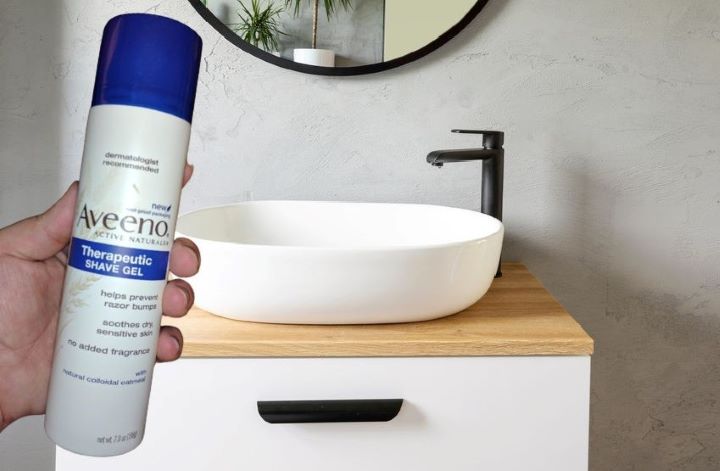 ---
6
Rocky Mountain Barber Company makes this cool shaving cream for eczema using natural ingredients like Jojoba Oil, Sandalwood, Argan Oil, Grapeseed Oil, etc.
It leathers quickly and thickly to ensure minimal friction between the razor and your sensitive skin, reducing the chances of any razor burns, nicks, and cuts.
The brand claims to have had this product tested and tried by several professional and amateur athletes with sensitive skin issues.
---
Index Table: Top-Rated Shaving Cream for Eczema
---
---