Some of the links in this post are affiliate links. This means if you click on the link and purchase the item, I will receive an affiliate commission at no extra cost to you. All opinions remain my own.
Irrespective of how time-consuming and fretting shaving seems, organic shaving cream can make quite a difference in your routine. It nourishes, protects, and pampers your skin and makes sure that you stay up and ready for any task or occasion on time.
So irrespective of what you are looking for, we have found the best organic shave creams that will make your shaving time awe-some! Have a look!
---
Reviews: Best Organic Shaving Cream
Check out the best All Natural Shaving cream we carefully shortlisted for your convenience. Please be aware that purchases made via links on this page may incur a part of the profits.
We hope you love the products we recommend!
So that you know, We may collect a share of sales or other compensation from the links on this page.
---
1
---
2
If you are prone to irritation due to shaving, this organic natural shaving cream by Brickell will soothe your skin apart from making it hair-free.
It is available in both scented and unscented types.
It also protects your skin from cuts and nicks, while its non-lathering formula gently lifts off unwanted hair with an extra close shave.
Aloe vera, glycerin, coconut oil, vitamin E, and shea butter are its key ingredients and claim to be 99% natural and 72% organic.
---
3
This non-toxic shaving cream by the Henna Guys leathers works more on your stubborn stubble with a silky glide.
It is an organic product with ingredients like Shea Butter, Papaya, Aloe Vera, Jojoba oil & Pineapple Enzymes.
Your shaving experience will be itch-free since this cream forms a barrier between your skin and the razor.
If you have sensitive skin, it's an excellent option. However, a patch test is recommended if you are allergic to nuts.
---
4
This unscented organic healing shaving cream by Barberry Coast Shave Co is handcrafted with Shea Butter.
It is also jam-packed with anti-oxidizing ingredients like aloe, white and green teas, comfrey, sunflower, sweet almond oil, and Lavender. All these ingredients are infused with bay rum for a luxurious feel.
As a result, you will experience smooth shaving without cuts and bruises.
Besides, your skin will feel much refreshed, with enhanced self-healing properties.
---
5
Organic SCA brings a complete package with its three-in-one shaving cream that only shaves, moisturizes, and heals your skin.
Tame the Beast organic shave cream is loaded with Aloe, Oats, Ginseng, Shea, Cocoa, Mango, Eucalyptus, and other premium ingredients to deliver a premium performance.
You can use it all over your body to soften the hair and remove them in addition to resistance to ingrown hair.
Furthermore, it is cruelty-free and free of harmful Paraben, Sulfates, Synthetic Color, Gluten, etc.
---
6
For a natural and organic shaving experience, this product by Organic Male does a great job.
It provides a hydrating shave with key ingredients like Prickly Ash, Coltsfoot, Comfrey, Tamanu Oil, etc.
Comfrey is known for its anti-inflammatory properties, while Tamanu Oil protects the skin and increases your razor's glide.
The additional ingredients like Peppermint and Lavender leave a refreshed skin free of cuts, burns, and irritation.
---
7
The Tatonic Shave cream is all-natural with organic ingredients.
It is moisturizing and suitable for beards and every type of skin.
Besides, it forms a lather and comes in a pump bottle.
Moreover, it has a natural scent.
---
8
The Burt's Bees organic shave cream has 99% natural ingredients.
It has soothing Chamomile and Linden.
Calendula is also added for its benefits.
The formula is all-natural and organic from a safe brand.
---
9
Tame the beast brings you their Beast Butter Organic Ingredient Shaving Cream.
It contains natural and safe ingredients that are premium grade
It is free from parabens and sulfates, and any synthetic colors.
The ingredients are all vegan and cruelty-free.
---
10
Taylor of Old Bond Street is also an excellent choice in Organic shave cream.
The shaving cream is certified organic and pure.
It contains 95% natural raw materials.
Ideal for sensitive skin and is very moisturizing.
---
4 Benefits of Organic Natural Shaving Cream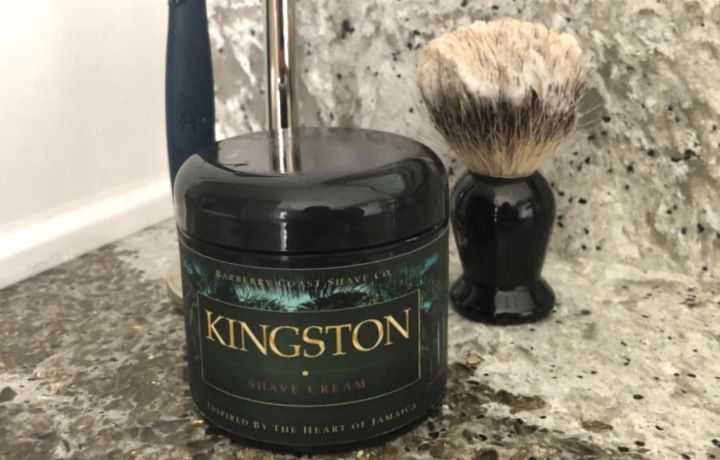 Here are the top benefits of high-quality shaving cream that briefly describe how they are the best for any shaving experience.

Cruelty-Free – Most organic natural shaving creams are cruelty-free products as they are sourced from plant-based ingredients.
Chemical Free – Being organic, these are free of chemicals and free of the harmful side effects of chemicals on the skin, which is the best shaving cream for dry skin or sensitive surfaces.
Soothing – Organic and all-natural shaving creams constitute natural ingredients like Jojoba Oil, Aloe Vera, and Tea tree oil to ensure that shaving creams are soothing for your skin. They naturally moisturize your skin as well as heal razor bumps and irritation. Besides, all-natural shaving cream is ideal if your skin reacts to shaving.
Sensitive Skin Friendly – As long as you are not allergic to specific ingredients like nuts, oatmeals, aloe vera, etc., organic shave cream is suitable for sensitive skin.
---
Which Organic Shaving Ingredients Are The Best?
Natural and organic shaving cream ingredients will soothe your skin and ensure that your skin stays healthy and healed. Here are the top ingredients found in the best natural shaving cream, along with their benefits.

Aloe Vera – Reduces ingrown hair and soothes razor bumps. Besides, it ensures fewer rashes and improves the skin's self-healing power.
Shea Butter – Shea Butter enhances the razor's glide over the skin and maintains the skin's natural moisture. It also evens the skin tone and is naturally rich in vitamins so that your skin stays fresh and healthy before and aftershave.
Tea Tree Oil – The Tea Tree Oil has natural antiseptic properties. It also helps prevent acne and skin inflammation.
Jojoba Oil – Jojoba Oil is a potent antioxidant and cleanses the skin to eliminate dirt and excess cream. Rich in Vitamin E also increases the skin's natural renewal tendency besides moisturizing the skin after a shave.
Oatmeals – Oatmeals are known to calm skin inflammation after facing the razor. It also acts as a barrier between your skin and the razor and reduces further damage to the skin from the razor's effect.
---
How To Prevent Skin Damage While Shaving With Organic Shaving Cream?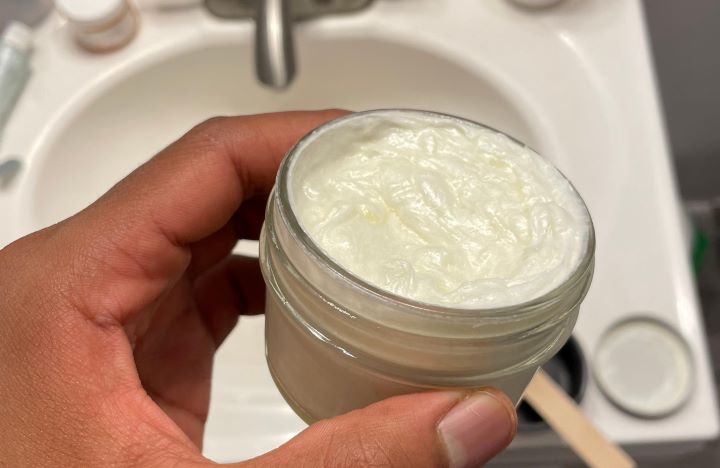 Skin damage is a common concern that makes people switch to organic shave creams. But here are a few pointers to enhance your shaving experience.

Pre-Shaving – Ensure that the skin is clear and clean of dirt and dust before shaving. Wash it properly, or you may also exfoliate for lesser irritation and smoother razor glide during shaving.
During Shave – While shaving, glide your razor in the direction of the hair to avoid cuts and rashes.
Razors – Your razors must also be clean and the blade sharp. Dull blades increase the chances of bumps and cuts, so ensure to replace your blades regularly.
Post Shave – You can use a post-shave cream or tonic to moisturize your skin. Post shaving tonics also act as antiseptics and gently soothe the skin.
---
Index Table: Top-Rated Natural Shaving Cream
---
---