The real importance of a Head Shaving Mirror is realized when you are shaving the head and often find it hard to have a clear view of all the parts on the head. From top to the back, now and then, you may miss a few hair strands while shaving.
So have a glimpse at the top Head Shaving Mirrors that offer excellent coverage of your head and bend or move to your convenience without straining your neck.

---
Reviews: Best Head Shaving Mirrors
Here are the best head shaving mirrors available on amazon. Also, please note that we may earn a part of the profits for every purchase made via links on this page.
We hope you love the products we recommend!
So that you know, We may collect a share of sales or other compensation from the links on this page.
---
1
---
2
Enjoy the added convenience of a fog-free mirror while shaving.
It has a 6.4" viewing area and a 360-degree rotatable head so that you can adjust to just the perfect position to view the back of your head.
Besides, the power suction cup is easy to install, and since the mirror is fogless, it will have lesser watermarks on its surface to be cleaned.
The twist lock suction cup is lightweight yet holds the mirror in place. Moreover, you can replace the mirror easily as per your requirement.
---
3
Feel free to carry your head shaving mirror to your next vacation and see how conveniently you can carry on with your shaving routine.
Besides, this hands-free mirror can be worn around the neck, and you can use it to view the back of your head in the wall-mounted or second mirror.
There is a mirror fitted on both sides. On one side is a regular viewing mirror; on the other, you will find a magnifying mirror of 5X power.
It is also versatile, as apart from shaving the head, you may also use it for clipping your hair or combing if you have long hair.
---
4
Jerdon brings an 8.3-Inch rectangular mirror that can be easily mounted on the wall.
Since it has a 30-Inch Extension, you can extend it to the desired length, and when not in need, it can recline back close to the safety of the wall.
The head shaving mirror frame features a Chrome or white-colored finish with dimensions of 8.3-inches by 6.5-inches.
The scissor arm-designed extension allows the mirror to be extended to a distance of 35 inches from the wall.
This product is said to be used in hotels and spas, so adding a splash of luxury to your cozy washroom is a deserved reward for yourself.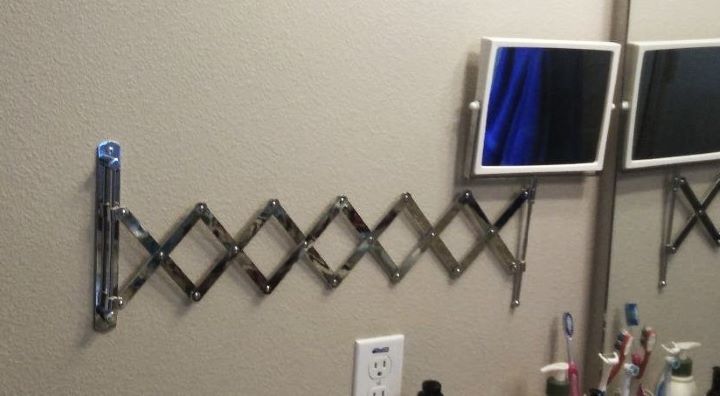 ---
5
This mirror by VrHere MirriM comes with an adjustable gooseneck 11.5 inches long. And you can set it just in the right place to see the back of your head.
Additionally, the mirror features a 360-degree rotating swivel so that you can adjust the mirror to any angle.
Its 10X strong Magnification allows you to look at the back of your head for a closer shave.
The mirror also has an easy-lock and strong suction cup so that you can relocate the mirror as per need and convenience.
Further, it has ten times stronger magnification, so you can have a closer look while shaving your head and face.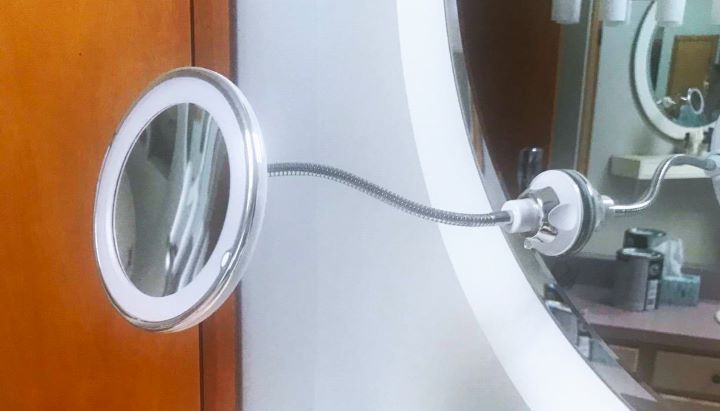 ---
6
Floxsee offers a cool tri-view mirror that gives you a panoramic view of the back of your head.
You can place it on a tabletop or hang it on the wall, as per convenience.
Besides, the mirror is made of plastic and break-resistant acrylic, so this is one durable mirror for your shaving routine.
Once you hang it, you can adjust its height to suit the view height of the user.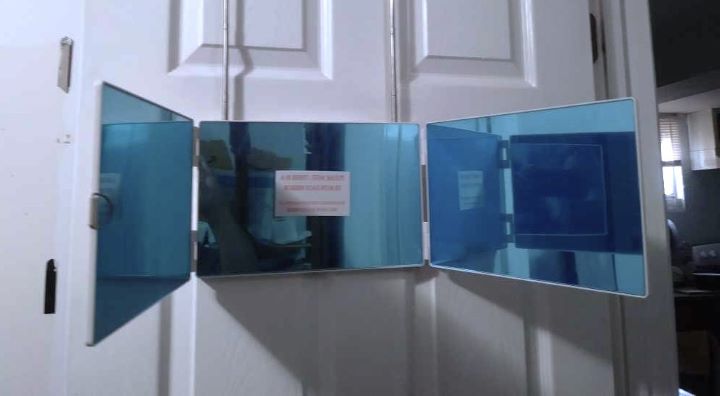 ---
7
The Kityall is a three-way mirror for shaving and cutting hair.
It is ideal for you to shave your head at all angles easily.
The mirror has a wide viewing angle and is freely adjustable.
Also versatile for putting on makeup so you can share it with your partner.
---
8
The 360 Mirror is a three-way mirror perfect for shaving your head.
It is a three-way mirror that has 360-degree adjustability.
It is very compact and lightweight.
Easily portable and ideal for travel.
---
9
From Jessie Saxton, we have a double-sided mirror for shaving your head.
The mirror has an ergonomic handle and is a handheld design.
It is durable and stable with a flexion neck.
The arm of the mirror is a full 18 inches long.
---
10
Here we have a fully adjustable mirror for shaving your head.
The mirror is portable and has a three-way design.
It is fully adjustable and versatile for many uses.
The mirror is lightweight and the ideal size.
---
Buying Considerations for Head Shaving Mirror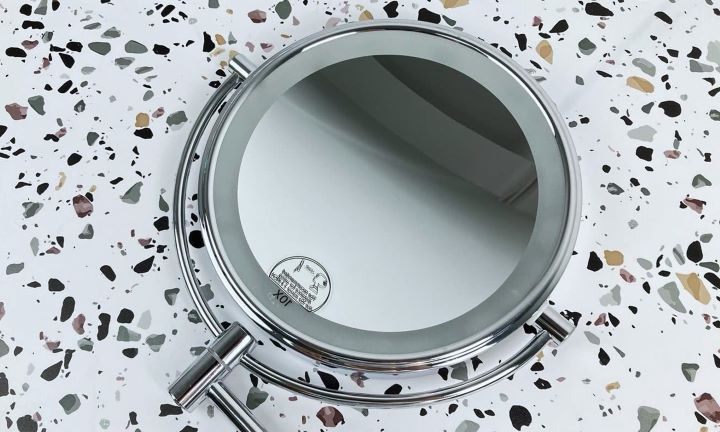 Look at the top things we identified as important to check in a Head Shaving Mirror before buying.

Pivot Head – The pivoting head allows for angle adjustment of the mirror frame. It helps you adjust the mirror view to different heights and different mirror users.
LED Lighting – Some mirrors come with inbuilt LED Lighting. This looks aesthetic and enhances your view of every strand of hair on your head and face while shaving.
Attachment options – Head shaving mirrors come with different types of attachment options. It could be suction, adhesive or simple hanging type. So you must choose the one with a suitable attachment option.
---
Steps to Follow Before Shaving Your Head?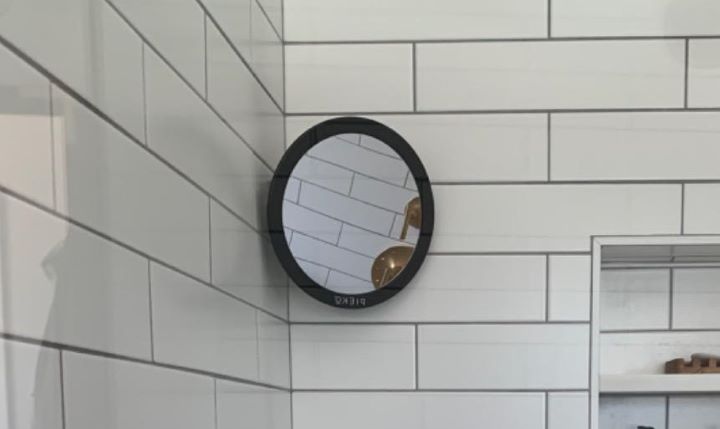 Here is one of the best steps to add to your shaving routine before shaving your head for a quick and smooth shave.

Optimal Hair Length – For the best shaving experience, your hair needs to be of an optimal short length. They are too long. You must know from them down and then go for shaving.
Prep under a warm shower – Make it a rule to get a warm shower immediately before the shaving session. And after that, you can use shampoo for bald heads for better results.
Use pre-shave oil or cream – pre-shave oils help make the hair softer for a smoother shave.
Exfoliate – Get a gentle scrub for your head so that you get rid of all the dirt and products you have applied on the head before shaving.
---
Maintenance Tips for Bald Head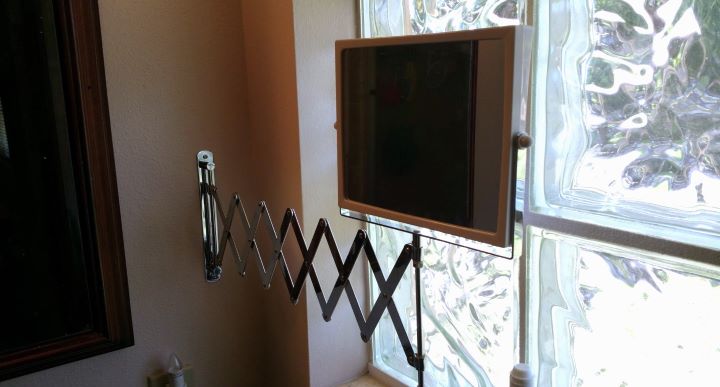 Though bald heads are compared as a symbol of aging, few notice the glory of a perfectly shaved head. So here are a few good tips to make it stay beautiful for a long.

Cleanse – Shaving or not, cleanse your scalp each day, and preferably twice
Use antioxidant serums – antioxidant serums help in fighting the damages caused to the skin due to exposure to sun and dust.
Use Sunscreens – use oil-free sunscreens with SPF of more than 30 to save the scalp from tanning and harmful sun radiation.
Use moisturizer – Moisturizer maintains the hydration level of the scalp.
---
Index Table: Top-Rated Head Shaving Mirror
---
---