The best shaving cream is the one that makes the razor glide on your face. Besides, it nourishes the skin and does not strip away its natural moisturizer.
You can choose the best shaving creams for sensitive and acne-prone skin, depending on the features you are looking for. Keep on reading to learn more.
---
Reviews: Best Shaving Cream
We have listed some of the best available shaving creams with features for you to choose from. Also, we would like to inform you we shall earn a small commission with every purchase made through the links in the article.
We hope you love the products we recommend!
So that you know, We may collect a share of sales or other compensation from the links on this page.
---
1
---
2
This travel size shaving cream can help improve the skin's condition and prevent irritation by making you glide through hair easier with its rich lather.
Besides, it comes in tube packaging that is easy to carry in your luggage.
The rich foam of the Cream does not need too much product application.
This is a no-brush shave cream, so you do not need to carry a brush while traveling.
You may use your fingers to lather it and shave your beard effortlessly.
---
3
Consider this best shaving cream for eczema from Proraso that comes in a lime and apple scent.
It has a moisturizing formula that adds hydration to your skin.
Moreover, its thick lather has a calming effect on the skin that prevents eczema breakouts.
It also has oatmeal and green tea to soothe the skin while shaving.
Your skin will not feel dry after shaving with this Cream containing no parabens and SLS.
---
4
Pick this shaving cream for razor burn from Barber-Grade Cremo that has a slick formula that helps in preventing razor burns and cuts.
Moreover, it gives a hassle-free close shave that will last long.
It has a subtle citrus scent that will provide an aromatic effect.
It has ingredients like Calendula Extract, Lemon Extract, Papaya Extract, Olive Leaf Extract, and Macadamia Seed Oil for nourishment.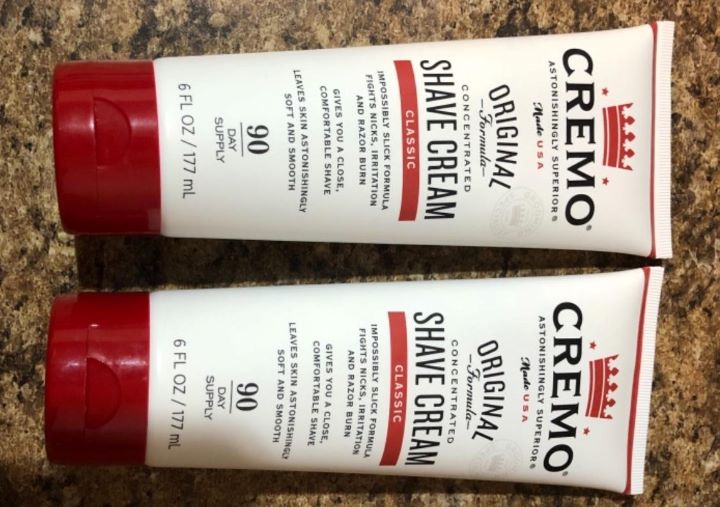 ---
5
This Brickell organic shaving cream contains shea butter for the ultimate moisturization.
It provides a very close shave while preventing cuts, nicks, bumps, and irritation.
This Cream may also be the best shaving cream for the head as it is smooth enough.
Moreover, you do not need a brush to use this Cream as it contains aloe vera, glycerine, and vitamin E for softening hair.
The organic ingredients ensure no toxic chemicals and fillers in the Cream.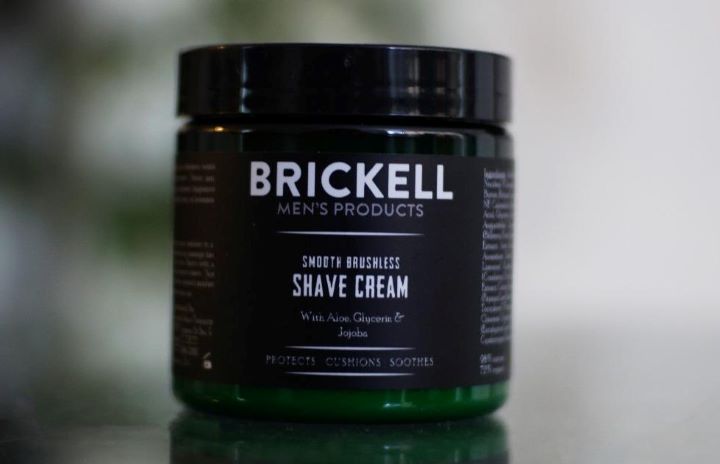 ---
6
The Truefitt & Hill dry skin cream has a silky and lux formula to hydrate your skin.
It comes in a bowl that is easy to use per the requirement.
This shaving cream for dry skin contains willow bark, sweet almond oil, borage oil, and olive oil to add moisture to the dry skin.
It also softens the brush's bristles to generate more lather for a close shave.
These are dermatologically tested to ensure they are safe for all skin types.
---
7
Neutrogena offers the best shaving cream for sensitive skin that is free from dyes and clogging ingredients.
Therefore, this Cream will keep your pores clean and prevent the new formation of acne.
Moreover, it adds protection from the razor that may lead to nicks and irritation.
The soothing effect of the Cream heals the skin and acne breakout with regular use.
It has a non-comedogenic formulation that prevents whiteheads and blackheads.
---
8
The Proraso brand offers the best shaving cream for razor bumps that has no harmful mineral oils and silicone.
Its clean formulation adds a refreshing and revitalizing effect after shaving.
Moreover, it has a vegetable stearin formula with botanical ingredients for additional protection.
This is the best Cream for people who have bumpy skin and suffer from rashes.
The rich formula of the shaving cream helps the razor glide well while shaving the hair.
---
9
Choose the Alba Botanica moisturizing shave cream with vitamin E for healthy skin renewal.
This is the best unscented shaving cream as it has chamomile that reduces skin redness and calendula to soothe the skin.
Moreover, the soap-free formula will not dry your skin.
Apart from this, the Cream has no sulfates, parabens, phthalates, and artificial dyes.
It also has lavender and aloe vera to nourish and heal the skin after shaving.
---
10
The Premier cream for shaving has a special formula that contains no soap.
Moreover, it has rosehip oil to ensure the skin is nourished after shaving.
It contains dead sea mud that is healing for the skin and also removes ingrown hair.
This amazing shaving cream for ingrown hairs has vegan and paraben-free ingredients, so it will not cause any reactions.
It is also great for hypersensitive skin prone to problems such as bumps and acne.
---
11
Consider this Dual-Shave Cream for your oily skin that will balance the sebum in your skin.
It has 5% benzoyl peroxide to keep your skin oil and bacteria-free.
Besides, this shaving cream for oily skin contains rare goat milk to soothe the skin and prevent any irritation to the skin.
This Cream also has vitamin A to promote skin healing with gentle exfoliation.
Also, this shave cream comes without any harmful cancer-causing additive.
---
12
Apart from shaving creams, you may also try this pre-shave oil for added nourishment while shaving.
Choose the Viking Revolution Silky Smooth Shave oil that will leave your skin incredibly soft.
It has a natural sandalwood scene for a luxurious experience and irritation-free application.
This pre-shave oil contains natural ingredients that are nourishing for the skin.
Besides, only a few drops of the oil will make your beard soft to shave and give your skin a shine.
This oil comes in a pump bottle that allows a convenient dispensation while using.
---
Buying Considerations For a Good Shaving Cream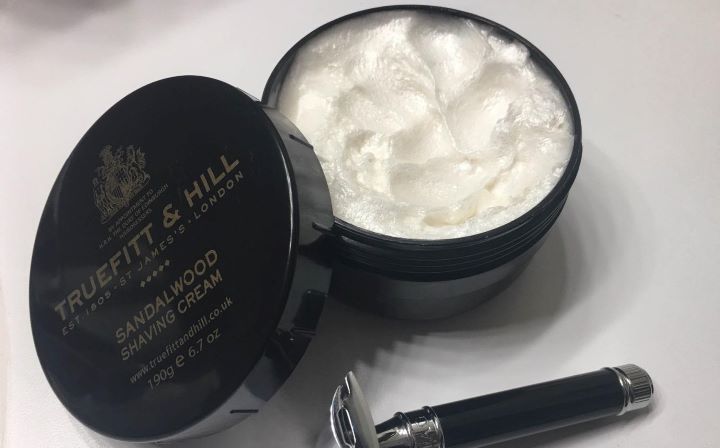 There are so many options for choosing the best shaving cream. Learn how to pick the best shaving cream for razor bumps, eczema, and oily skin that will be ideal for your skin type.

Nourishing – Pick a cream that has a gentle formulation that does not leave your skin dry and patchy after shaving. A nourishing cream will ensure your skin feels rejuvenated after shaving.
Lathering – See that the Cream gives ample lather to shave your face without reapplication. Besides, it should be soft lather, so the razor does not get stuck.
Skin Condition – Choose a cream that has a formulation specific to your skin condition, such as dry, oily, acne-prone, eczema, and psoriasis.
Lubrication – This is necessary to ensure less friction while shaving. Lubricating Cream will make it easier for the blades to glide.
---
Is Shaving Cream or Gel Better?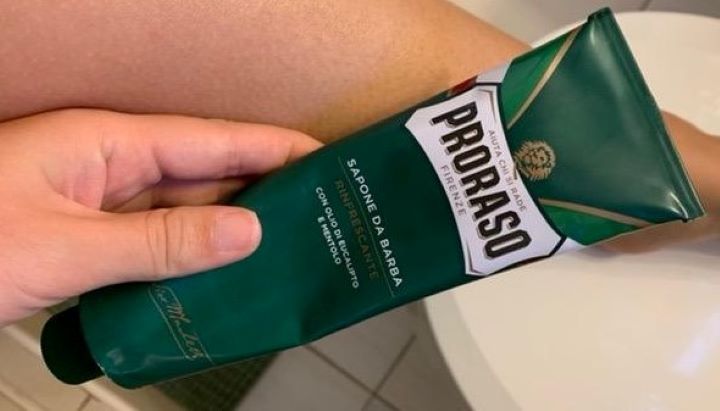 It may be a personal preference; however, there are several differences between the two types of creams.

Formulation – Shaving creams usually have a more hydrating formulation than gel. Moreover, creams are more skin-friendly if you have dry skin.
Usage – Creams need to be used with a bit of water to get the right amount of lather. On the other hand, the gel does not require water; however, the lather generated is not as soft and creamy.
Razor-Friendly – Gel may clog your razors while shaving as it generates more lather. Therefore, you will need to rinse it often and take more time to shave.
Fragrance-Free – Some shaving gels come with fragrance and alcohol-free formula. Whereas some creams come with jojoba oil to nourish the skin.
---
Is It Better to Shave Wet or Dry?
You may choose the shaving method depending upon how your skin reacts to products and different methods. Read and find out which one may be the best one for you.

Layering – Wet shaving creates a layer between your skin and the sharp razor blades to prevent cuts on the skin.
Hydration – Nourishing creams add hydration to the skin and help in gentle exfoliation.
Razor Burns – Dry shaving or lack of lubricant while shaving may lead to burns and cuts.
Sensitivity – If your skin is too sensitive, you may use the dry method or a gentle fragrance-free cream. However, a dry shave may not provide a very clean look.
---
Index Table: Top-Rated Shaving Cream
---
---