Some of the links in this post are affiliate links. This means if you click on the link and purchase the item, I will receive an affiliate commission at no extra cost to you. All opinions remain my own.
One of the main irritations with shaving your bikini area is that you are more prone to razor burn and ingrown hairs in this area.
So you'd like to use the right shaving methods and the best shaving cream for your bikini area.

---
---
Reviews: The Best Shaving Creams for Bikini Area
These are some of our favorite shaving creams for those intimate areas;
We hope you love the products we recommend!
We may collect a share of sales or other compensation from the links on this page.
---
1
Coochy Plus is one of the top-selling shaving cream brands for bikini and intimate area shaving.
One of their top favorites is our option, Sweet Bliss.
The shaving cream is formulated for your bikinis and armpits to prevent irritation and rashes.
It is Ph-balanced and contains an intimate guard which prevents ingrown hairs and razor bumps.
---
2
Another option from Coochy plus is their Citrus Elixir which is more fresh in scent.
It is a Clinically proven, Ph-balanced shaving cream specially designed for your intimate and sensitive areas.
The shaving cream has a fresh citrus scent and moisturizing formula.
It provides good protection against ingrown hair and razor burns.
---
3
The Aveeno Therapeutic shaving cream is a formula you can use all over your body and face.
It is very mild and safe for intimate areas because it is specially designed for sensitive and eczema-prone skin.
The shaving cream contains Vitamin E and oatmeal that is soothing for irritated skin.
It is a therapeutic formula that helps relieve dryness and prevent razor burns.
---
4
The Cremo razor Burn shaving cream is of superior quality for women.
It can be used anywhere from your bikini area to your legs and armpits.
The shaving cream is rich and moisturizing to prevent nicks and cuts.
It lubricates the skin well for a smooth shave.
It contains natural ingredients, including soothing calendula oils and Aloe.
---
5
The Skintimate Coconut delight shaving cream for women is ideal for your bikini area.
It can be used as a hypoallergenic and chemical-free formula on all body parts.
It contains natural ingredients and has a hydrating and moisturizing formula.
The shaving cream has a lovely coconut island scent.
---
6
Another option from Coochy Plus is their Fragrance-free shaving cream for sensitive and eczema-prone skin.
It contains no harmful chemicals, alcohol, or fragrances for sensitive skin that tends to inflame.
The formula is Ph balanced and has an intimate guard to prevent ingrown hairs and razor burns in your intimate areas.
---
7
For Eos w we have their Pomegranate and Raspberry shaving cream for women.
You can use it on your legs, bikini area, and underarms.
The formula is safe and ideal for sensitive skin.
It is clinically proven and tested by gynecologists.
The shaving cream is all-natural, with shea butter and a lovely scent.
---
8
The Completely chemical-free consistency of the Ursa Major stellar shaving cream makes it safe to use in your intimate areas.
Both men and women can use shaving cream on all body areas.
The formula is perfect for sensitive skin that easily gets inflamed.
It contains zero chemicals and only naturally derived ingredients.
---
Should You Shave Your Bikini Area ?
Your "intimate area," especially in ladies, contains natural bacteria and is very sensitive to changes in PH and cosmetics or anything that could cause irritation or infection.
Things like fragrances, alcohol, dyes, and harsh chemicals can interfere with the natural bacteria and Ph balance and cause an infection or burn the area.
Your pubic hair mainly serves to protect your "intimate area" and trap pathogens that could easily enter your body. Thus, your pubic hair is there for a good purpose, but there is also nothing wrong with wanting to give it a neat trim.
Many times pubic hair may grow beyond the intimate area and stick out the sides of your bikini or on top.
In these cases, it may be necessary to get a neat shave to get things to look tidier.
Yet I should mention that removing all pubic hair can make ladies especially more susceptible to UTIs, vaginitis, and yeast infections.
---
How to Safely Shave Your Bikini Area
Because your Pubic hair is a bit longer and the area more sensitive, you need the right tools and shaving products for shaving your bikini area;
Use a Sharp Razor Blade – Always ensure your razor blade is sharp and clean, especially for shaving your bikini.
Hydrate Your Skin – Make sure your bikini line is soaked in warm water, and wait a while for the skin to soften and the follicles to open up.
Exfoliate First – using a loofah or gentle scrub, you can lightly exfoliate the area to remove dead skin cells and reduce shaving irritation. This also helps to prevent ingrown hairs.
Use Plenty Shaving Cream or Gel – Use a non-irritating sensitive skin shaving cream or gel or a shaving cream designed specifically for your bikini area. Use enough shaving cream or gel to prevent razor burn andburnsitation.
Light Steady Strokes – When shaving your bikini area, you need to try and use light and steady strokes. Please don't put too much pressure on the razor, and make sure the blade is sharp.
Shave Carefully – For a closer shave, you may need to shave against the grain of the hair. However, try to use fewer razor strokes.
Rinse – You should rinse off your bikini line with cool water after shaving. Also, could you make sure to clean and dry your razor effectively?
Use a Moisturizer – After drying the skin off, you can apply a moisturizer or oil on the bikini line to hydrate your skin and prevent irritation.
---
Features of a Good Shaving Cream for Bikini Area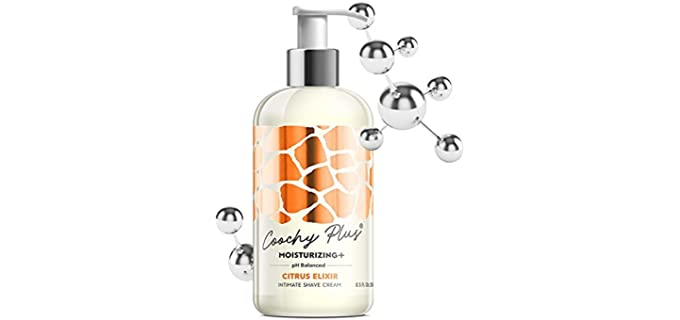 Ingredients – always look for more subtle ingredients for shaving in intimate areas. Formulas for sensitive skin with chemical, fragrance, and alcohol-free ingredients are ideal. Ingredients must be ph balancing and moisturizing without strong scents and oils that may irritate.
Formula – Look for a Ph balanced formula designed specifically for intimate areas, as these formulas are created so as not to interfere with the natural bacteria and ph balance of these areas.
Consistency – The consistence can be a thick cream that is more oily and moisturizing or a lighter gel or lotion which provides hydration for normal skins.
---
Index Table: Top Rated Shaving Cream for Bikini Area
---
---