If you want to avoid nicks, cuts, razor burns, and ingrown hair when shaving your legs, the solution is simple, use the right tools and products.
There are likewise a few tips on your method of shaving your legs that are important.
Firstly you will need the best shaving cream for shaving your legs to provide lubrication and hydration.

---
Reviews: The Best Shaving Creams for Women's Legs
Here is a variety of shaving creams for your legs, for all skin types and needs;
We hope you love the products we recommend!
So that you know, We may collect a share of sales or other compensation from the links on this page.
---
1
The Gillette Venus Pure is an excellent shaving cream for women's legs.
The shaving cream contains deep sea minerals for your skin and shea butter for moisture.
It allows for a much smoothers shave without nicks and cuts.
The shaving cream comes in a pack of two six-ounce tubes.
---
2
The Skintimate shaving cream is perfect for women's legs, underarms, and bikinis.
It is a versatile and conditioning shaving cream for women.
The option we have chosen is coconut milk.
It is a moisturizing and nourishing shaving cream with shea butter.
---
3
The Aveeno Therapeutic is a good option for shaving your legs for ladies with sensitive skin.
It is a soothing and hypo-allergenic shaving cream with oatmeal and vitamin E.
The shaving cream is fragrance and alcohol-free and ideal for dry skin in turn.
It comes in an easy-to-use 7-ounce canister.
---
4
The Giovanni Moisturizing shaving cream is the ideal cream for Women's Legs.
It is a moisturizing and deep hydrating shaving cream that is perfect for dry and sensitive skin.
There are a few options available. We have chosen the aloe and Jojoba shaving cream for its soothing properties.
The shaving cream is hypoallergenic and sulfate-free.
---
5
The Allafia Mandarin Breeze Shaving cream is the perfect shaving cream for your legs.
It contains natural ingredients and no harmful chemicals.
There is moisturizing sunflower oil and shea butter and fresh scents of Mandarin and Orange peel.
The shaving cream contains essential oils that are refreshing and soothing for your skin.
---
6
The Ursa Major Shaving Cream for women's legs is very clean.
It contains no harmful chemicals, Silicones, petrochemicals, sulfates, synthetic fragrances or colors, glycols, or PEGs.
The Shaving cream is vegan and cruelty-free, a natural and hypoallergenic alternative to most shaving creams.
It is also ideal for sensitive skin and eczema-prone skin, and other conditions.
---
7
Another addition from Skintimate is their coconut delight shaving gel for women's legs.
It is a gel cream that is moisturizing and hydrating to keep your skin healthy.
The shaving cream has a delightful coconut smell and natural fragrance.
It contains no chemicals or Phthalates, which could potentially irritate your skin and cause burns or ingrown hairs.
---
8
From Alba Botanical, we have their emollient-rich shaving cream range for drier skins.
Ideal for your legs if you have dry or sensitive skin conditions.
Emollients create a barrier that locks in moisture and prevents dryness and a tight feeling after shaving.
The option we have here is the Coconut and Lime natural scented shaving cream.
It has a fresh and invigorating smell with a vegetarian formula.
---
Do You Need Shaving Cream for Your Legs
Many ladies use their regular bath soap or shower gel to shave their legs, and while it is better than using nothing, it is not the best option.
Soaps and shower gels generally contain harsh sulfates and chemicals to clean your body which is not ideal for shaving and sensitive skin.
Shaving creams, gels, and lotions are designed specifically to properly lubricate your legs for shaving, to prevent nicks and cuts, and razor burn.
Shaving creams and gels contain agents that hydrate and moisturize your skin, and that are less harsh on the skin.
---
Tips for Shaving Legs to Prevent Ingrown Hairs and Razor Burn
If you want to prevent ingrown hairs, razor burn, and other issues, here are a few good tips for shaving your legs, ladies:
Use a Sharp Razor – Never use a blunt or dull razor blade. Always make sure that your razor blade is very sharp and clean. If the blades pull at your hair, then they are dull and need to be replaced.
Hydrate and Warm Your Skin – Properly wet your legs in the bath or shower and soak them in warm water for hydration, to open follicles, and soften the skin.
Apply a Shaving Products – Apply a generous amount of your shaving gel, cream, or foam before you start to shave.
Be Careful – Use light and steady strokes to shave, and do not press down hard on the razor. It is better to shave with the grain than against it. However, you get a closer shave against the grain.
Moisturize – Use a good moisturizer on your legs after rinsing them off properly to hydrate and soothe the skin. Make sure that your moisturizer does not contain alcohol and heavy fragrances that may burn or irritate your skin after shaving.
You can also exfoliate your legs before shaving, right after you have rinsed or soaked them in the bath or shower. Exfoliation removes dead skin cells and is also a great idea if you tend to suffer from ingrown hair. After shaving, your moisturizers and products will soak into your skin much more easily and do their necessary work much more effectively.
---
Features of a Good Shaving Cream for Women's Legs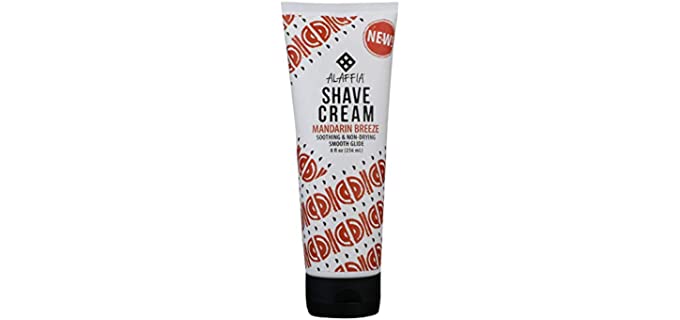 Ingredients – I always opt for more natural and safe ingredients in my shaving cream for my legs. Look for moisturizing and hydrating ingredients such as Aloe Vera and Shea Butter. Essential oils are likewise a better alternative to synthetic fragrances.
What To Avoid – Heavy alcohols and fragrances in shaving creams tend to dry your skin out. Avoid shaving creams with proteins if you have skin prone to allergies. Opt for more natural ingredients.
Consistency – The shaving cream can be a smooth lotion, heavy cream, or foamy cream. The lighter consistency shaving creams are more suited to normal and oily skins, whereas heavier creams are ideal for dry and sensitive skins.
---
Index Table: Top Rated Women's Shaving Cream for Legs
---
---