Some of the links in this post are affiliate links. This means if you click on the link and purchase the item, I will receive an affiliate commission at no extra cost to you. All opinions remain my own.
We all know that the mustache area right underneath your nose is one of your face's most intricate and difficult areas to shave. To make things worse, this area tends to be hypersensitive, making it challenging to shave smoothly and evenly.
Like any other shaving routine, good preparation is a must, especially for shaving under your nose; for the rest, here are some great tips and methods to do so easily and without any nicks, cuts, or irritation.

---
---
The Problem with Shaving Under Your Nose
Before we get to the tips and methods, let us first understand why shaving under your nose is so difficult.
The answer is simple: your mustache area has many small curves, is sensitive, and your nose casts a shadow over it. So not only is it hard to see this area, you need to be careful with the lines and curves, not cut or nick yourself.
---
Some Tips to Help You Shave Under Your Nose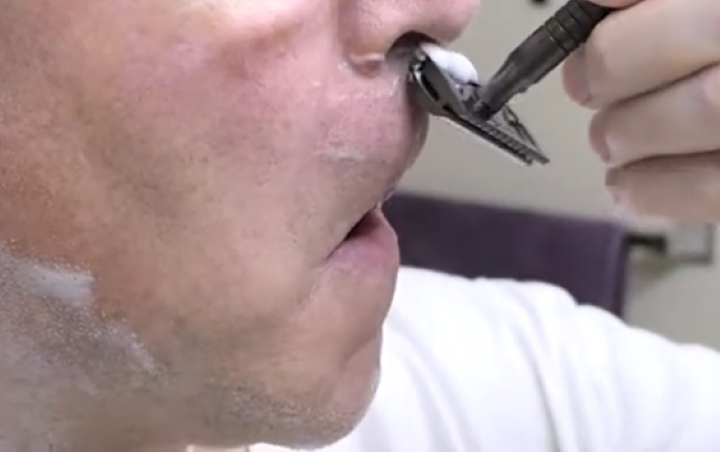 But just before all hope is lost and you feel overwhelmed again, here are some great tips to follow to make shaving under the nose a painless breeze.
Use many directions when you shave; you may even shave against the grain.
Push your nose up and sideways to get a better view.
Pull your upper lip towards your tin to tighten it and flatten some curves.
You can likewise pull your upper lip side to side on the opposite side that you are shaving.
Make sure to use ample and quality shaving foams, gels, or creams.
Exfoliate your face before shaving.
Use a flexible and sharp razor.
---
Steps on How to Shave Under your Nose
Still not convinced, well here are some step-by-step methods for shaving under your nose;
Shaving Downwards
Once you have finished your pre-shave routine and applied your shave product of choice, leave your upper lip for shaving last. Curl your top lip to tighten the skin and shave downwards from right under your nose.
Use short and brisk strokes with the grain.
Shave Outwards
This is not recommended for the rest of your face as it may cause bumps and ingrown hairs, but multiple passes are required with your upper lip and under the nose.
Now position the razor in the middle of your upper lip, right under your nose, in a horizontal position, and shave sideways. Do this on every side of your lip.
Shave Inwards
Now you will repeat the previous step but in reverse. Shave from the outside of your upper lip to the inside. Shave each side with the razor still in a horizontal position. If your face starts to feel dry by this stage, reapply your shaving product for better lubrication.
Maintenace
Before you are done shaving, you may notice a few awkward hairs still sticking out. This is where a trimmer or razor with a built-in trimmer comes in handy, which most new models have.
Moisturize
Rinse your face and upper lip thoroughly with cold water.
Apply some alcohol-free aftershave to your face and upper lip for good moisturization.
---
Reviews: Best Vintage Shaving Bowl
We have listed some of the best Vintage Shaving Bowls with their features for you to choose from. Also, we would like to inform you we shall earn a small commission with every purchase made through the links in the article.
We hope you love the products we recommend!
So that you know, We may collect a share of sales or other compensation from the links on this page.
---
1
---
2
The bowl is handcrafted out of pure seabed granite.
This bowl has a certain weight, which helps balance while producing lather.
The overall bowl is very well structured and helps warm the water while enjoying a vintage shave.
You will have a smooth shaving experience with the rich lather created by the texture of the bowl.
---
3
Perhaps, you will find one of the most different yet old-school shaving amenities.
This Old Spice shaving mug is a tribute to Grand Turk Salem's ship, so it's user-friendly and a piece of history.
The mug is an excellent ceramic build, and its tall structure allows for plenty of foam creation.
It is also multi-functional as it can hold razors and cream tubes after use.
---
4
The GBS shaving bowl is made from natural materials for a whipping lather generation.
This victorian shaving mug has an ergonomic apothecary design in the ivory shade to give a classy and functional appearance. It looks like an antique shaving mug and brush set.
This set of shaving bowls and other accessories will make shaving easier and quicker for you.
It comes with a soap that generates the perfect lather with the ivory bowl.
---
5
Get the Anself-shaving bowl with a deep design to help dip the brush and form lather.
It has a durable texture and is lightweight to carry comfortably with you.
The bowl is made using wood that is break-resistant and anti-corrosion for long-lasting use.
Moreover, it is an environmentally friendly choice instead of synthetic materials.
---
6
The Bicrops Home vintage shaving bowl has an exquisite design for your shaving needs.
It is made of a ceramic body from fine soil under high temperatures for break resistance.
The bowl's surface is smooth while being anti-slip and stable in the hands.
Additionally, it has a small handle for a comfortable hold and placement.
---
Find a Good Razor
In the video, I have chosen a new and highly innovative brand in Razors, the Defender, manufactured with specific features to target those hard-to-reach areas under the nose;
Some good features to look for in a Razor that will effectively and safely remove ALL hair under the nose;
Look for a razor blade cartridge with three or more blades.
Make sure the blades are spaced far away from each other to prevent pulling and tugging.
Independent suspension in your blades, such as with the Defender, will help to reach hard-to-reach curves.
Unrestricted pivoting ensures better control at all angles.
Make sure the Razor handle offers a good grip.
The thinner the cartridge, the more it is easier to trim under your nose.
Safety guards on your blades will protect you from nicks, cuts, and irritation.
A blade with some form of moisture strips may glide much easier.
---
Razor Blade Care
A blunt, dirty, and unmaintained razor is never healthy or effective. Trying to shave hard-to-reach areas, such as under your nose with a clogged-up or blunt razor, will only irritate and not remove much of the unwanted hair.
Therefore, ensure that you meticulously clean your razor after every shave, effectively removing stubble, shaving product, and skin cell build-up. You can gently scrub the blades with a brush or wipe them with a cloth.
Rinse your blade with warm water and ensure that you dry it properly. A wet razor may become rusted and blunt much easier. A great method is to dip your razor into some rubbing alcohol, which dries it out quickly and disinfects the blade.
Last, your razor and blades must be stored in a dry or sealed container or cabinet where no moisture or germs can come into contact. A safe and clean razor and blades will give you a much more effective and healthy shave, particularly under the nose!
---
In Conclusion
By following these tips and investing in a good quality razor with some of the features I have mentioned, you will not just be able to shave under your nose easily but, likewise, get a smoother and more comfortable shave.
As I have mentioned, the Defender Razor has some excellent features that all aid in shaving hard-to-reach areas and curves safely, smoothly, and without irritation. The slim head on the cartridge is a key factor that comes into play when shaving under your nose and other difficult areas.
---
With most of the razors available today, it is hard to shave under the nose.
Here's How The Defender Razor Shaves Better Under The Nose
In this video, this guy compares the Defender Razor to Gillette Fusion-Proshield!
---
Reviews for Shaving Under the Nose
---
---